In the aftermath of the pandemic, Snowsports became more of a focus as people dropped their indoor hobbies and international travel plans in exchange for something safer and closer to home. And with the most recent edition of the Winter Olympics Beijing 2022 coming to an end, Snowsports are enjoying a newfound love amongst large audiences who'd have never thought snowsports could ever get them so thrilled.
Apparently, Snowsports tourism contributes about $20 billion to the US economy, according to researchers at the University of New Hampshire and Colorado State University.
Moreover, an escalation in working from home has led to more and more digital nomads, many of whom have migrated to the mountains to enjoy a healthy work-life balance. Thus, with crowds burgeoning at resorts near large city centers, particularly at weekends, the less crowded and more remote resorts also saw a significant increase in lifestyle relocations and second-home ownership.
Around these areas, snowsports have gained such traction you might have also come across people from snowboarding communities asking-  "Wanna shred the gnar?" or "That was totally shred". They use it in reference to "cutting" through snow or waves.
But unfortunately, a bigger problem that the Snowsports industry faces today is the significant gap in providing experiences that are truly inclusive in nature. By changing these dynamics significantly and within a short period of time, SNO-GO has emerged to be an innovative and fastest-growing Winter sport. It is a new Winter sport that is making its way to the top of the mountains as it has been specially designed for a larger audience who does not have the required skills, time, and equipment to learn mainstream Snowsports such as snowboarding and skiing.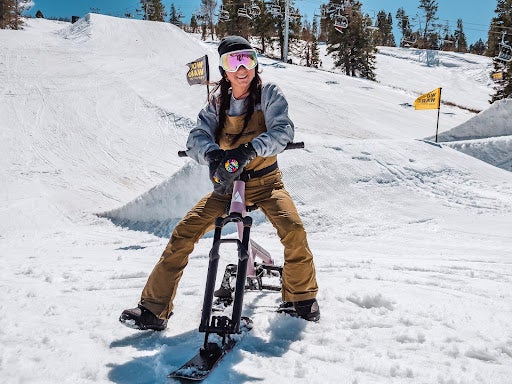 When SNO-GO launched its first bike in 2016, it didn't just happen on a whim or as an idea that had not been tested before. Co-founders Obed Marrder and Chase Wagstaff grew up surrounded by world-class ski resorts, but like millions of others, they never really caught on to the mainstream sports of skiing or snowboarding. Therefore, to transform their dream into reality, Obed and Chase began their R&D in 2011 by testing other Type I (Skibobs) and Type II ski bikes available in the market. After a lot of trial and tribulation, followed by the inability to have quality control with other ski bikes, they developed the S.L.A.T. system working with engineer Kevin Scheidle in 2014. Two years later, all the hard work paid off when some additions were made for the resort, and chairlift compliance and the SNO-GO was born.
What are S.L.A.T.™ system and Chairlift Hook™ system, and how do they help deliver a smooth learning curve? 
The revolutionary S.L.A.T.™ (Synchronized Lateral Articulating Technology) system and Chairlift Hook™ is only available in an SNO-GO®. These innovations drive the best product engineering technology in the segment by providing total control of their ski experience to riders through all four limbs.
This is a real game-changer as it enables riders to learn how to use SNO-GO bikes within an hour, irrespective of their skill level. Apart from enabling inclusivity in the space of Snowsports, SNO-GO bikes are revolutionizing the popular opinion that Snowsports are risky and require a lot of time and money to excel at. Hence, SNO-GOING caters to a wider range of riders by ensuring an easy learning experience. Multiple rider reviews and the growing interest in SNO-GO bikes across the US and Canada are a testament to the fact that the product has been successful in delivering results far beyond its promise. 
The patented chairlift hook allows for swift and easy chairlift loading and unloading without the aid of a chairlift attendant. What's more- SNO-GO's are intentionally designed without a seat. This prevents a rider from "lazy" misuse, forcing them to use the product correctly for turning and stopping while simultaneously providing a safer riding experience.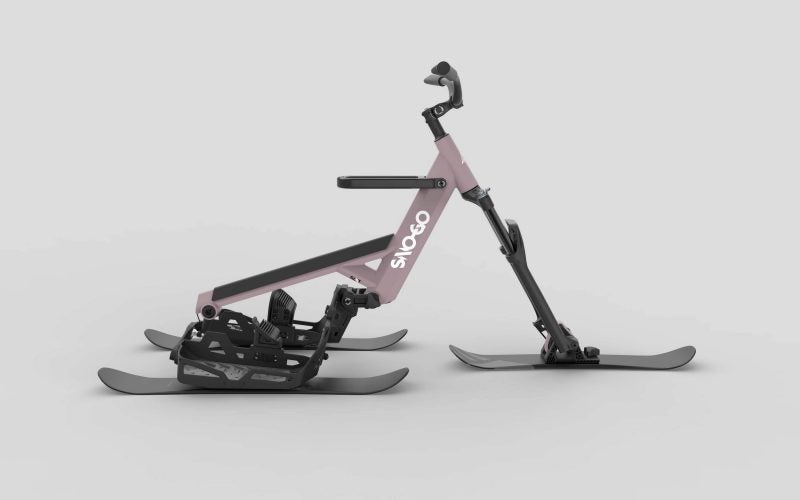 Cut to 2022, SNO-GO has emerged to be the fastest-growing winter sport. Its success is proven through its resort partners that currently offer Rentals, Tours, and Lessons widely across the US. SNO-GO rentals are available at nearly 30 locations in North America, where more than 20,000 rentals occurred in the 20/21 season, and the company expects that to double in 21/22. Interestingly, this is a 250% increase over the 19/20 season, keeping in mind the pandemic had shut down the Winter sports season a month early. Not just this, the direct-to-consumer per unit sales are growing at roughly 300% year over year from the previous season, helping SNO-GO lay a strong foundation for an increased footprint in the future. Going forward, SNO-GO is hopeful that it will sell out of inventory for the third year in a row by the end of winter while its partners operate at an estimated 45,000 rentals cumulatively.
"I did an (SNO-GO) staff retreat with 18 of my staff, and I have two staff members that have never skied or snowboarded in my offices. The coolest thing about it is that within the first five minutes, we were riding the lifts and sliding down from the top of the lifts, and everyone was doing it together. My staff continues to laugh that their best day on the hill last winter was not skiing or snowboarding but snogoing," shares Nick Herrin, CEO of PSIA-AASI (Professional Ski Instructors of America and the American Association of Snowboard Instructors).
It's no wonder that a simple TikTok video of one of SNO-GO's PSIA-AASI trained instructors went viral last year with over 30 million views. Additionally, large-scale adoption and the increasing craze of Snowsports will also pave the way toward a cleaner, greener planet since more investors and businesses will put in the required efforts to keep global warming in check so that Snowsports can flourish.