Situated in the north of Africa, Morocco overlooks the Mediterranean Sea to the north and the Atlantic Ocean to the west. This country is one of a kind, with a vibrant coastline, moonlike landscapes, relaxing beaches, and challenging mountain trails. 
Natural diversity and friendly atmosphere in Morocco make it a perfect place for adventure seekers. Depending on the time of the year and your fitness level, you can discover different regions of Morocco, with or without a guide and mules to carry the equipment. 
Moroccan landscapes reward both beginner and experienced travellers. As such, we've prepared a list of exciting trails for you to choose from. If you want to plan an unforgettable adventure, keep on reading!
Mount Toubkal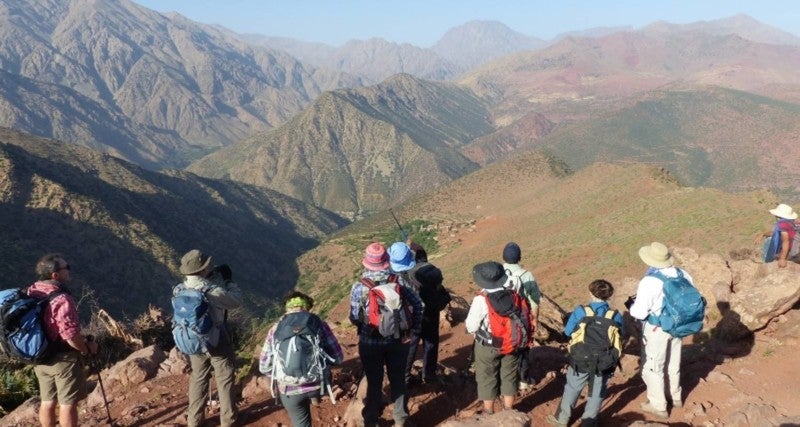 If you want to climb Mount Toubkal in Morocco, you can do it regardless of the season. In summer, most people with decent fitness levels are able to reach the top of the highest mountain in North Africa (4167 meters). If you start your trek from Kasbah du Toubkal, you can make your ascent in two or three days. Keep in mind that Moroccan sun will be relentless; it can get cold up in the mountains, but without the right equipment, you'll get sunburnt and dehydrated faster than you can say "Marrakesh." While there's a risk of altitude sickness, the breathtaking views along the way and at the top are worth the effort.
Winter ascent poses a real challenge, and it's advised for more seasoned trekkers. You're in the Central High Atlas mountains, which are unforgivable in the winter months. Yet many climbers can't resist the hypnotizing beauty of windswept summit ridges and glistening ice. Even when the trails are thick with snow, reaching the peak is the biggest reward for the most experienced travellers. The winter trek requires professional gear and skills, and depending on the starting point, it can take from a couple of days to a week.
Jebel Saghro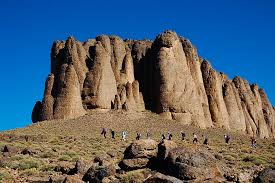 Mount Toubkal is not for the faint of heart. However, if you want to experience an adventure in the Atlas mountains and you're not a trekking expert, don't worry! The mountain range of Jebel Saghro is the continuation of the Anti-Atlas. Slightly milder temperatures and lower altitude make it passable, with fewer challenges that can make the High Atlas ascent tricky. 
The wintry landscapes of Jebel Saghro are just as beautiful and enchanting. An experienced guide is also going to show you unique cave paintings. Additionally, many people choose the Jebel Saghro trek due to the much lower risk of altitude sickness. The highest peak, Amalou n'Mansour, stands at 2712 meters, which is significantly lower than the High Atlas summits.
Jebel Sirwa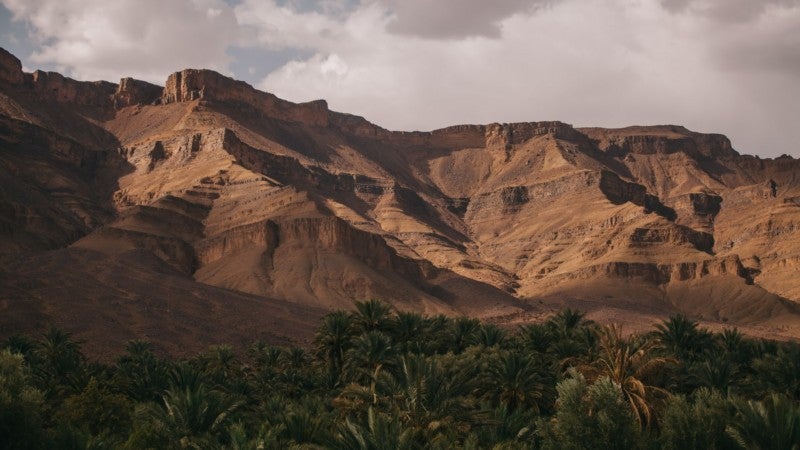 This Anti-Atlas mountain range lies in the south of Morocco. It's less frequented by travellers, making it exciting to discover on your own. However, in case of the ascent on Sirwa (or Siroua), a 3304-meter-high volcanic peak connecting the Anti-Atlas and the High Atlas mountain ranges, we advise you to travel with a guide.
Jebel Sirwa is the most accessible in spring. For some people, winters may be too cold. Regardless of the season, you'll be rewarded with magnificent views of mountain landscapes, a small village perched on a cliff, and impressive gorges. 
The walking circuit in Jebel Sirwa usually takes one week. The guides will take you down the most scenic route and arrange tent rental or even mules to carry the equipment. Take your time and enjoy the views while you walk through the charming Berber valleys and admire their steeply terraced fields.
Paradise Valley
Those who arrive in Morocco and make their base at the coastal beach resort, Agadir, don't expect to have many trekking adventures. What they usually don't know is that 20 kilometres from Agadir lies Paradise Valley, a beautiful, palm-lined gorge.
28 kilometres from the nearby city of Aourir is a well-marked, 2.7-kilometres walking trail. You can explore it alone or hire a guide with a mule if you want to go further down the valley's hidden Berber villages. 
If you're feeling even more adventurous, visit Immouzer des Ida Outanane, a small village 62 kilometres away from Agadir. A winding, mountain road will take you to this hidden gem of a regional and market centre. Immouzer is well-known for its waterfall. Sadly, the region has been suffering from drought, so the cascade is under irrigation control. As such, the locals turn it on for special events, so if you're lucky, you might see it in full glory! If not, don't worry; the petrified canopy of the waterfall is spectacular on its own. What's more, there's a full plunge pull, and the villagers often jump in from the cliffs, sometimes even encouraging travellers to join them.
The bottom line
Regardless of your chosen destination, trekking in Morocco has the potential to become a journey of a lifetime. From exotic valleys and gentle slopes to steep peaks and deep gorges, easy summer trails to challenging winter treks, Morocco has it all – and you get to experience everything! Dream big, and make your dreams become a reality under the boundless Moroccan sky.