Are you one of the flower fanatics who will definitely travel around the world to see fields of colorful and gorgeous flowers in bloom? If that is so, then, here are the places worth traveling where large fields of flowers are sure to amaze you. When you go and visit the place, make sure that you bring your family or loved ones along, leave no trace of trash, and bring home wonderful photos and memories.
Hitachi Seaside Park in Japan
The field stretches to 190 hectares or 469.5 acres of land. You will be surprised to see different blooms on different season. No matter what season you prefer to visit Japan, this filed has always something to present to you. For example, Tulips and Narcissus bloom in abundance in spring season. When you come back in autumn, you will find the field blooming in Cosmos and Kochia. If you come here in summer season, the field is sure to delight you with the flowers of Baby blue-Eyes, Roses, and Zinnias.
Sakura Furusato Park in Sakura, Japan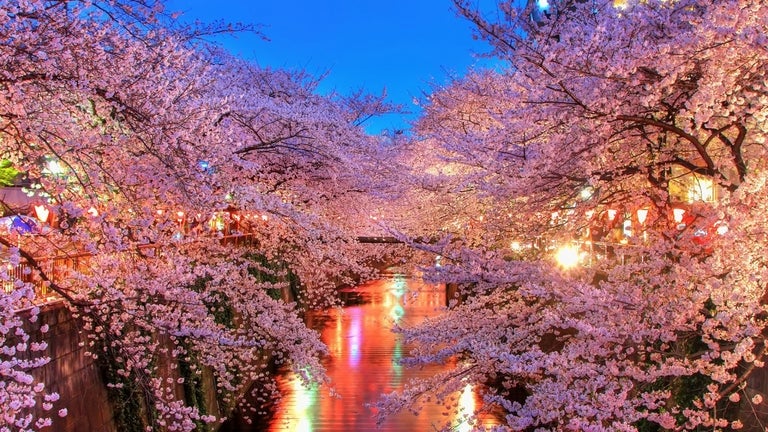 Sakura Furusato Park is famous not only for the Dutch-like windmill on its background but also for its field of Tulips in hundreds of varieties. In fact, the Sakura Tulip Festival is being held here annually in the month of April. With all these beautiful and mesmerizing blooms of Tulips in a rainbow of colors, plus the presence of the Dutch windmill, it feels like you are in Netherlands. If you are familiar with the history of Japan, this field represents the friendship that ties Japan and Netherlands.
Canola Flower Fields in Luoping, China
The vast field in Luoping, China is covered with yellow blooms of Canola. It is a tourist attraction in the country not just because of the golden blooms but also because of the entire landscape of nature as rows and rows of mountains contrast the colors of the flowers. From February to March, which may also extends until April, you will find this city an interesting place to visit.
Sunflower Fields in Tuscany, Italy
A trip to Tuscany, Italy will bring you to a paradise as you visit the field of Sunflowers. Tuscany is, in fact, one of the places in the country where you can see fields of Sunflower blooms from the month of June until the month of august. In addition to the breathtaking sight of the fields, you will also find the fascinating legend of Sunflowers in the country such an interesting story worth hearing. Your travel to Italy will surely be worth it all.
Flower Fields in Carlsbad, California
A 50-acre field is one of the flower tourism attractions in California because of the seasonal blooms of Ranunculus. The coast of Carlsbad is bright and beautiful whenever the flowers bloom. The species are said to be classified as Giant Tecolote Ranunculus, which is a variety of blooming in vivid colors of yellow, white, red, orange, and pink colors. Each spring season offers brighter blooms as cultivation progresses. If you are visiting the state of California in March to May, don't forget to drop by this field in Carlsbad and enjoy the tour. 
Keukenhof Park in Holland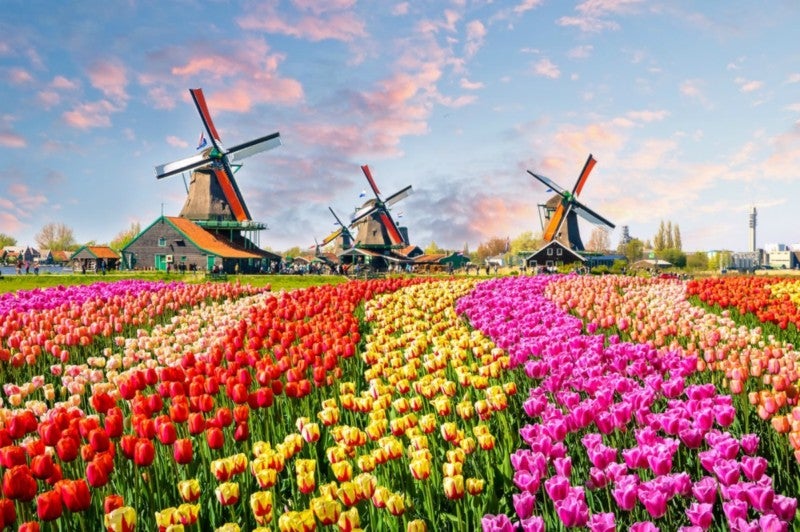 Keukenhof Park is a 79-acre field that houses more than 800 different species of Tulips and other types of flowers, plants, and trees. The large assortments of Tulips increase in number as years go by because more species are being cultivated each year. This is a wonderful destination to travel to when you are in Holland, specifically in Lisse. In fact, based on records, a large crowd of tourists come here intentionally every spring season to witness such an amazing sight of colorful flowers in bloom. 
Antelope Valley California Poppy Reserve in Lancaster, California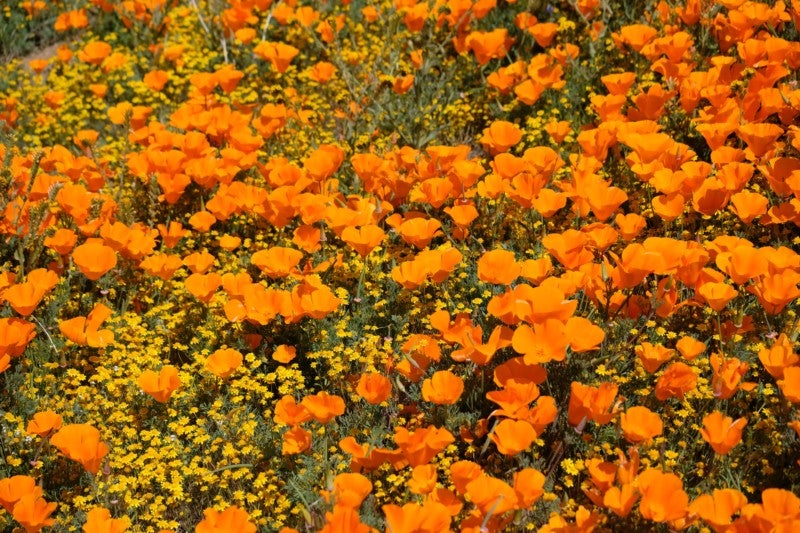 The warm weather of the season brings the wildflowers and Poppies to bloom in the field of Antelope Valley California Poppy Reserve in Lancaster, California. Aside from the brightly colored flower blooms of Poppies, the field also has Forget-Me-Nots, Red Maids, Fiddlenecks, and Slender Keel Fruits. When visiting the field, it is best to consider the rules. Visitors are only allowed on designated official trails to avoid stepping on blooms. 
Hallerbros Forest in Brussels, Belgium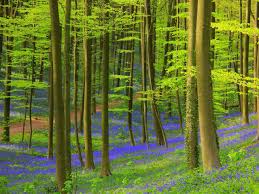 A forest covered with Bluebell flowers like a carpet is an extravagant sight to see every April in Hallerbros Forest in Brussels, Belgium. It is considered as crowd favorite for its purple blooms, aside from the giant Sequoia tree. The forest is open for hiking, picnics, and other activities being a public forest in the city. However, there are trails specifically designed for hiking, and there are picnic tables provided in the area. Rules and regulations are strictly implemented.
Flower fields in Puyallup Valley, Washington, USA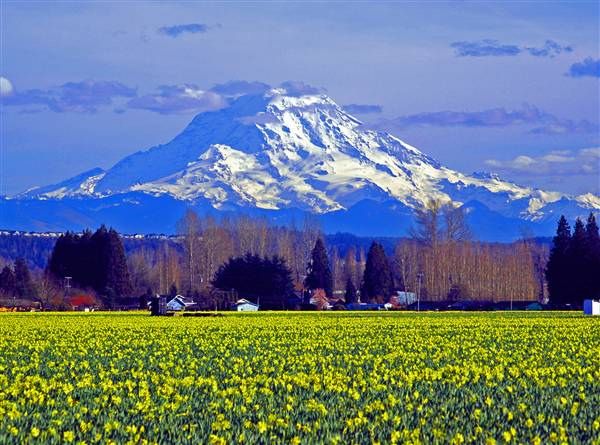 Spring season is the best time to travel and visit the fields of flowers in Puyallup Valley, Washington, USA. You will be welcomed by the colorful blooms of Daffodils, Tulips, and more. The magnificent Mt. Rainier as the background of the fields makes the scenery incomparable landscape of nature. 
Dubai Flower Garden in Dubai, UAE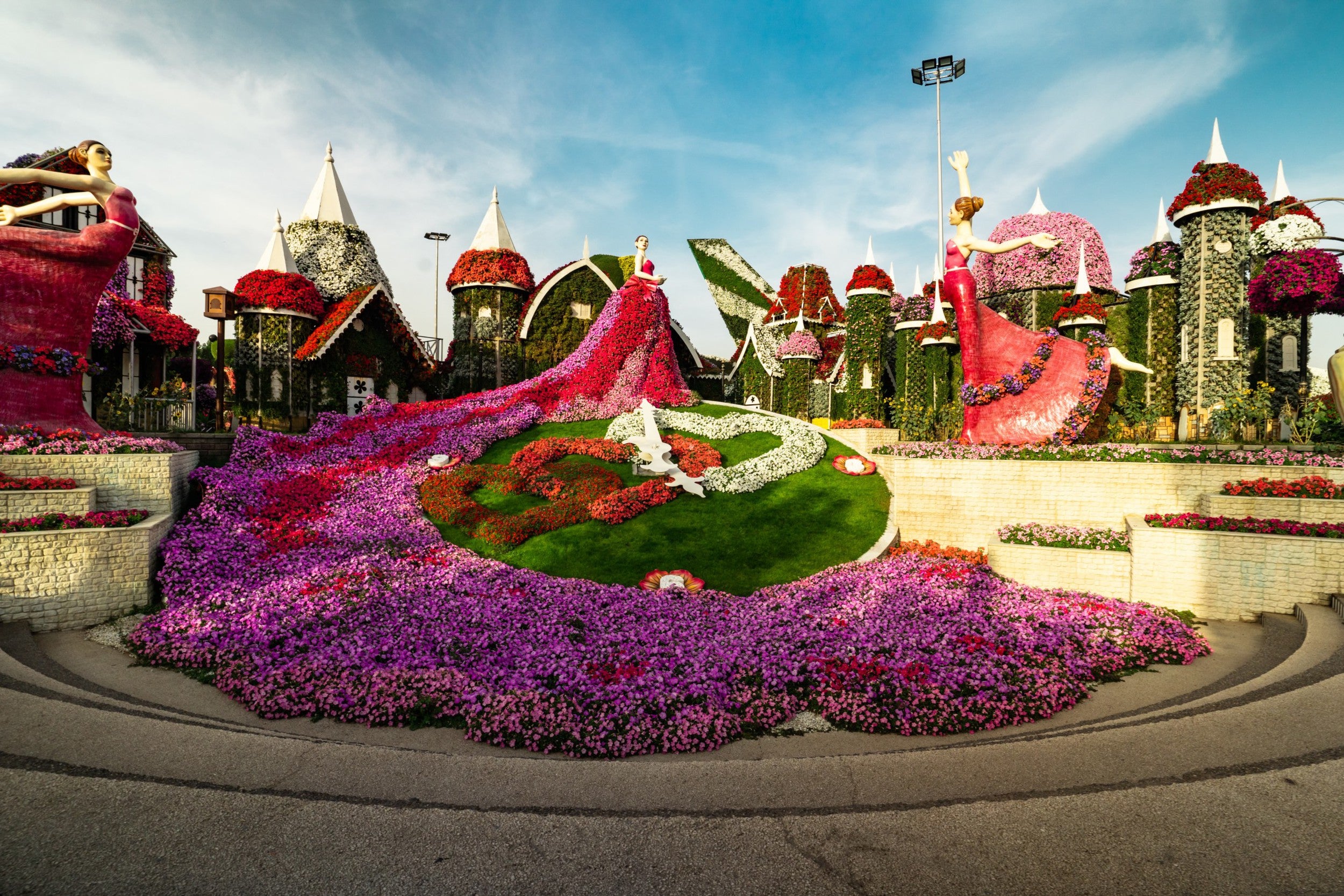 The desert field of Dubai is also the field blooming in beautiful flowers, thus named Dubai Miracle Garden. It is considered as the world's largest flower garden as it contains 45 million flowers in different varieties, colors, sizes, shapes, and structures. Al these flowers are fashioned and designed into shapes of heart, pyramids, stars, vintage cars, igloos, and arcs. The 72,000-square-meter garden is open for public tours.