The issues you might face travelling depend on the crime you were convicted of. A criminal record can keep you from entering another country or from being issued a U.S. passport. We'd advise a search on checkpeople to see details about your record as a first step. 
Being Denied a Passport 
The State Department can only ban you from traveling abroad if you were convicted on drug trafficking charges. However, the authority can also deny people with misdemeanor charges a passport if they choose. You don't need to worry about marijuana possession or anything equally minor. 
Once you have a passport, any potential issues will depend on the laws of the country or countries you want to travel to. For example, Canada is quite strict. Anyone with a conviction can be denied entry, including for something as small as a DUI. The Canadian authorities can deny entry to people charged with crimes in the US that didn't lead to conviction or even a trial if what they did is a crime under effective Canadian law.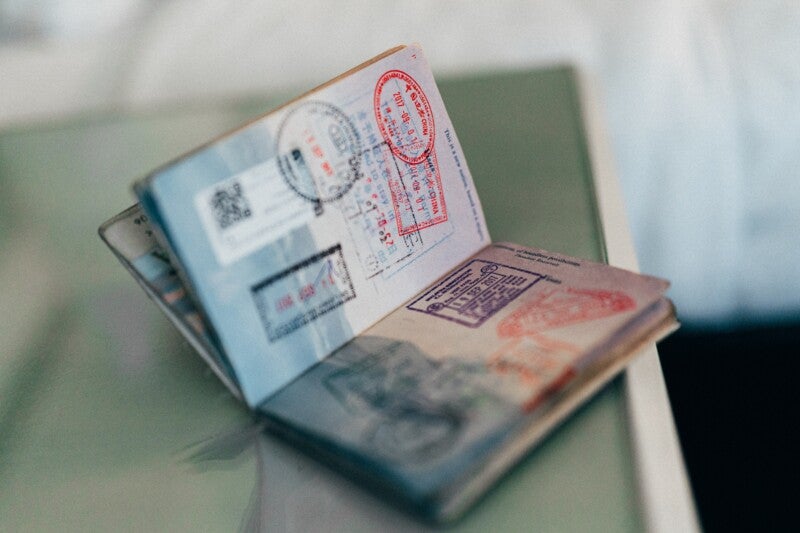 Visa Waiver Program 
Experts don't recommend attempting to travel without a visa under this program if someone was arrested in the past, even if the arrest didn't lead to a conviction. The same applies if the person was deported from the US. 
Traffic Offenses
You can travel under the Visa Waiver Program if you committed a small traffic violation that did not result in a conviction or an arrest. You should apply for a visa if you're not sure about your eligibility under the program. 
If you committed the violation in the US and haven't paid the fine or missed the hearing, there could be an arrest warrant out against you. In this case, it's obvious you'll have issues trying to enter the US. This issue needs to be resolved before you travel. Contact the court where your hearing was held. You can find the contact information at www.uscourts.gov.
Violent and Sex Crimes 
It is not surprising that people who've been convicted of such crimes experience great difficulty traveling. In some countries, you'll be banned from leaving domestic territory if you've committed a violent or sexual crime. In general, crimes committed outside the destination country count less than those committed on its territory. 
Visa Applications
You're not likely to have any issues if your destination admits you with an ID card or passport unless there's a search warrant out on you. However, they'll probably be interested in criminal history if you need to apply under the American ESTA or something similar. The type of visa determines entry requirements. All countries issuing retirement visas, for example, will request a police certificate. This is the same as a background check. It is issued by the police in your homeland or in another country where you've lived. It's often required for immigration, employment, and student visas as well. 
Few countries check tourist visas all that carefully, but some could ask about a criminal record.
Final Tips 
Give an honest answer when asked about the existence of criminal history. Lying to authorities can lead to a permanent or very long-term bar on admission to that country, especially Canada or the US. The UK and Australia as well as some former British colonies, have a "spent" conviction rule, where you don't have to tell authorities about a criminal record if you've fulfilled the terms for spent convictions. 
In sum, a criminal record can impact your travels in different ways, depending on the type of crime committed and your destination of choice.  Criminal history is not the only issue that will render you unwelcome. Others are being seen as a risk to health, safety, or public order. They can include having an infectious disease or mental health issues.