Actor Sean Scott McCracken
was born on February 21, 1980, in Sacramento, California. He is most notably known for his role in "In Full Bloom," which is currently in theaters and available everywhere.
So tell us a little bit about yourself Sean…
I was born in Sacramento and grew up around there. Interestingly my parents actually raised me and my 5 other siblings on a small Llama Farm.
Hold on a second… A Llama Farm?
Yeah! The McCracken Llama Farm. Pretty nuts!  (Laughs) We'd raise them to sell their wool for fabric or the whole llama to interested buyers. Eight people running around trying to raise llamas. It was a circus!
That is wild. How did you get into acting?
Some of my fondest memories as a child were making movies with my father's over the shoulder VHS camcorder that we weren't supposed to touch. My brothers and I would reenact sketch shows like In Living Color. We'd recreate horror and action scenes from our favorite movies. It's where I found my true passion for acting and movies. I always wanted to be an actor. Be a part of something. Create with family.  One of my favorites was recreating the knife throw scene from Big Trouble in Little China. You know the one. Takes some serious in camera editing!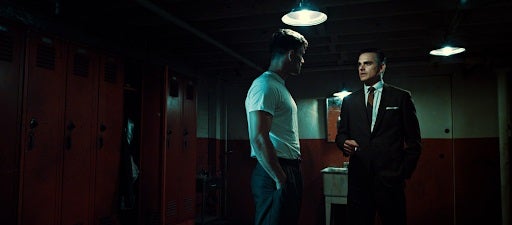 That passion for acting really shows in your new movie In Full Bloom. Can you tell us a little bit about that?
In Full Bloom is a total passion project for directors Reza Ghassemi and Adam VillaSeñor. We had worked together on a previous project. In this film, In Full Bloom, I play a fight manager named Silas. My character dug himself out of the gutter and is always looking to advance ground. At all costs. He's smooth. He's also torn. Loyal to those that matter. He's one deal away from chaos. And, everything is a deal. Everyone has a part to play. At day's end, he is going to do whatever it takes to get it.
How did you prepare to play that Character?
Coming from a sales background in my previous career gave me the resources and education to make a deal. This character is all about the story as a salesman. Deliver on all aspects, especially what can't be controlled. What can I say? This is my life. Certainly at the time. Silas had to exist in me. My career depended on it.
We heard you were not the first choice of the producers. Can you talk about that?
The producers of this film did an amazing job and I loved every second of working with them. Early on, before filming, they did have an opportunity to sign on a major name for the role of Silas. I can't name his name, let's just say, I'm a fan. And I do understand what a name like that could bring to a cult indie film like this one. But this one was mine! I am Silas. Luckily for me, the directors agreed and were able to convince the producer. (laughing). I think it worked… from all angles.
You did a great job. Your monologue in the movie was phenomenal.
Thank you. Part of securing the part was nailing that monologue. 4 minutes, continuous shot, no cuts, smoking, talking, and footwork. It's a make or break moment in the film. It was only because of the directors' faith in me, and willingness to rehearse with me prior to filming, that it worked. It felt again like being part of a family, and proving together we could do this. We really did become a family on that set. I've loads of love and respect for all the cast and crew on that film. After the film's premiere, I B-lined for the EP. I wanted to know. I asked him if he made the right choice. He told me, "you are a true actor," hook my hand, smiled, and walked away. I often get asked what's my favorite project I worked on. The one I got to do with the "In Full Bloom Family." So many great memories. Don't get me started on Oldenburg… (laughter)
You worked with the directors before, didn't you?
We did this music video for a band out of LA, Una, a song called "We Are The Lonely." This kind of existential take on life in the public eye. That fame has a way of causing isolation. That was the first time I worked with the gorgeous Stefanie Estes! She's a class act. She's also in In Full Bloom! She plays the wife of my fighter. Apparently, we look great together on screen. Wait! Spoiler alert!
Being Swagger, we have to talk about Men's Wearhouse. What is the story there?
That's a good one. It was the last day of filming for In Full Bloom when I got the message from my agent to go audition for Men's Wearhouse. I'll never forget, I had to break away during lunch. The two projects are forever entwined. And what's more interesting… it gets good here… growing up, after my mom was Miss Idaho, she became an image consultant. And as a child, she used to take me along with her to Men's Wearhouse to shop for men. To help them gain confidence, get a new job, impress a lady, those kinds of things. One of the things I learned from early on is how a tailored suit could change a man's image and deliver a jab of confidence. Confidence… changes everything. So when I was already dressed in Silas's retro sharkskin suit, I had a shoe-in on that audition. And just as the number 7 had changed my life before, I signed that contract on 7/17/17 and was off in a black car to the airport the following day bound for NYC. Becoming the spokesman for Men's Wearhouse forever changed my career. There are no coincidences. You just have to put yourself in the game and go for it!
In Full Bloom is now available in Theaters and On Demand Everywhere
Watch Now On Demand