Exactly ten minutes before our scheduled interview, Trey Richards sends a text warning that he is running precisely nine minutes late. When he calls, he is technically still early.
This is a level of professionalism that is not necessarily typical of entrepreneurs, particularly in fashion, and certainly not comedians or YouTube creators. But then, very little about Trey Richards is typical, which might explain why he's become so successful in so many different fields.
Perhaps best known for having one of the Youtube clips co-created with his brother Jae  sampled on "Madiba Riddim" by Drake, Richards has continued to build an online empire with 4YE. This includes not only the main 4YE channel but 4YE Vlogs, 4YE Originals and the Random Order Podcast.
Then there is 4YE the fashion brand, which this week dropped its Winter 2020 Collection that not only featured an array of sweats and beanies but a reimagining of the traditional sizing chart. While technically as simple as 1, 2, 3, the chart ranges from small-to-medium, medium-to-large and X-large-to-2X-Large. This, Richards explained, is a way to recognize that there is a variety of body types never shown on a catwalk.
"Some Mediums aren't the size as any other Medium," Richards told Swagger. "We wanted to build more of an in-between, to kind of simplify it a little bit more. We want people to bye able to relax and think more about shopping in a way that's fun again."
It's an inclusive move that seems particularly apt for 2020, when people are looking for brands that live out their values and provide consumers with an extra dose of comfort. It also, according to Richards, reflects the diversity that 4YE has been seeing within its customer base all along.
"We've seen parents order for kids, we've seen kids order for parents," he said.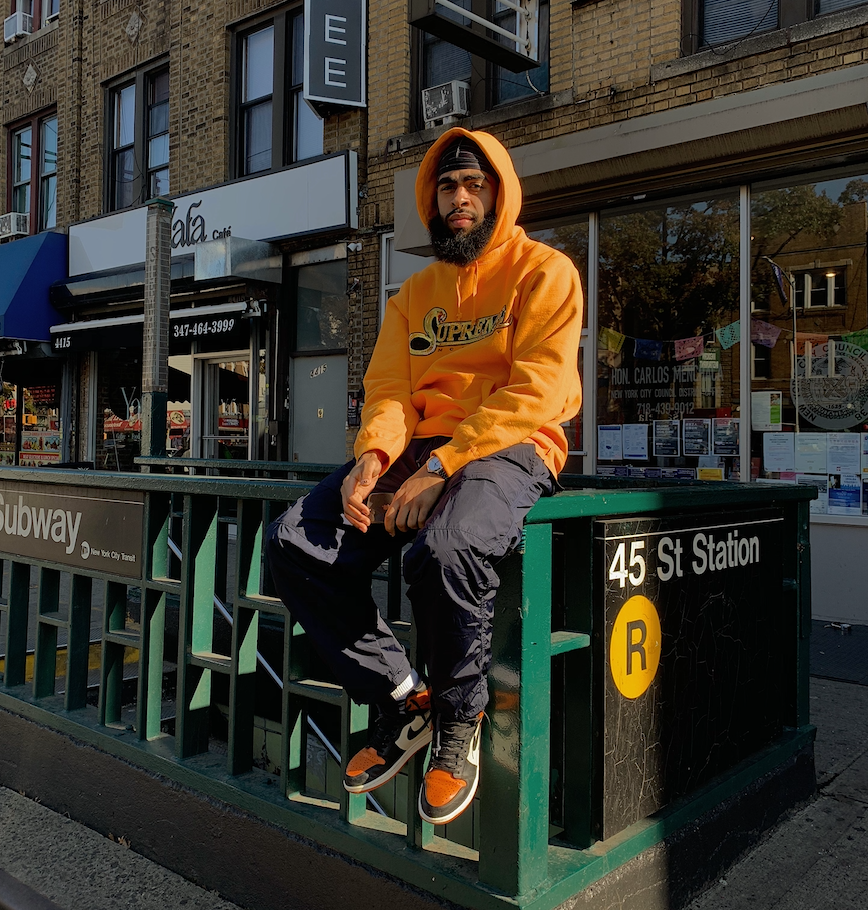 4YE started out humbly, selling do-rags, but has expanded in ways that Richards admits he never expected. That's been true of his multi-faceted career. Although he and Jae started making videos as far back as 2011 while still in high school, there was no guarantee that any of this would turn into more than a lark.
While some people lack the courage to take creative risks that lead to something bigger, Richards suggests his willingness to take bold steps started at home.
"I owe it to my Dad," he said. "He came here from Jamaica and I saw him stress out about certain things that I could see it wasn't important to stress over. But eventually he made a name for himself and started his own business. He worked so hard that we never saw an opportunity to fail. We saw it more as there was an opportunity to just go out there and make mistakes."
Today, Richards is trying to prevent other men from making an all-too-common mistake: failing to talk openly about mental health issues. Earlier this month, he posted a video on his Instagram account announcing a partnership with Movember and SToK Cold Brew Canada, which involved him talking candidly about stress and anxiety as part of a campaign dubbed 'SToK'ing a Conversation.'
View this post on Instagram
"Sometimes people talk in a way that suggests they think I have zero problems and no worries. They speak in a tone of of, 'These are my problems, and you're not going to relate,'" he said. "Honestly, especially this year with this pandemic, I'm at home just like you, looking through messages and trying to stay connected."
Of course, comedians have a special value during dark times, and Richards is continuing to work on projects that will allow him to broaden his reach. This includes a scripted series is currently in play, as well as keeping the clips coming on YouTube.  Even with the toxicity of subjects like racism and the U.S. election, Richards said he has no intention of holding back.
"I feel like there is a lot of space and a lot of room to poke fun of things that aren't okay, but in a comedic way," he said. "I've come to learn that there's a lot of truth in comedy. We laugh at what we connect to."