Before Sonos, brilliance was something you could only see.
Usually defined as an intense, bright light, brilliance has been associated with the sun, the stars and the gleam of jewelry like diamonds. For close to 20 years, however, Sonos has been steadily producing wireless speakers and sound systems for the home that are redefining brilliance as something that leaves the human ear awe-struck.
Founded in Santa Barbara, Calif., Sonos has described the "brilliant sound" of its products in many ways, but for most of us it probably translates into a perfect balance between richness, clarity and an authentic representation of whatever is being played.
The need for brilliant sound would be easy to overlook, but Sonos has conducted research that helped prove how necessary it is to almost every major aspect of our lives.
In a survey of 12,000 listeners across 12 countries, for example, Sonos found that 74% of people say listening to music reduces stress, and 69% say it makes them more confident while working out. There was even a impact on love in relationships, where 70% said good taste in music makes someone more attractive.
That data has informed a wide range of products Sonos offers, from its Sonos One smart speaker that connects to virtual assistants like Amazon's Alexa, to the Beam soundbar that enhances the experience of using a smart TV.
This year, Sonos created headlines by extending its impact beyond hardware with the launch of its own free, ad-supported streaming radio service in April. Through Sonos Radio, you no longer need to stress about creating the perfect playlist. Throw on Jazz Journeys when hosting, Cruise Control as you mindlessly wind down from a long workday or throw it back with 80s Flash – there is something for every occasion.
The More Sonos, The Better
As unexpected as these moves are, in some respects they represent a natural progression based on what Sonos has learned about its customer base.
In a recent interview with CNBC, for example, Sonos CEO Patrick Spence said many people are recognizing that the most brilliant sound system is multi-faceted, which is spurring them to make more investments in the speakers they have around their home.
"You see the power of our model. It's kind of unlike any other, where we're attracting new customers to our system, then they add more products to their system over time, and it gets better the more Sonos they add," he said.
The Sonos Move
While the pandemic might seem like an ideal moment for Sonos to capitalize on the fact that more of us are spending time indoors, the development of its product line shows the company is thinking through where we'll want to enjoy brilliant sound at any time, and any where.
Introduced late last year, for instance, the Sonos Move can connect both via Wi-Fi and Bluetooth, with a cutout around its back that functions as a carrying handle. That means the Move would work as well if you were going to the beach in the summer or enjoying a picnic in Spring or early Fall.
With dimensions of 23.9×15.9×12.6cm and weighing about 3kg, the Move includes a rubberized base and plastic grille that was designed to withstand unexpected drops or bumps. The speaker's IP56 rating, meanwhile, means it will also survive dust or accidental spills.
Sonos also has a long history of partnering with like-minded firms, and the Move shows it by supporting Apple's AirPlay 2, Amazon's Alexa and Google Assistant. Recognizing that some of us have concerns about privacy while we're in a room with smart speakers, Sonos has an option to mute the microphone, and has a small LED light on top of the device to indicate when that microphone is active. When it's on, the mic uses a quad far-field mic array for better capturing voices and adjusting sound, whether you're outdoors or enjoying it at home.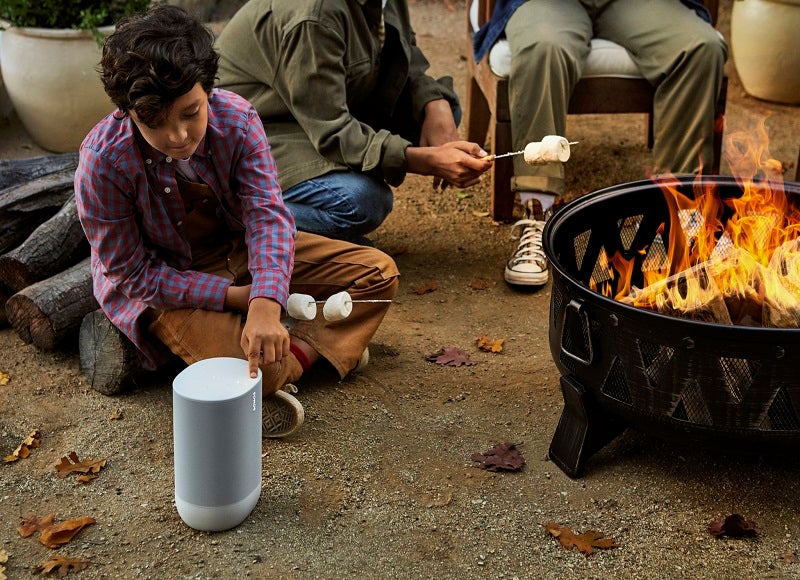 While Move made its debut in Shadow Black, Sonos recently decided to expand its colour palette with Lunar White. To get a sense of why this particular aesthetic choice is an important consideration, it's worth quoting an interview with the company's Design Director of Colour, Material, Finish, Kitty Suidman:
"Bright white is not a 'natural colour,' so taking it outdoors doesn't feel appropriate. It stands out too much. And that's what led us to Lunar White," Suidman explained. "Since Move was designed to be used both indoors and outdoors, we needed a colour that could seamlessly transition between the two environments. It needed to feel at home in both an indoor and an outdoor space. Colour should complement its surroundings."
Those special touches, along with a battery life of up to 11 hours has critics impressed.
"It's lived up to our initial impressions over the past few months. The Move puts out strong sound and bass that will truly fill a room," Benjamin Levin wrote on CNN.
"It can reach deep lows and pitchy highs thanks to its built-in woofer and tweeter. And unlike any other Sonos speaker, the Move is capable of running on either Wi-Fi or Bluetooth. If the speaker finds itself out of Wi-Fi range, it will quickly switch to Bluetooth mode."
Of course, people don't just stay loyal to a brand because of its products anymore, but the values it represents, and the events of 2020 have raised questions about how more companies will contribute to social good.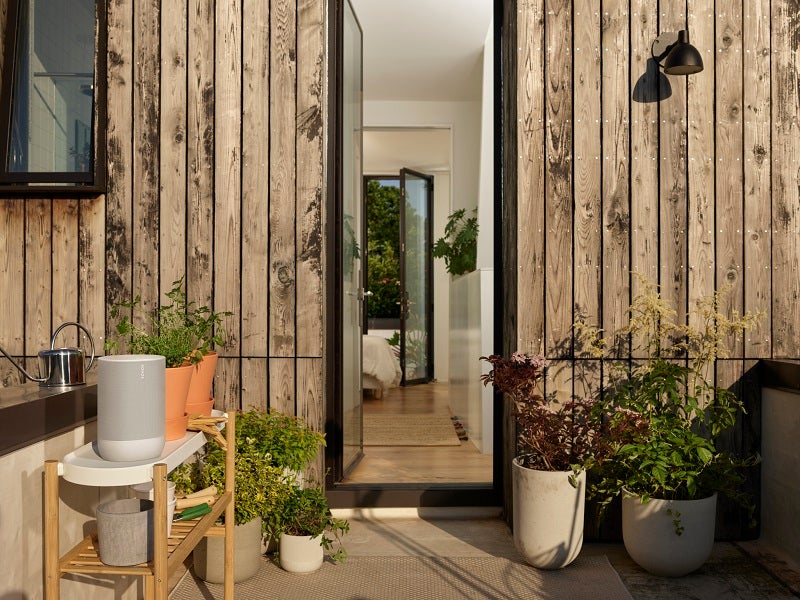 Sonos had already been supporting youth music education around the world through a program called Sonos Soundwaves. In the wake of Black Lives Matter and other societal challenges, though, Sonos has recently partnered with nine different non-profits to expand Soundwaves to include causes that use music for healing and resilience. This will be promoted in part through its own channels, where the company is donating ad space to raise awareness about its partners through its Sonos Radio service.
As its growth story continues, in other words, Sonos is actively listening to what's happening in the world, and amplifying those voices — artistic, social or otherwise — deserves to be heard as brilliantly as possible.