Start your day with a touch of sophistication right in your kitchen.
Experience the epitome of coffee luxury with the De'Longhi Eletta Explore Espresso Machine, a true game-changer in our morning routine. This extraordinary machine offers an array of features, including over 40 hot and cold one-touch recipes.
With a built-in conical burr grinder offering 13 settings, it delivers the perfect grind for every cup. Plus, it comes complete with a 16-ounce travel mug and ice cube tray for ultimate convenience. The LatteCrema Automatic Milk Solution, also features Hot and Cold Foam Technology, which adds a creamy touch that's nothing short of divine. With the assurance of a 1-year warranty, extendable to 2 years with product registration, it's not just a coffee maker; it's a statement of indulgence.
Let's further dive into the details:
Crafting Coffee Wonders:
The Eletta Explore is a dream come true for coffee enthusiasts. With the simple touch of a button, you have access to 40 hot and cold coffee recipes, each a testament to the art of barista-quality beverages, all at your fingertips.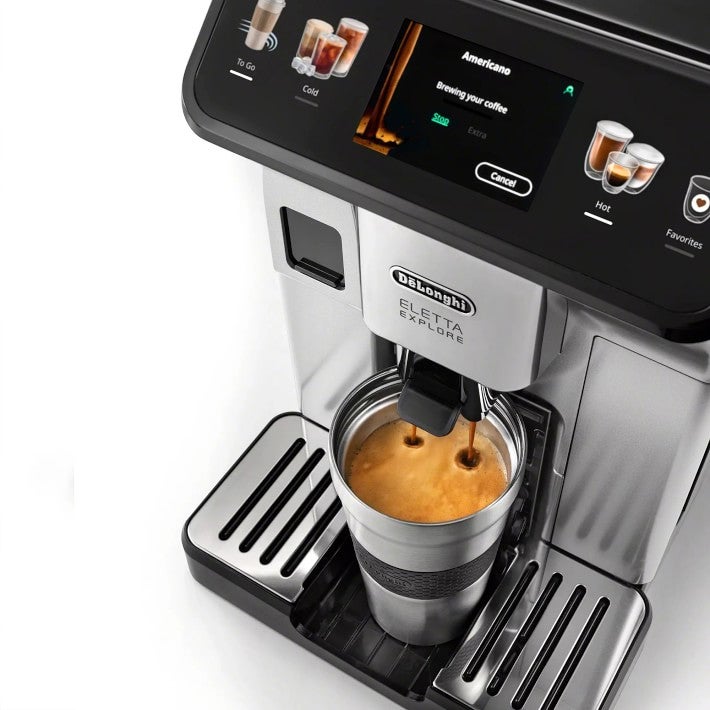 A Poetic Frothing Experience:
Prepare to be captivated by the graceful precision of the LatteCrema™ Hot and Cool systems. They create both heated and chilled froths that dance upon the surface of your chosen elixir. The Hot System tenderly textures milk or milk alternatives, to ensure the perfect latte or cappuccino. Not craving a hot beverage? Skip Starbucks and use the Cool System to elegantly deliver a velvety cold foam at the perfect temperature.
From Bean to Cup:
The journey from the coffee bean to your cup has never been so elegant. Inside the Eletta Explore lies a conical burr grinder with 13 finely-tuned settings that allow you to personalize the delivery of your freshly ground beans, creating a symphony of flavours. It's not just a machine; it's your coffee maestro.
A Design that Defines Elegance:
Draped in sleek stainless steel, the Eletta Explore has a 3.5′′ TFT full-touch, colorful display, adorned with soft-touch controls for easy use.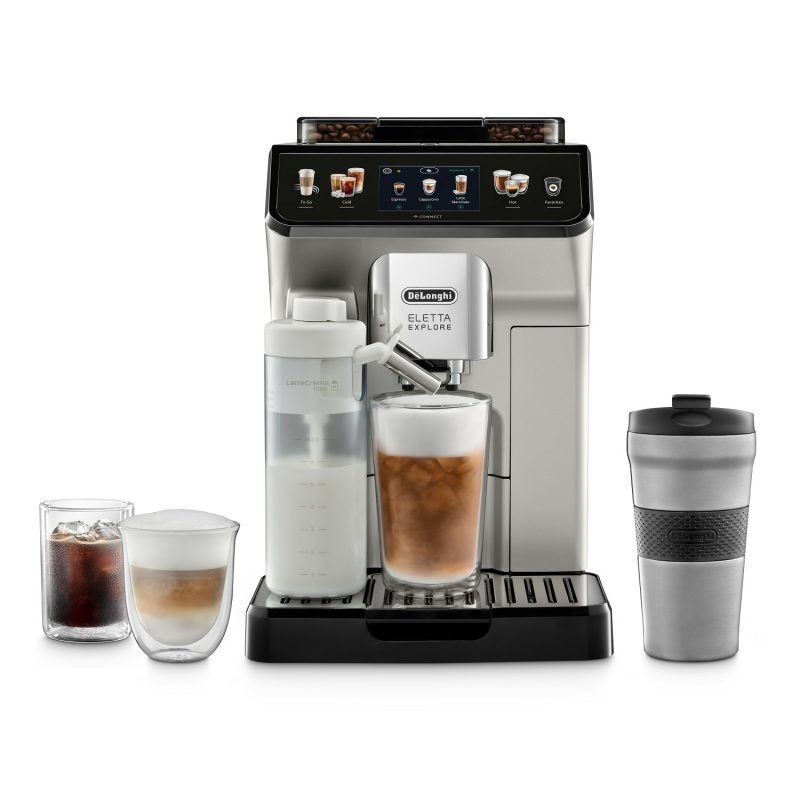 Coffee on the Go:
In our fast-paced lives, the Eletta Explore keeps up effortlessly. Its innovative To-Go function fills your favorite travel mug perfectly, so you can take your coffee companion wherever life leads you.
Mastering the Art of Cleaning:
Cleaning is a breeze thanks to removable and dishwasher-safe parts. The Eletta Explore pampers you not only with its coffee creations but also with its easy maintenance.
Conclusion:
The De'Longhi Eletta Explore Espresso Machine offers the utmost sophistication and convenience for coffee lovers. With its extensive repertoire of coffee recipes at the intuitive touch of a button, it brings the art of barista-quality beverages right into your kitchen.
Customize your daily ritual with the spirit of Italian craftsmanship and welcome yourself to a new era of coffee sophistication with the Eletta Explore.