Can you smell that wood-fired steak? Awesome, right?
Wait – there's several of them cooking, and everyone can take a turn adjusting their own food to their own liking. And we can face each other, including the chef. The charm of the Kota Grill is just beginning.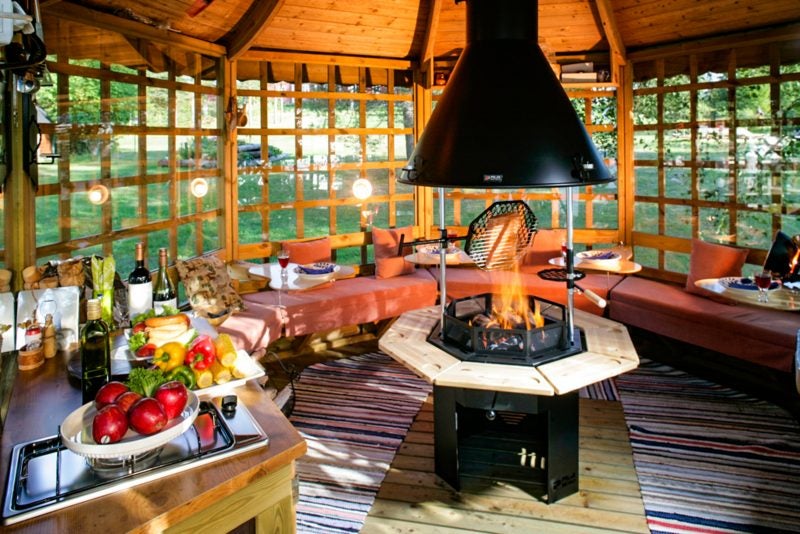 Kota Grill is a new concept in wood-fire grilling. Well, new to us, anyway. If you've ever spent time in Finland, this is "old school" stuff.

Originating from Lapland, Finland, a Kota Grill is the moniker of a special kind of wood-fired grill. It is typically hexagonal – sometimes octagonal – but based on a circle, so you can cook, and sit, on all sides.
As a raised firepit, the Kota Grill is perfect as a rustic outdoor kitchen in the backyard, cottage dock or beachside or, inside the traditional "Grillikota" — English for a Kota Grill Hut.
The Kota Grill Hut measures about 100 square feet, it will comfortably fit a party of eight people (when Covid is gone) – and it's a great way to bring people together in a socially distanced, engaging, and fun way.
The Kota Grill is not just a way of life for the Finns, but also a way they embrace their love of the outdoors. And now, that tradition has come to the Americas.
Oliver Dawson, president of Kota Grills of North America, is what you might call a man's man. He's not only been leading beer tours since 2000, but he's the guy bringing the Kota experience – the outdoor portable grills and grill huts –  to this side of the world. He's a dude's dude, who knows beer and grilling!
Up until Covid, he would travel the world, exploring new kinds of beer. In 2015 he visited a German town called Rastede, staying in a little country hotel, where there had been a Biergarten in the summer. In the winter, the Biergarten was gone, and there, in its stead, was this little hobbit-like hut. So, beer in hand, he wondered, 'what is that?' Inside were benches, and this little wood fire grill in the middle, and a hood to take smoke away. Then and there, he discovered the Kota hut, the paradigm rustic outdoor kitchen. Beer never tasted so good!
He was smitten, and instantly wanted one; he found the manufacturer, and emailed them. One email led to another, and Dawson not only discovered that these grills weren't travelling much farther than Europe, but that he realized he wanted to be the exclusive point-person for North America. The purpose of which was to bring this incredible new barbeque experience to these shores. 
About a year afterward, he visited the production factory, Polar Metalli, taking him to Lapland on the Arctic Circle, in Kemi, Finland, where the grills are built.
"The grill design concept is unknown in North America. It's not your guests staring at your butt, waiting for their hamburger. It's a collective, interactive experience. Maybe one person is doing all the cooking, or you are all doing your own cooking, but it is a collective experience. It's communal. It's a gathering," Dawson says. He calls it a "dining circle."
Dawson worked with several architects and designers to create a series of original contemporary Kotas, that feature both an eating and grilling area. The traditional "Grillikota" is replicated on this side of the world by Mennonites in Dundalk, Ontario, and made out of premium, fine Canadian Western Red Cedar. He also imports Kota Grill Huts from Europe
The huts are easy to assemble, and can be shipped anywhere in North America in six to eight weeks.
Every Kota Grill is engineered for the elements: it comes with removable smoke hood, wooden tables, a large rotating 2-sided grill, a 2-part enameled grill, a small grill grid, a pot hanger and spark guards. Its versatility means it could be a rotating grill, a fixed grill, or roasting pan, cooking up to six items at the same time. Built to last, it's zinc-coated, to protect against rust.
What's also super appealing is how it's portable. Two people can take the hood off, tables off, transport it, and make it a moveable feast – be it to the dock, waterfront, a neighbor's, or another part of the backyard. They are easy to take apart, move, and then put away when not in use.
Hut add-ons include: a pop-up bench for resting, smoke hood and rain cap, utensil storage cabinets, wine rack, log storage bench, and so many others.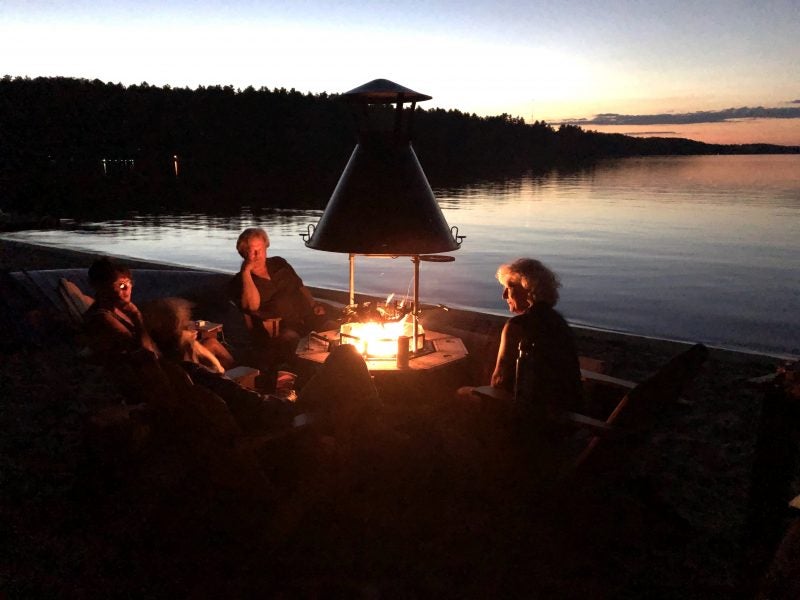 Another popular benefit is using the grill for traditional smoking, just like they did in the olden days, when they'd literally hang the meat inside the hearth over the fire, and it would smoke that way. With Kota Grill, you can be grilling on the lower level, and smoking on the top.
With all of that, you have all of the benefit of wood, smoke, and fire, flavoring the food.
"This notion of a connection to the outdoors, wellbeing, and a love of things beautiful – that's what this is about. The Kota Grill is as much decorative as it is functional," says Dawson.
Whether you put your Kota Grill inside a traditional Grill Hut, or as a stand-alone on your patio, the Kota Grill is at its heart a rustic outdoor kitchen that will make your grill master dreams come true.