Scent is perhaps the most personal grooming product. Transformative and memorable, cologne has a powerful effect on men and those who surround them. Have you ever noticed someone's eau de parfum before they even entered the room? Or met someone wearing a fragrance that reminds you of something or someone special? These are the characteristics of a memorable eau de parfum.
Blu Atlas has released its signature eau de parfum fragrance, Atlantis. Crafted to inspire adventure and wanderlust, Atlantis is rooted in the soul of Bali. The perfect beach, the lush tropics and a hint of citrus make this cologne thrilling and unique.
Blu Atlas, famous for starting a revolution in men's grooming and personal care, formulated its signature fragrance using the same principles it used in its popular skincare line, with a commitment to using clean ingredients and no harsh chemicals.
Atlantis has notes of bergamot, clary sage, oak moss and violet, combined with musk and citrus. Lemon, apricot, peach and lavender bring a perfect balance between invigorating and calm. And the base note of musk provides a dark and mysterious undertone that brings out the sensitive, seductive side of every man.
The first time I experienced Atlantis I noticed the invigorating, fresh notes first, and then the masculine and sexy notes unfolded. This fragrance has layers and dimensions that reveal themselves over time. It's a mood in a bottle.
Why Blu Atlas?
What's unique about Blu Atlas and Atlantis is their commitment to formulating the very best men's grooming products and their attention to detail. I love the sleek, matte-black 3.4 oz/100 ml bottle. The cap is magnetic, so there's a satisfying click when you put it back on. It's details like this that add to the experience of Atlantis. The scent is, of course, incredible, but simply using the bottle is a rewarding experience.
As someone who has worn men's cologne for years, I have found that many fragrances tend to smell similar. In fact, so many have the same clean scent that it's hard to tell them apart. I appreciate the fact that Atlantis is unique and feels like a fragrance I haven't experienced before. It will ensure you stand out and make an impression.
Unlike many premium scents, Atlantis is not overpriced. At $100, it's accessible for most, and becomes even more affordable if you subscribe to receive the cologne every 30 days. For a brand like Blu Atlas, the price of Atlantis is very reasonable.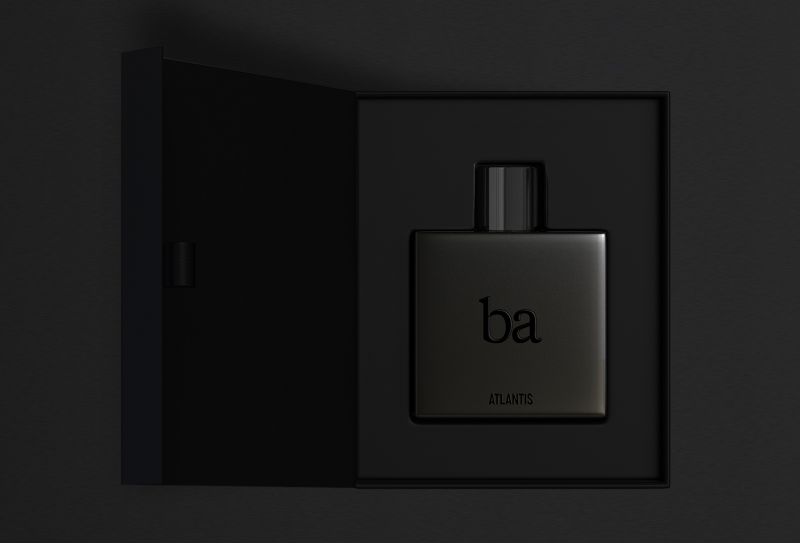 A Unique Scent
Atlantis provides an experience like no other. It reminded me of the perfect beach day with the promise of an exciting night out. Imagine twilight by the ocean, with electricity in the air as a storm rolls in. There's something light and peaceful about Atlantis, mingled with just the slightest air of mystery about what happens next.
Atlantis starts with musk, orris, oak moss, ambrette seed and violet. These strong base notes give the eau de parfum a quiet yet powerful foundation to the layers that will come after. The middle notes are lavender, clary sage, peach and apricot. Again there's calm with the lavender, but the citrus notes are starting to build. The top notes are bergamot, lemon and blackcurrant. These notes add the perfect bright finishing touches to the boldness of the fragrance. Citrus gives the fragrance a clean, fresh finish and marries superbly with the base notes.
My girlfriend was intrigued by Atlantis when I wore it the first time. Her initial reaction was to ask me if I was wearing a new scent. She could tell it wasn't the same brand I typically wear and I liked the way she sidled up to me. After showing her the beautiful padded box and the sleek, sexy bottle, she asked if they made women's scents, too!
Why Eau de Parfum?
Eau de parfum is more concentrated than cologne. An eau de parfum is the strongest form of scent, and the longest lasting. Eau de parfum contains up to 15 percent of essential fragrance compounds so you get more longevity from the fragrance.
The ideal way to wear eau de parfum is on the body's pulse points, like the inside of wrists, inner elbows, below the belly button and the backs of the knees. These areas of the body emit heat, which allows a fragrance to smell stronger.
Many people like to spray eau de parfum directly onto their clothes. While you can certainly do this with Atlantis if you wish, it's not recommended. You do not have to worry about Atlantis staining fabrics, but since some fabrics are more sensitive to moisture and oils than others, it is typically better to apply fragrance onto the skin. And not to get too spicy, but when the clothes come off, your fragrance will still be there!
Confidence-Boosting Atlantis
We all want to look sharp, feel great and make a good overall impression in the world. A fragrance like Atlantis offers confidence to the person who wears it. It's the type of scent that people appreciate because of its understated refinement. Don't be surprised if you get compliments on Atlantis or find that people start asking you what you're wearing. You will get noticed with Atlantis…and for all the right reasons.