Microcurrent facials have become one of the most popular non-invasive anti-aging treatments for those who wish to look younger without surgery. But before you decide whether this is the right option for you, it's important to understand exactly what's involved and what results you can expect.
In this guide, we explain everything you need to know to make an informed choice on whether it's the right option for you.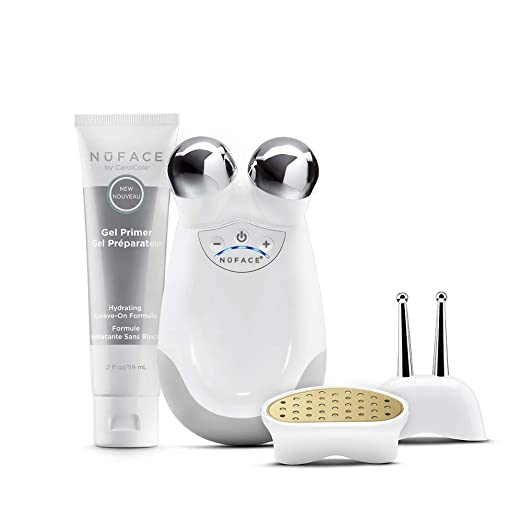 What is a professional microcurrent machine?
A professional microcurrent machine refers to the electrical stimulation of body tissue for therapeutic purposes. It can be used for muscle and facial toning, anti-aging, pain management, and more. 
Estheticians use professional microcurrent machines in salons, spas, or private practices. Each one consists of a power supply (a battery or transformer), a controller (a timer or frequency generator), and conductive electrodes that are placed on the skin.
The effect of a microcurrent machine is to strengthen the muscle fibers (myofibrils) within the myofascial surrounding muscle cells, which leads to increased muscle tone. Microcurrent therapy also increases blood flow to targeted areas by dilating blood vessels and reducing inflammation by increasing lymphatic drainage.
How does it work?
When you use a professional microcurrent machine, you'll notice the tingling sensation from the tiny electrical impulses. This is because the microcurrent works by sending low-voltage electrical currents through the face and body, which signal your skin to start producing more collagen and elastin, two proteins found naturally in the deeper layers of your skin.
The build-up of these proteins helps to plump up lines and wrinkles while also improving circulation in the skin, boosting hydration levels, and brightening the complexion.
The results of this process include visibly firmer, smoother facial contours and softer lines. Because microcurrent is a non-invasive treatment that doesn't require any downtime afterward, it's an increasingly popular treatment for those looking for a more youthful appearance.
What is the difference between microcurrent and the normal current we get from a power outlet?'
The electrical current that comes through a power outlet has an amplitude of 120 volts. In contrast, the microcurrent delivered by a professional machine has an amplitude of between 0.5 and 1 milliamp (thousandths of an amp). An average current runs at high speed from one electrode to another; the microcurrent runs more slowly and evenly through the body.
Microcurrent is a natural part of our bodies, which depend on electricity for cellular function; our bodies generate tiny currents that are constantly in motion throughout the body, triggering biochemical reactions critical to sustaining life. Microcurrent mimics those natural electrical impulses to rejuvenate skin tissue, giving it the appearance of being more youthful and vibrant.
Who can use this machine?
Anyone can benefit from microcurrents, and it's effective no matter what your age or the condition of your skin.
Microcurrent is the "go-to" treatment for facial lifting, contouring, and rejuvenation. These are found to be effective for people with all sorts of health problems, including:
pain and stiffness in the muscles

Joints and tendons

Fatigue

Arthritis

Chronic pain

Sports injuries

Carpal tunnel syndrome

Fibromyalgia

Irritable bowel syndrome (IBS)

Asthma

Autism and other developmental disorders

Multiple sclerosis (MS)

Migraines…the list goes on!
What are the benefits?
The benefits of a professional microcurrent machine are many. An essential advantage is to help you reduce the appearance of fine lines and wrinkles. It also helps to increase blood circulation and improve skin tone.
Usage benefits of microcurrent machines
At home, microcurrent machines offer many benefits to the user. These include:
Convenience – You can use a microcurrent machine at your convenience without booking appointments or traveling anywhere.

Savings – You can save money by using a machine yourself, as there are no professional fees to pay.

Privacy – If you are self-conscious about getting treatments, then doing them yourself at home allows you to keep this private

Control – People who use a home microcurrent device have more control over their treatment regime and monitor their progress more closely.

Flexibility – A microcurrent machine offers flexibility in terms of treatment times and what areas of the face you treat.
Health benefits of microcurrent machines
Reduced fine lines and wrinkles

Improved appearance of scars and stretch marks

Skin tightening

Increased collagen production

Improved skin texture and firmness

Toning of the skin

Enhanced contour definition in face and body

Lifting of the eyebrows and eyelids

Reduced pore size

Cellulite reduction
Should you use a professional microcurrent machine in pregnancy?
We are often asked if it is safe to use professional microcurrent machines while pregnant. The answer is yes, and it is safe and recommended by many estheticians and skin care professionals.
In fact, one of the most common microcurrent uses in pregnancy is for relief from puffy eyes, sagging skin, acne, and other skin problems caused by hormonal changes during pregnancy. However, there are a few things you need to keep in mind when using such a machine during this period.
The first thing you will want to do is talk to your doctor about any concerns about your skin condition or any medications you may be taking that could cause complications. Many women choose not to take medication for their skin problems during pregnancy because there is no guarantee that these medications will not cause side effects. If you have any concerns with your skin problems during pregnancy, talk to your doctor before trying anything new.
Takeaway
Microcurrent machines have been on the market for quite some time, demonstrating the great results that can be achieved. If you are interested in purchasing one to use at home, be sure to shop around — ask questions, read reviews, educate yourself about what makes one machine better than another. The more research you do upfront, the happier you will be with choosing which microcurrent machine to purchase.
That brings us to our final tip for using microcurrent machines: use them consistently, and you'll see results. They may take longer to see results than other anti-aging treatments, but these are safe, painless, and virtually risk-free.