Badass Beard Care
Badass Beard Care is a veteran-owned and operated beard care and men's grooming company. Badass Beard Care specializes in premium men's grooming products that promote healthy skin and faster, fuller, thicker hair growth. Their products are manufactured using premium, all-natural ingredients that are specially selected for their beneficial properties. The company was founded in 2014 when Charlie Moyer began growing his 'Freedom Beard.' A Freedom Beard is a veteran's first beard after leaving the military. Charlie soon recognized a need for quality beard care products at an affordable price. Today, Badass Beard Care is a quickly growing, direct to consumer business that is unarguably dominating the digital market. High levels of quality control are maintained by proudly manufacturing all oils, balms, butter, waxes, washes, and deodorants in the USA. The result is over 50,000 five star verified reviews from men who love Badass products. Their mission is simple: inspire men to unleash their inner Badass by providing inspiring content and premium products that promote healthy skin and beard hair growth.
The first step in gaining healthy skin and facial hair growth is introducing Badass Beard Oil to your daily routine. Badass Beard Oil is made with all-natural ingredients including apricot oil, argan oil, jojoba oil, vitamin e oil, and essential oils for scent. The unique blend is designed to hydrate dry skin, combat beardruff, and the horrible itch that many men face when they start growing their facial hair. It also works great to soften and relax facial hair, making it much easier to shape and style. Badass Beard Oil achieves this by being absorbed by your skin and facial hair and is safe on all skin types.
Badass Beard Oil
Badass Beard Butter is an all-natural beard conditioner, formulated with premium, all-natural ingredients that hydrate and condition your facial hair. The moisturizing properties of kokum, mango, shea, and cocoa butter combined with detangling argan and jojoba oils transforms and conditions even the most parched and wiry beards. The result is a consistency that is thick and extremely hydrating. Apply the butter after beard oil in your morning routine or at night as a leave-in conditioner. Beard Butter is used to hydrate, condition, and soften your beard. It's also excellent for replenishing your skin's natural oils and combating dry, itchy skin. The butter melts instantly in your hands, is easy to apply and offers a light, natural hold.
Badass Beard Butter
If you have a problem with product build up in your beard or maybe your beard just needs a deep cleaning, our Badass Beard Wash is the product for you! Badass Beard Wash is a deep cleaning wash recommended for use every three to four days. Badass Beard Wash is specially formulated with Tea Tree Oil, Eucalyptus Oil, Aloe Vera Juice, and Rosemary Oil for beard hair and the skin underneath. The invigorating scent will wake up your senses and make your beard smell fresh and clean. Badass Beard Wash is designed to strip unwanted oil buildup, dirt, and grime out of your beard and off of your skin. This gentle yet effective wash is perfect for even the most sensitive skin. It works great to keep your beard hair light and clean while leaving your skin clean, hydrated and refreshed. Just a dime-sized amount of this Badass Beard Wash will be enough to give your beard the deep clean that it needs. With over 550 verified customer reviews, Badass Beard Wash is a must-have. Priced at $17.99 for one 8oz bottle or $44.99 for a bundle of three 8oz bottles, Badass Beard Wash is the perfect addition to your beard care routine.
Badass Beard Wash
Badass has your beard covered when it comes to Beard Oil and Beard Balm after the shower, but how about during? Chuck's Hog Wash is an all-natural formula that is designed for any bearded man. The best part is it's not only meant for your beard hair but also meant to be used as a body and hair wash. Yup, you got it, a 3-in-1. Chuck's Hog Wash is sulfate-free and made with 100% all-natural, clean ingredients. This unique formula is suitable for daily use while making sure to leave your beard, hair, and skin softer than ever before. We offer our Chuck's Hog Wash in all 13 Badass scents offered in Beard Oils and Beard Balms. That way, each step of your daily beard care routine scents can match. Or, if you are feeling wild – you can mix and match them. There are multiple ways to get Chuck's Hog Wash. For $19.99 in an 8oz bottle, gives you the option to choose one scent or get it in a bundle of three. The Badass Hog Wash Bundle is the way to go. Pick and choose your three scents, or you can make all three the same. If you are convinced you need to try Beard Oil, Beard Balm, and Chuck's Hog Wash, then you should take a look at our Hog Wash Combo. Priced at $49.99, our Hog Wash Combo is everything you need to make your beard, hair, and skin Badass! It comes with one 8oz Hog Wash, 2oz Beard Balm, and a 1oz Beard Oil where you can choose from any of our 13 scents.
Badass Hog Wash Combo
Not only does Badass produce all-natural Beard Oil and Balm, but it also proudly presents men's all-natural deodorant. New Badass Brand Deodorant Stick is easy to apply, gentle on all skin types and provides powerful, long-lasting protection. Their new advanced formula includes activated charcoal, bentonite clay, baking soda, and a unique blend of 8 essential oils to kill odor-causing bacteria and absorb excess moisture. Badass deodorant is not only cruelty-free (only tested on bearded vets) but also free of harmful chemicals, parabens, aluminum. The 2.8oz twist-up stick is available in 10 badass scents. With over 90 verified customer reviews, this all-natural deodorant is a product we believe should be in every medicine cabinet. You can purchase our Badass Deodorant Stick as a single item, and you also have the option to acquire in bundle form. The Badass Deodorant Stick Bundle is priced at $34.99 for three deodorant sticks. It provides you with the opportunity to choose three of the same scents or mix and match from the 10 Badass scents available.
Badass Deodorant Stick Bundle
So, you have your Oil and Balm on the counter – ready to go – but what do you apply it with? Any job worth doing requires the proper tools for the task at hand. No man walks into a jungle with a plastic machete. That's why Badass beard tools are crafted from quality ox horn, hardwoods, bamboo, and boar's hair. Be sure to tame your mane with the Black Series – Contoured Beard Brush. It's a beard tool masterpiece. The brush is carved to be ergonomically shaped, not only to fit your hand but also to the curve of your face and jaw. Comfort is key, right? Badass thinks so too. That is why the brush has grooves carved out of the brush's side for a comfortable and secure grip. The hardwood frame is a painted gloss black with a metallic silver Badass Beard Care Logo. The bristles are 100% pure long black Boars Hair with medium stiffness. It won't feel stiff against the skin like other brands that use fully or partially synthetic fibers. Its bristles are designed to be gentle on the skin while cleaning and polishing your beard hair. The boar's hair will exfoliate your skin and remove dandruff, giving you a cure for the itch. Simultaneously, it stimulates blood flow near the skin's surface to promote healthy hair growth. The Black Series – Contoured Beard Brush is made to distribute product through even the biggest and most dense beard without causing static or pulling out beard hairs. The Black Series – Contoured Beard Brush is priced at $24.99. Alternatively, you can jump right in, beard first, and purchase this Badass brush in two of our kits! Our Badass Styling Kit ($69.99) and our Badass Essentials Kit ($59.99).
Badass Beard Styling Kit
Badass Beard Grooming Essentials Kit
When it comes to beard combs, Badass Fine Tooth Ox Horn Comb is the first pick for many bearded customers. This is not your run of the mill drug store beard comb. The spine of the comb is made with hand-carved Australian Sandalwood, and then sanded and engraved. The teeth of this fine-tooth comb are hand-carved and shaped, sanded, and polished from a solid piece of Ox Horn. That's right, this comb is entirely handmade! All of these handmade details go into making each comb wholly unique and genuinely Badass! Have you ever used a beard comb and had it snag or pull your beard hairs out? That is probably because the comb you were using was plastic. The advantage of Ox Horn over plastic or nylon is that the entire piece is smooth without any seams or burs. This allows the comb to pass through your hair without snagging. Before using the comb, be sure to apply Badass Beard Oil for an even smoother glide. Applying the Beard Oil will soften and relax your beard so you can easily detangle knots without pulling or breaking your beard hairs. Have stray beard hair? Nobody wants stray beard hairs once they have styled their beard! Another advantage of Ox Horn is that it does not create static electricity when it is combed through your beard. With 98 verified customer reviews, this Fine Tooth Ox Horn Comb is a must-have. Try one out and see for yourself. This comb comes with its very own protective carrying case so that when you put it in our pocket, it doesn't snap in half. If an unfortunate event happens where your comb does break, there is no need to worry. The Fine Tooth Ox Horn Comb is backed by a Lifetime Warranty.
Badass Fine Tooth Ox Horn Comb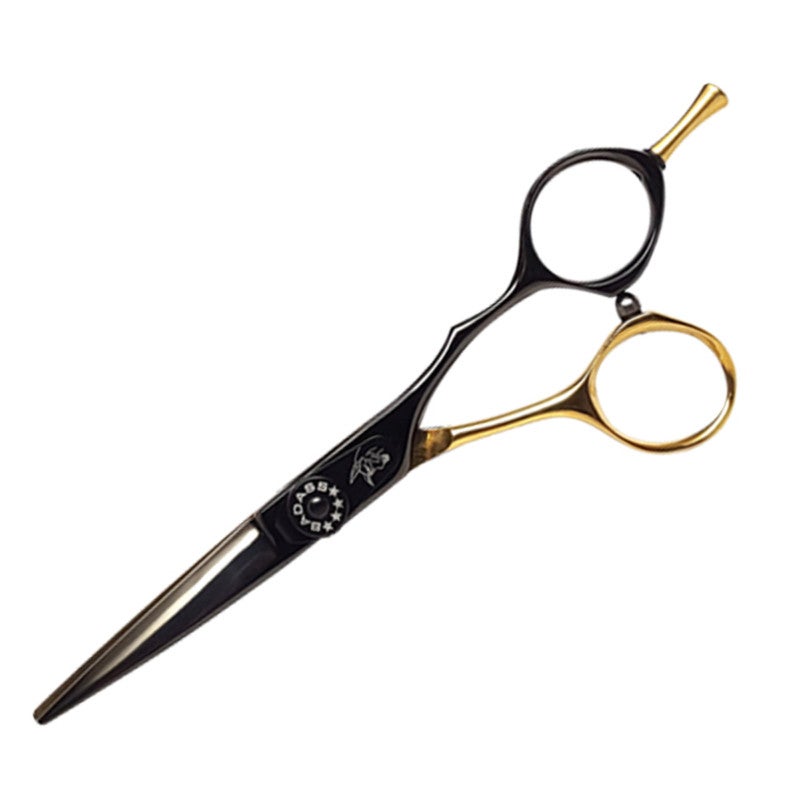 Beard Oil, Beard Balm, and Beard Washes are not everything offered at Badass Beard Care. Take a look at their beard shaping tools, like the Gold Series Shaping Scissors. Made from surgical grade stainless steel, these Titanium coated Black and Gold Shaping Scissors are barbers go-to for beard shaping. Not a barber? No worries, these scissors are great for trimming up those stray beard hairs that just don't want to stay put once you have applied Badass Beard Oil and Beard Balm. The scissors come with a Badass, premium, travel case. You can throw it in with your luggage or place it securely in a travel toiletry bag; either way, your scissors will stay put and be protected from damage! Included with each pair of Gold Series Shaping Scissors is a Badass Beard Care microfiber cloth for cleaning and shining and scissor oil, for when your scissors are becoming a little stiff to use. Backed by our 100% satisfaction guarantee, these Gold Series Shaping Scissors also have a Lifetime Warranty.
Badass Gold Series Shaping Scissors
Does your beard swag match your hair? If so, Badass Hair Pomade is the perfect styling product for you! Badass Hair Pomade is a premium, oil-based, all-natural ingredients, hair pomade that will take your hairstyling to the next Badass level. Made with Coconut Oil, Argan Oil, Lanolin, and Essential Oils for scent, Badass has done the hard work and testing to ensure this is the best all-natural, premium hair pomade out there. Verified customer product reviews can vouch for this. Grab yourself a fingertip of our Badass Hair Pomade, warm it between your palms and apply it to your hair. Style it as needed, and your hair will be styled until the days' end. No matter the temperature outside, hot and humid or cold and wet, Badass Hair Pomade is long-lasting and will provide a natural hold that won't leave your hair feeling stiff or crunchy. If you are looking for a stronghold, high gloss finish, Hair Pomade is the styling product you need.
Badass Hair Pomade
With all these great products for you to try and more, Badass Beard Care is your one-stop-shop for all things beard. Check out the easy to browse website and support this Veteran owned company before another beard hair goes out of place.
Badass Website