Swagger's Skincare & Grooming Essentials. Emerge From Isolation Looking Your Best.
Around the world, people are emerging from quarantine as restaurants, offices, and group sizes slowly begin to open up. Many of us have let our grooming routines slide during this unique period in our history. While the wild beards and long hair may have been good talking points over Zoom calls, it is officially time for a handsome rebirth. As we warm to the new normal, masks at the ready, there are many new and useful tools to get you back on your game. From hair to face to body, Swagger Magazine has done the research and compiled the best Skincare and Grooming Swag to get you out of the house and turning heads once again.
Hair
Mantl
MANTL is a premium men's personal care brand that supports men during their hair loss journey, helping to empower men and uncover their confidence in any stage of balding. Founded by The Honest Company alumni, Peter Ricci and Irene Kong, alongside men's health advocate, Karamo Brown, Mantl currently offers products specifically for the Face + Scalp, including a Cleanser, Age Defense Moisturizer, Invisible Daily SPF 30 and No-Shine Sheets. Mantl seeks to build a community of bald and balding men willing to stand against the outdated stigma of what it means to be bald and balding. Visit the community at mantlmen.com or follow Mantl on Instagram, Facebook, Twitter and Medium. Mantl was co-founded by Karamo Brown, Cultural Expert on Netflix's Queer Eye and men's health advocate, Peter Ricci, Mantl CEO and Army veteran of the Iraq War, and Irene Kong, Mantl Chief Product Officer, both Honest Company alumni. Mantl raised a pre-seed round of $1 million led by Airwing Ventures in addition to receiving funding from Revolution's Rise of the Rest® Seed Fund and numerous angel investments, including Brian Lee, a co-founder of The Honest Company. Mantl's mission is to support and empower men who embrace their baldness, offering a sense of community, encouraging them to uncover their confidence and self-love, and finally leave behind the outdated ideas of bald and balding. Mantl was born from a personal connection amongst the co-founders who each knew someone — including themselves — who struggled with balding. After meeting at The Honest Company, Peter and Irene shared their stories — Peter's own confrontation with baldness as an undergraduate at West Point, and Irene's experience watching her father grapple with balding since she was a young girl. When Karamo met Peter and Irene, he had just reckoned with his baldness following a decision to debut his bald head at an awards show, and then through the experience of helping his son on his own balding journey. Mantl is positioned to create a new category in men's personal care with a fresh approach, yet anchored in the founder's deep understanding of grooming and personal care products. The Mantl line provides a lasting foundation of skincare and grooming. It uses premium and naturally-derived ingredients including aloe, willow herb, and ginger root; excluding sulphates, parabens, dyes, and synthetic fragrance. Mantl supports men and their loved ones on their hair loss journey — freeing them and encouraging them to embrace themselves as they are, by providing a personal care routine that fits their lifestyle.
Buy Now
Badass Beard Care
Badass Beard Care has your beard and body covered while you shower. Their Chuck's Hog Wash is an all-natural formula that is designed for any bearded man. The best part it's not only meant for your beard hair but also meant to be used as a body and hair wash. Yup, you got it, a 3-in-1! Chuck's Hog Wash is sulphate free and made with 100% all-natural, clean ingredients. The unique formula is suitable for daily use while making sure to leave your beard, hair and skin softer than ever. Chuck's Hog Wash is available in all 13 Badass scents that are also offered in their Badass Beard Oil, Beard Balm and Beard Butter. Each step of your daily beard care routine scents can match. Or, if you are feeling wild – you can mix and match them! There are multiple ways to get Chuck's Hog Wash. Chuck's Hog Wash is $19.99 for an 8oz bottle giving you the option to choose one scent, or you can get it in a bundle of three. The Badass Hog Wash Bundle is really the way to go. You can pick and choose your three favourite scents, or you can make all three the same. If you are convinced you need to try Badass Beard Oil, Beard Balm and Chuck's Hog Wash, then you should take a look at the Hog Wash Combo. Priced at $49.99, the Hog Wash Combo is everything you need to make your beard, hair and skin healthy & Badass! The combo comes with one 8oz Hog Wash, 2oz Beard Balm, or Butter and a 1oz Beard Oil where you can choose from any of our 13 scents.
Now your beards looking its best, do you need some hair swag to match? If so, Badass Hair Pomade is the perfect styling product for you! The Badass Hair Pomade is a premium, oil-based, all-natural, hair pomade that will take your hairstyling to the next Badass level. Made with Beeswax, Coconut Oil, Argan Oil, Lanolin, and Essential Oils for scent, Badass has done the hard work and testing to ensure their product is the best all-natural, premium hair pomade on the market. The verified customer product reviews can vouch for them. Grab yourself a fingertip of Badass Hair Pomade, warm it between your palms and apply it to your hair. Style as needed and your hair will be styled until the day's end. No matter the temperature outside, hot and humid or cold and wet, Badass Hair Pomade is long-lasting and will provide a natural hold that won't leave your hair feeling stiff or crunchy. If you are looking for a stronghold, high gloss finish hair product Badass Hair Pomade is the right choice for you.
Be sure to check out more Badass Beard Care products guaranteed to complement any man's skincare and grooming regime.
Philips One Blade Pro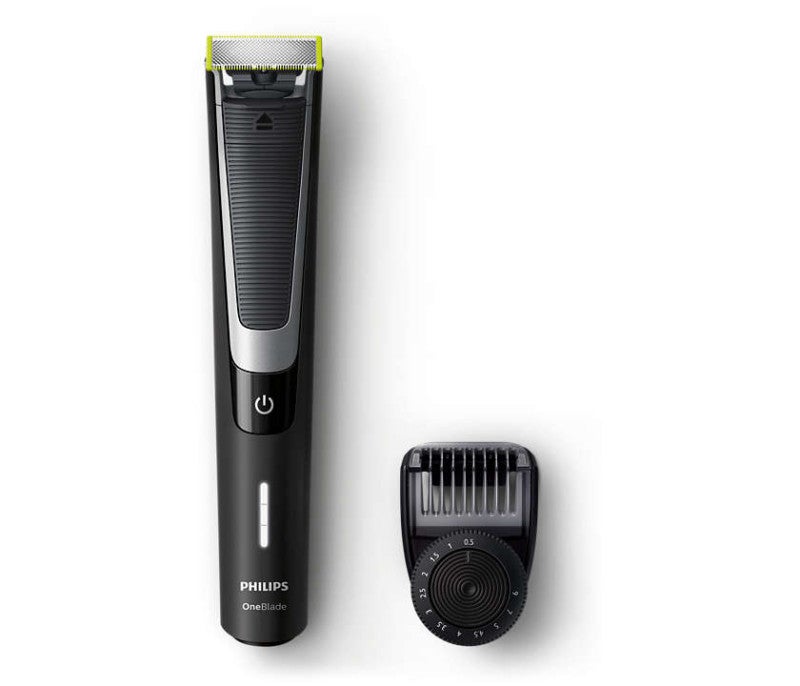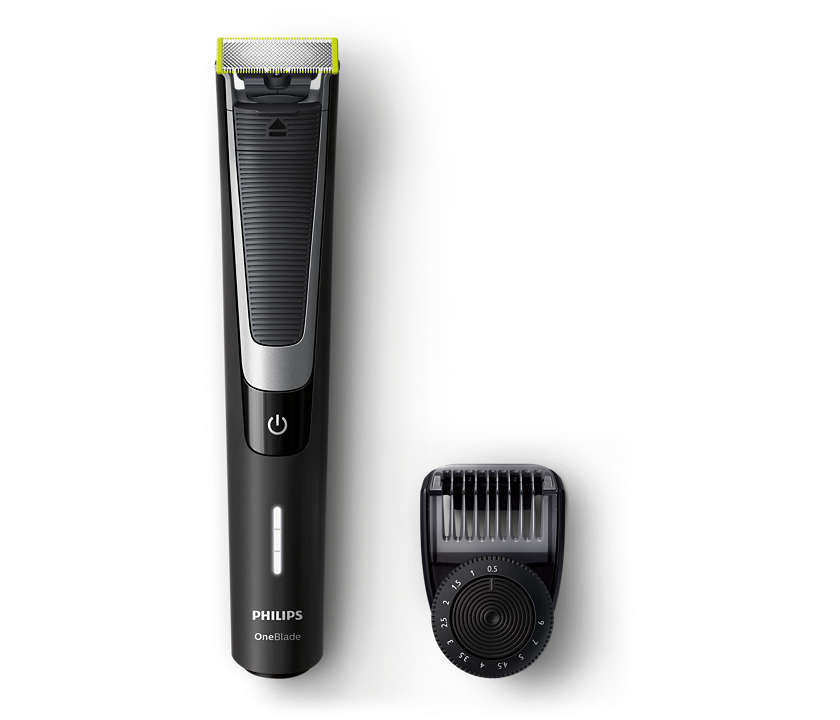 The Philips OneBlade Pro is a revolutionary new hybrid styler that can trim, shave and create clean lines and edges on any length of hair. Forget about using multiple steps and tools and enjoy a quicker, streamlined, grooming routine every morning. Philips OneBlade Pro has revolutionary shaving technology. Featuring a cutter that moves at 200x per second, this tool is efficient and effective, even on long hair. The handle is fully waterproof for wet or dry use. This feature comes in very handy for those rushed mornings in the shower. And even more convenient that you don't have to spend time afterwards cleaning up your sink. Each replaceable blade lasts up to four months of use. For those who don't love a close shave, the Phillips OneBlade Pro includes a 12 length precision comb. Some people experience painful irritation from a traditional razor shave. Fantastically, the Phillips OneBlade Pro shaves your hair, not your skin, so skin rashes are not an issue. The long-lasting rechargeable battery is good for 45 minutes of use. Plenty of time to get you out the door and looking your best. Philips 45-day return guarantee, free shipping on orders over $50, and free returns mean you've got nothing to lose except the wild quarantine beard.
Buy Now
Face
KULCBD Get Glowing Beauty Kit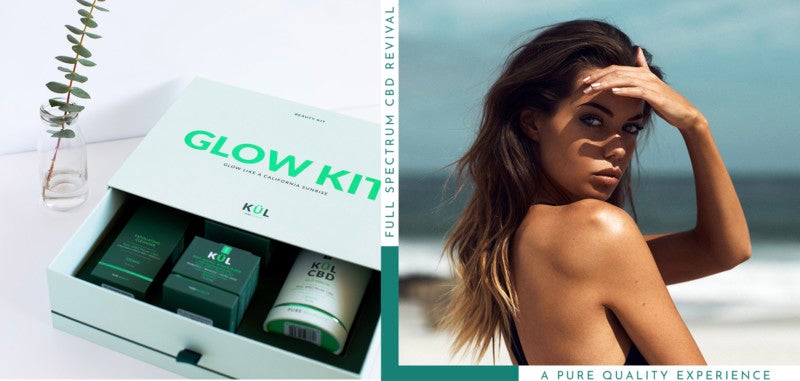 KULCBD beauty skincare products contain Full Spectrum, farm-to-factory-to-formulation in the US, by controlling the CBD hemp extract's source and manufacturing. Every product provides for you the potency of CBD, so there is no guesswork. KULCBD has made it easy to experience all the benefits CBD offers with a luxurious 5-step, easy to use system called the Get Glowing Beauty Kit. Designed to work synergistically together, the Get Glowing Beauty Kit provides the most effective results for healthy skin appearance. In addition to Full Spectrum CBD, each product contains hydrating essential fatty acids, repairing vitamins, essential antioxidants and balancing probiotics that provide calmness, smoothness, and clarity of tone. Overall you will enjoy a healthy, youthful appearance inside and out. Your Get Glowing Beauty Kit includes:
Exfoliating Cleanser
A sulphate-free cleanser with apricot seed powder to gently clean and polish the skin. The benefits of CBD, Apple Fruit Extract, Probiotics, Green Tea and Panthenol (Pro-vitamin B5) do their job hydrating, brightening, unclogging pores and strengthening lacklustre skin.
Anti-Aging Moisturizer
This daytime moisturizer contains Trehalose, Galactorabinan, and Scendesmus Rubescens Extract to work together to provide a physical barrier against harmful polluting agents. This helps to neutralize and strengthen the skin from damage and premature ageing. The moisturizer also contains Hemp Seed, CBD, Jojoba, Shea, Green Tea, Chia Seed and Marshmallow Root extracts. Rich in antioxidants and nourishing fatty acids, these ingredients form a protective seal over the skin's surface to protect you from the damaging effects of the environment.
Glö Serum
A cocktail of natural Hemp Oil, CBD, Squalene, Sweet Almond Oil, Milk Thistle, Borage Oil, Elderflower, Tamanu Oil, Camellia Oil, Rose Hips, and Evening Primrose Oil. These ingredients are rich in Omega-3, 6 and 9 fatty acids, vitamins and antioxidants that fortify and strengthen the natural skin barrier while trapping in extra nourishment and moisture retention. This serum provides calmness, smoothness, protection, and clarity of skin tone resulting in an overall healthy youthful glow.
Night Repair Cream with Retinol
When it comes to reversing the signs of skin ageing, Retinol is hands down the industry's gold standard ingredient. It can assist in accelerating skin renewal and reduces the appearance of wrinkles, fine lines, clogged pores and age spots. Overnight the cream reveals firmer, smoother and more evenly-toned skin. This luxurious, restorative cream includes Probiotics Pseudoalteromonas Ferment Extract, Chlorella Vulgaris Extract, and Lactobacillus Ferment. These ingredients boost the production of collagen, which helps restore moisture to dry skin and helps reduce redness. Also included are anti-pollution and digital device repairing ingredients Trehalose, Galactorabinan, and Scendesmus Rubescens Extract. This newly introduced technology strengthens the skin barrier function from the exposure and damaging effects caused by cell phone and computer use.
KULCBD Tincture
This special Tincture contains 800 mg of Full Spectrum hemp-derived cannabidiol extract, essential oils, and potent terpene plant extracts blended perfectly for maximum effectiveness. MCT oil is effortlessly absorbed by the body, making it an excellent carrier for CBD Oil. 
Using a skincare system is essential because it assures that all of the ingredients of each product works in harmony without interference with the next. This minimalist line contains ingredients that will benefit every skin type. Begin the most luxurious skincare regime your face has yet to experience. 
Buy Now
Votary

A Bestseller for sensitive, irritated, and dehydrated skin, Votary Super Seed Nutrient Cream is rich and deeply nourishing. Sensitive skin needs additional protection from the elements as you emerge from your home once again your skin will thank you for the extra love. Layed over dry, red or irritated skin Votary Super Seed Nutrient Cream will rejuvenate your complexion and seal in precious moisture. After the lack of Quarantine care, this is the product to reach for as your skin needs the extra attention. It is fragrance-free, a bonus for men, and is bound to become your new favourite. Don't skip on the moisture. Treat your face to its lost youthful radiance with Votary Super Seed Nutrient Cream.
Buy Now
Lumin Skincare
Lumin Skin Care Products are a line of essential skin and hair products for men. Curated by experts, Lumin's Skincare products include an Age Management skincare collection and a Classic Maintenance skincare collection. For hair, Lumin's products include Keratin Recovery shampoos and conditioners and unique scalp repairing formula. If you worry about wrinkles, dark circles, or dry skin Lumin has products designed specifically for you. If you worry about oily or dry skin or need a product for both, Lumin has a collection for you. Lastly, if your hair is losing strength and fullness, Lumin has the perfect products for you.
Lumin Skin Care products are unique because of its quality ingredients. The No-Nonsense Charcoal Cleaner safely and effectively removes excess oil from your skin without drying it. Its' secret is the active Charcoal, which doesn't upset your natural pH balance while removing daily grime, pollution and dirt that builds up daily on your skin. The No-Nonsense Charcoal Cleanser cleans pores and smooths skin for an effortlessly fresh look. Championing Lumin's hair care line is the ingredient is Keratin. Keratin is an essential structural protein in your hair already. As hair becomes damaged, Lumin's Keratin Recovery shampoo works to strengthen follicles, which become depleted in this crucial nutrition. It boosts hair growth and nourishes the scalp to ensure every strand has a solid foundation. These products are made to give your hair a fighting chance. Find confidence in other ageing-related products, including wrinkle fighters, dark circle removers, pore clearers and eye soothers.
Lumin products are available individually and in sets on their website. For those who don't want to put too much thought into our skincare routine Lumin also has a subscription box package for $50 every two months, so you never have to run out. The Lumin Skin Care website is a handsome platform with a wealth of easily digestible information on how to use your new products. Complete sets also make perfect gift ideas for friends and family. The packaged product's sleek and cool design is something you can be proud to display your bathroom.
Lumin Skin Care is the top choice to cleanse, hydrate and repair your skin. No longer just for women, Lumin Skin Care products can keep you on top of your game while producing impressive and lasting results. Be sure to add Lumin's complete Skincare collections to your grooming routine.
Buy Now
The Veddas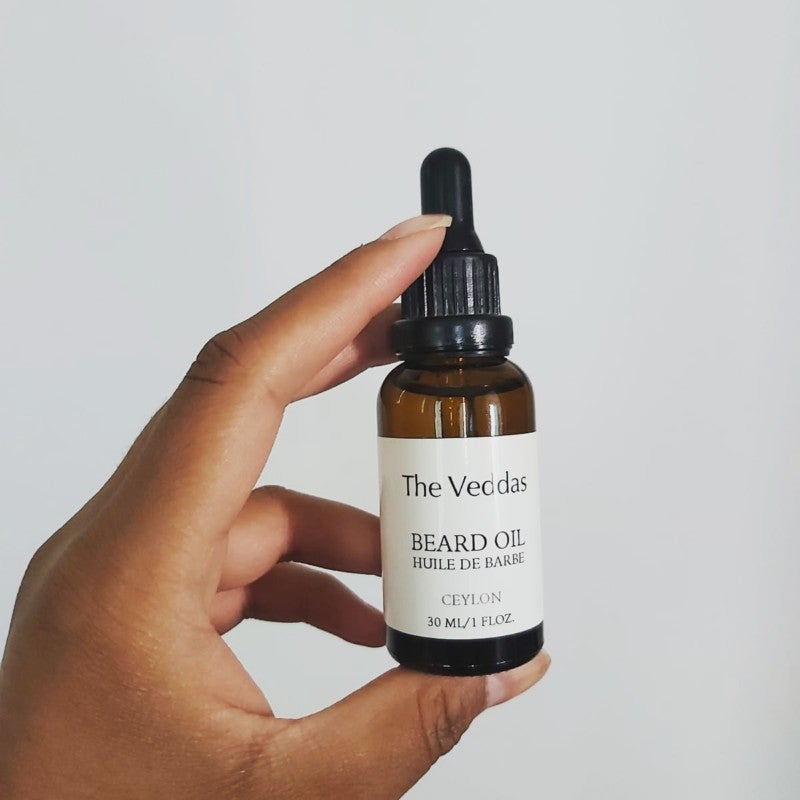 The Veddas is a  line of men's beard oil & balms created for the sole purpose of opening up the conversation about men's self-care and wellness through the promotion of grooming. They do so with natural ingredients & aromatics that resonate with the Ayurvedic philosophy of utilizing healing systems in nature. Made in small batches, cruelty-free, without sulfates or parabens and they utilize eco-friendly packaging, The Veddas is a brand for the man looking for zen while looking good.
Formulated with a  blend of coconut, grapeseed, argan oil & Rosmarinus officinalis extract means that it contains powerful antioxidants, minerals, vitamins that work together to combat skin issues. The balms and oils contain anti-inflammatory properties that help to tame chaffing itch and chapping, reduce redness caused by drying, ease the effects of eczema and rosacea, and keep skin calm and comfortable. Vitamin E and B-complex vitamins help skin repair and damage control. It will keep your beard and skin underneath healthy and nourished.
Buy Now
Mighty Patch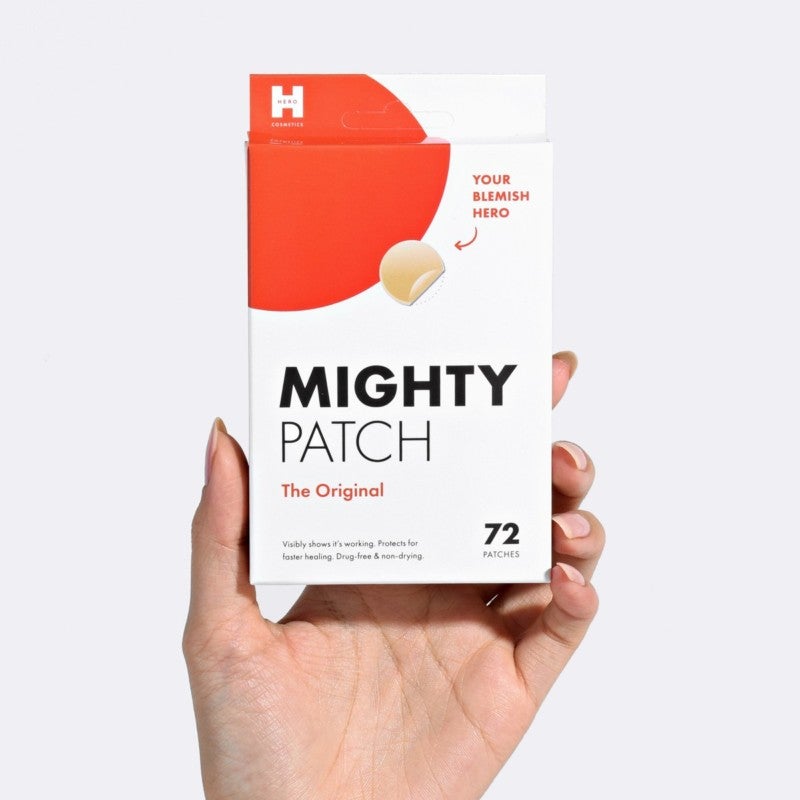 The Mighty Patch is a nighttime acne patch made for pimple emergencies. It's time to ditch the outdated zit creams and switch these 12mm circle acne patches. The Mighty Patch is a cleaner way to visibly shrink whiteheads overnight. The magic happens when the super high-quality active ingredient hydrocolloid is applied via the patch. This natural fluid-absorbing gel pad gently pulls out all the gunk trapped inside your pimple. No popping necessary. Just stick it on, get some beauty sleep, and wake up with better skin. The Mighty Patch is latex-free and works on all skin types. Overnight the patch extracts impurities from your skin and helps to treat your acne. This helps protect from picking, which often causes pimples to become more inflamed. The Mighty Patch is vegan and cruelty-free so you can sleep more relaxed as the patch gets to work so you don't have to stress. The Mighty Patch is available in boxes of 36 or 72 patches and for 20% savings can be purchased as a monthly subscription. 
Buy Now
Sonicare
The Philips Sonicare DiamondClean Smart is the best investment you will make this year. Some have lapsed on their dental care living at home 24/7, and its time to get back to taking care of those pearly whites. The Philips Sonicare DiamondClean Smart is smart, like really smart. Sensors and app help you perfect your technique, and get a complete clean. The toothbrush has four modes, and three intensities to focus on each aspect of your oral health. The Philips Sonicare DiamondClean Smart Premium brush heads give you exceptional oral health results. The Premium brush heads automatically select optimal mode and intensity. Your purchase comes with a stylish charging glass and deluxe travel case for charging on the go. Sonicare's best-performing brush heads give you up to 10 times more plaque removal, up to 7 times healthier gums in just two weeks, and up to 100% more stain removal in only three days. The DiamondClean Smart has some handy sidekicks. It's connected to an app and a smart sensor suite. They work together to give you confidence in your oral care. The position sensor guides you to brush in areas you've missed. That way, you can get 100% coverage, 100% of the time. This toothbrush knows the optimal mode and intensity setting for each brush head. The modes are Clean, for exceptional everyday clean,  White+, to remove surface stains, Deep Clean, for an invigorating deep clean and Gum Health, for special attention to your molars. The DiamondClean Smart also has three intensities, Low, Medium and High. For long-lasting fresh breath and your healthiest smile yet you have to try the Philips Sonicare DiamondClean Smart toothbrush.
Body
Infinitum Infiniderm Daily Youth Lotion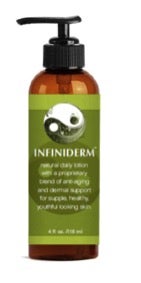 Natural daily lotion with a rare patent-pending blend of unique extracts of Acai berry (antioxidant), Fucoidan extract (from seaweed species fucus vesiculosus), β-glucans (from tremella fuciformis mushroom) that are clinically proven for anti-aging and dermal support for supple, healthy, youthful-looking skin. The seaweed species, fucus vesiculosus, has been known since 500 BC, to be one of the most used topical plants in history. Useful not only in keeping skin healthy and supple, but helps to manage wounds and certain sun diseases such as melasma. The mushroom species, tremella fuciformis, has been known since 1000 BC, to be one of the most used fungi to aid in keeping skin healthy and supple, and also provides the only type of natural sunscreen known to man. Acai berry is known for its antioxidant capabilities and with the sun and O2 damage that hits our skin, the acai berry is just another layer to keep our skin young and healthy. Infiniderm® has been used in High Fashion Modeling and is used in "Fashion Weeks" across the country and we are proud to announce that one of our key customers uses it on a daily basis. While we can't say her name, legally, we can say it rhymes with "Gazelle" and she loves football!
Buy Now
Meridian Grooming
Meridian is a premium grooming company dedicated to helping men groom below-the-belt. Too often, basic hygiene is neglected due to a lack of information and the taboo nature of discussing private parts. Median wanted to fight the taboo and help educate men through precision grade products for our most prized possessions. The Complete Package featuring a waterproof trimmer designed for your private parts, but also effective all across your body. The Trimmer specifically handles coarse and curly hair without tugging or pulling for the least irritating shave where you need it. The Trimmer has two adjustable combs, 3-6mm and 9-12mm, a cleaning brush, a USB charger, and lasts for 90 minutes of trimming time on full charge. The Meridian Spray compliments your new trim and comes in a 50mL bottle with easy to use cap cover and a refreshing citrus-infused scent. Meridian's Complete Package is what you need to take care of yours.
Buy Now
Now we have you looking, smelling, and feeling your best from head to… ahem… you're ready to brave the outside world once again. At Swagger Magazine we hope you enjoy seeing your friends and family again, at a social distance of course and enjoy some of that summer sunshine guaranteed to chase away those quarantine blues. We recommend you keep up a good Skincare and Grooming routine to further increase that good health and those great feelings. And we hope we helped you get there today.
Best,
Chelsea Stone