Tis is the season to get swag thanks to Jack Black 
Grooming products to treat yourself and every man on your list
The countdown before the Holidays is on, and SWAGGER has prepared a gift guide with the help of our friends at Jack Black for you to bestow upon your loved ones or to add to your list  this year. Whether you've got a man who's got swag, one who wants it all or one who can't wait to spend his days outside this winter, Jack Black has the perfect gift set for every man on your list.
For the man who's got swag
The Daily Shave is a 3 product combination for the everyday SWAGGER man. What's included in this gift-set: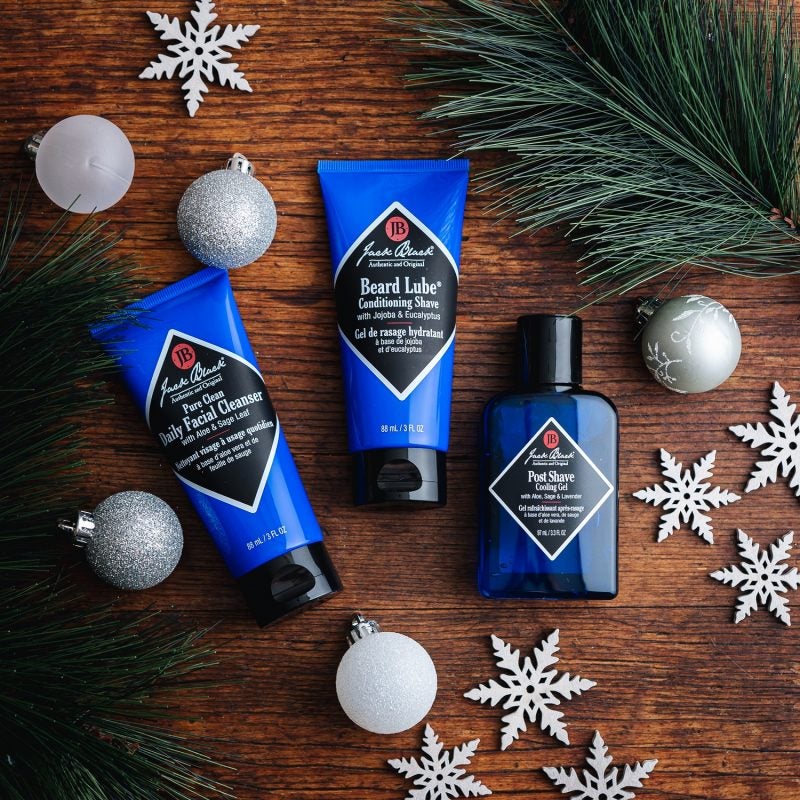 The Pure Clean Daily Facial Cleanser is a 2-1 liquid cleaner that deep cleans dirt and oil, which prepares the face for that ultimate smooth shave. 
The Beard Lube Conditioning Shave is the perfect product for any pre-shave routine. This conditioner softens facial hair for that perfectly smooth shave.
The Post Shaving Cooling Gel is a soothing, fragrance-free, alcohol-free gel that relieves razor burn and irritation.
Priced at $40.00 and valued at $58.50, Jack Black sprinkled extra holiday cheer in The Daily Shave Gift Set. 
For the guy who wants it all
The Jack and Carry Set is a fantastic starter set for individuals looking to elevate their skincare game. What's included in this gift-set: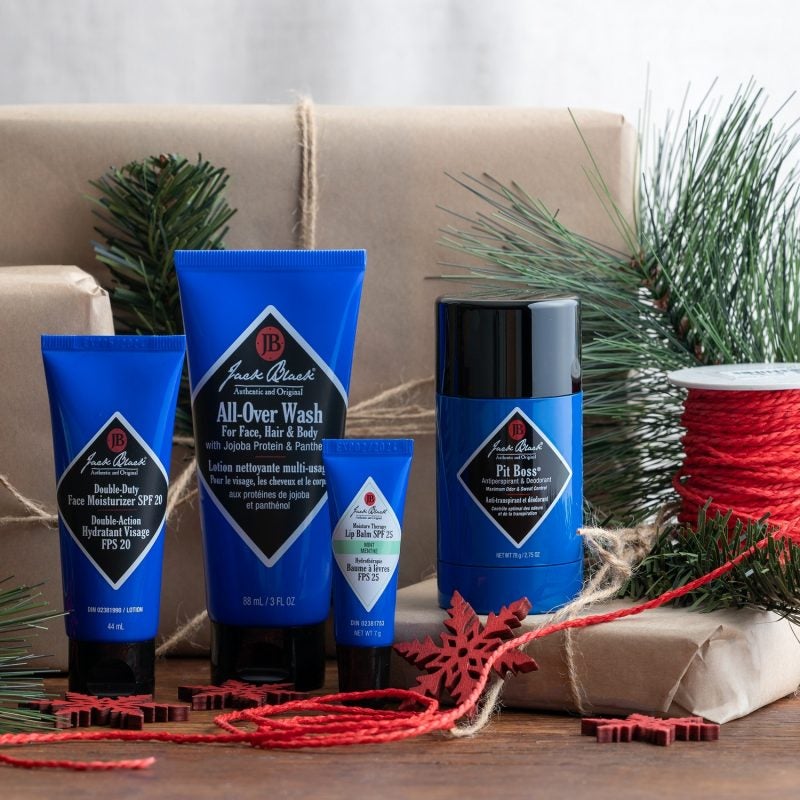 All-Over Wash For Face, Hair, & Body is a sulfate-free wash that eliminates dirt, grime, and sweat without harming skin and hair. This wash is infused with botanicals to leave a desirable scent without being overpowering and pH balanced to be gentle on the face, hair, and body. 
Double-Duty Face Moisturizer SPF 20 is lightweight moisturizer that provides advanced broad-spectrum protection from the sun. Protect your skin from sun exposure and keep hydrated with this superior product for men.
Intense Therapy Lip Balm Natural Mint SPF 25 has skin conditioners and antioxidants to help relieve dry, chapped lips as well as protect from sunburn, windburn, and sub-optimal temperatures.
Pit Boss Antiperspirant and Deodorant is a roll-up stick that features the famous "All-Over" scent providing odor control and wetness relief. This product was designed to be gentle on underarm skin while delivering long-lasting results.
Any skincare lover or newbie would appreciate the $46 Jack and Carry gift set under their tree! 
For the outdoorsy guy
Looking for the ultimate stocking stuffer? The Balm Squad is a thoughtfully designed collection of lip protection. Four lip balms provide an overall range of safety and relief, so you never have to have dry, chapped lips, even during the cold winter days.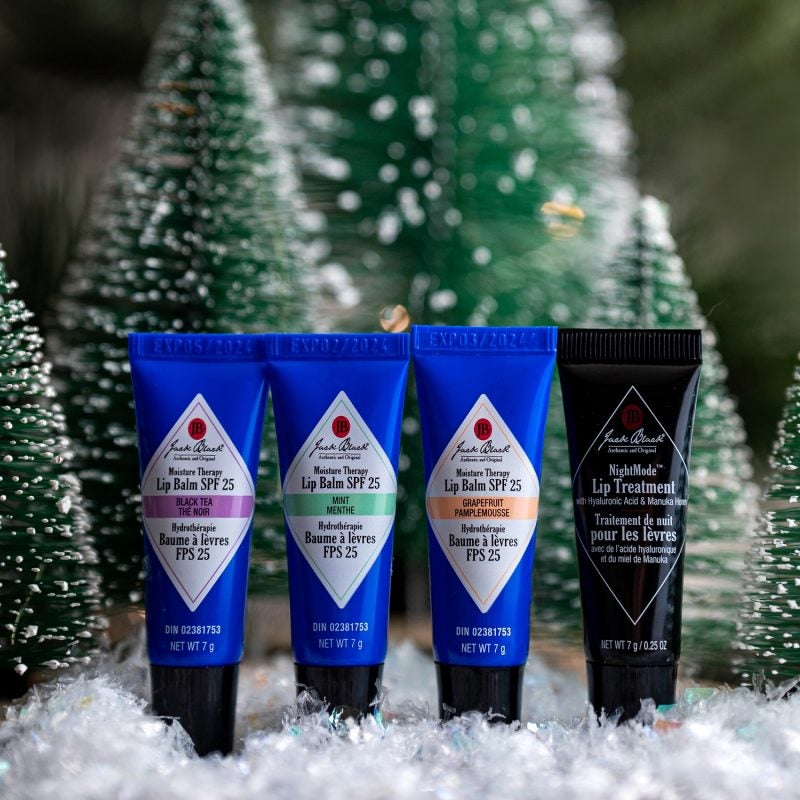 NightMode Lip Treatment is a lip treatment that repairs lips overnight using Hyaluronic Acid and Tripeptide-1 to improve hydration. Ingredients like Manuka Honey and Chamomile Butter are used for a soothing feel.
Moisture Therapy Lip Balm with SPF25 (Mint, Grapefruit and Black Tea)
Enriched with antioxidants and conditioners, they quickly relieve lips by penetrating deeply for near-instant relief. All the while, SPF 25 protects against the sun, wind, and any extreme temperatures! Perfect for the man who spends his weekends on mountain tops! 
Fill the stockings high and say bye to chapped lips with The Balm Squad for only $30. 
For the sophisticated man
For the sophisticated man (such as yourself perhaps?!), the Black Reserve Collection is a must. What's included in the gift-set:
Black Reserve Body Spray is a masculine scented body spray combining Cardamom and Red Cedarwood with Bergamot and Lavender, which is the signature scent of this collection.
Black Reserve Body and Hair Cleanser is a lovely scented sulfate-free cleansing wash for the body and hair.
Limited Edition Black Reserve Beard Oil is a premier blend of organic oils. Complete with antioxidants and vitamins, this product will leave with a beautiful, healthy beard. 
Black Reserve Hydrating Body Lotion is a nourishing blend of Shea Butter and Olive Oil and scented with Red Cedarwood and Cardamom.
Offer him an elevated routine this holiday season with The Black Reserve Collection for $47.
Whatever your loved ones may be looking for this holiday season, Jack Black has put together the perfect gift for them! So stuff those stockings and leave something special under the tree this year from yours truly, Jack Black.