Launched on a Famed Australian Island, Professor Fuzzworthy Gets High Grades in Beard Care
In the relatively young industry of modern beard care, a drolly named brand called Professor Fuzzworthy's beard shampoo, serum and pomade has jumped to the head of the class as a leader in eco-friendly natural hair, beard, and skincare market.
Based in Australia and highly popular in the U.S., in just a few years Professor Fuzzworthy's high-quality products have grown to dominate segments of Amazon USA's market, earning near-perfect ratings from thousands of happy customers. The brand owes its popularity with a loyal and expanding customer base to its:
Simplicity. The brand stresses the importance of quality and shies away from duping customers into buying superfluous items that go beyond the few key products like soap, shampoo bars, beard serum, and pomade that all men need for a whole-body grooming routine.
Pure Ingredients. They strive to expand "all-natural" to include its packaging. By eschewing plastic and opting for biodegradable containers whenever possible, Professor Fuzzworthy has prevented many thousands of pieces of disposable packaging from ending up in landfills.
Effectiveness. Professor Fuzzworthy prides itself on creating products with natural ingredients that work—moisturizing skin, conditioning hair, and beards, and reducing acne, eczema, dandruff, and other skin conditions.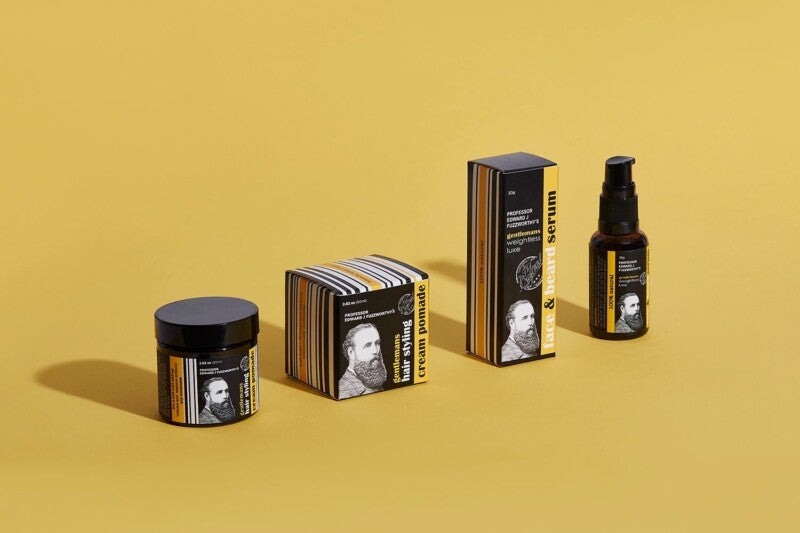 What Separates Fuzzworthy from the Natural/Eco Pack
Professor Fuzzworthy knows it's always smarter to simplify with the best natural products that emphasize the highest quality with the least fuss. Its all-natural grooming products are simple, effective, and fun.
The Professor Fuzzworthy brand focuses on a carefully curated menu of essential premium products for all beard and hair grooming needs. Their versatile, hassle-free products are designed for multiple uses. The concept of universal function means Professor Fuzzworthy's beard shampoo is equally effective for all hair. While the pomade grooms a beard it also refines and refreshes any hairstyle, long or short.
From Fan to Friend to Business Partners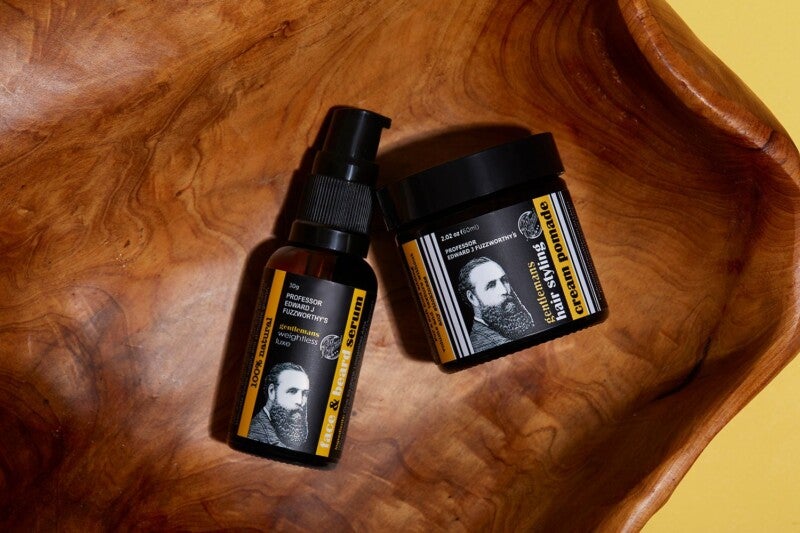 Professor Fuzzworthy is actually a highly successful offshoot of Australian women's hair and skincare line Beauty and the Bees, which, like all of the Fuzzworthy products, are made from natural (mostly edible) ingredients sourced from the eco-friendly Australian island state of Tasmania, renowned for its pure water, air, temperate rainforests, and unspoiled rugged beaches.
Founded in 1993, Beauty and the Bees was the inspiration and passion project of Jill Saunders, an English ex-patriot living in Tasmania. Using her kitchen as a test lab of sorts, she began developing high-quality natural skin and hair care products for sale at local markets.
Many of Jill's customers found their way to her because they experienced sensitive skin and scalp. Beards were ubiquitous in Tasmania 30 years ago but there was no such thing as beard products to help with beard itch or to make your beard look healthy and groomed.
 Jumping forward more than a decade, Saunders took on a U.S.-based business partner Nat Rew, who had discovered Beauty and the Bees unisex products as a consumer, and quickly became a devoted customer turned friend. Around 2014, Rew saw the tremendous potential for a men's hair and skincare line targeting the growing beard trend. The pair decided to team up with Rew focusing on the U.S. market.
As Rew added products and built the Fuzzworthy brand through Amazon's U.S. platform, sales of the line took off, filling underserved markets for men who were starting beards and needed tips about growing, grooming and styling facial hair. The brand also filled the gap with customers seeking the genuine benefits of eco-friendly, natural products, both to the planet and themselves.
Today, Professor Fuzzworthy products often dominate their segments on Amazon USA not only in sales but in enthusiastic customer feedback, earning an average rating of 4.7 (out of 5.0) from thousands of satisfied customer comments.
"The beard 'trend' is here to stay because it's now accepted practice for men to wear well-groomed beards in professional settings," Rew says.
"Before I worked for the brand or even met Jill, I was a fan of these products. I had uncomfortable dandruff for years, visited a number of dermatologists and nothing worked. When I tried the beer shampoo, it eliminated my dandruff in less than a week and I believe helped me grow thicker, healthier hair as well. And I've noticed the same results with my beard."
Professor Fuzzworthy's President boasts, "I'm almost 60 and, based on family genetics, I really should have thinning hair, but I shaved my hair off two months ago, and it's already grown out about four inches."
Brand Promise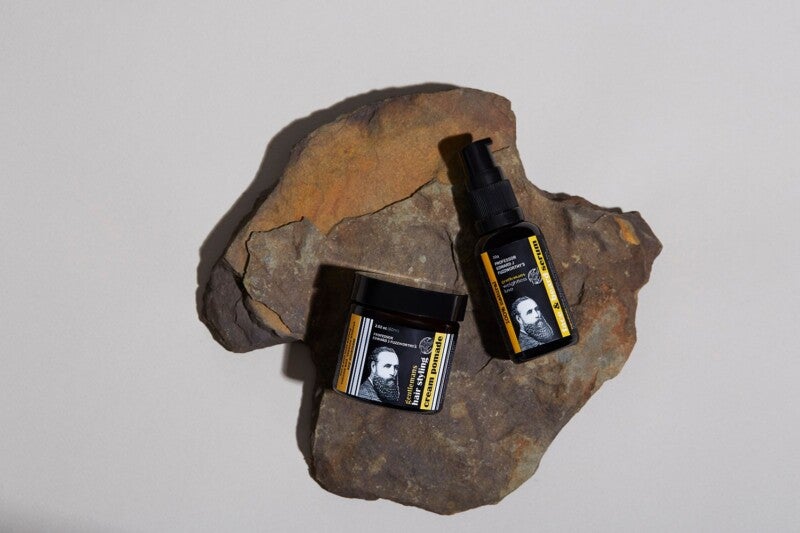 Like its mothership, Beauty and the Bees, Professor Fuzzworthy is built on a commitment to create 100% natural personal care products that are both effective and gentle to skin, hair, beards as well as the overall environment. The products are created from natural ingredients, from Tasmanian beer and leatherwood honey to olive oil, kelp, apple cider vinegar, lavender, and other essential oils that are so pure, they're edible.
"As our brand's international customer base continues to grow, we remain committed to sustainability and never compromising the quality of our ingredients," Rew says.
Back to Basics
Professor Fuzzworthy's beard shampoo and other incredible men's grooming products mirror the overall Beauty and the Bees' motto: Raw, Rare, Real. All its products are produced using 100% natural high-quality ingredients, like leatherwood honey, found only in Tasmania, manufactured from scratch, in small batches, using traditional methods with a genuine commitment to being kind to the earth.
Finally, from a purely practical perspective, Rew emphasizes the brand's other essential benefit—Simplicity.
 "Yes, we offer a range of products to choose from, but once you find the ones that are right for your skin and grooming routine, you only need a few. Three or four products and you're done. Your Professor Fuzzworthy grooming routine can be as simple as you like and still highly effective. For me, that's a shampoo bar, moisturizer, pomade and I'm done."
For more information visit Professor Fuzzworthy Online at www.professorfuzzworthy.com.