Inspired by the timeless style of the 1950s barbershop and its spiritual founder, Willy Uppercut O'Shea, Uppercut Deluxe is a modern, yet traditional approach to men's grooming.
Built on a deep passion for barbering and its quintessential connection to the surf and skate cultures, Uppercut Deluxe is an Australian born brand proudly made with only the finest ingredients. Uppercut Deluxe delivers a core range of high-quality grooming products for men without all the fancy embellishments of salon brands.
Founded by a barber; Steve Purcell, his wife Kiera and a few friends, the team set out to create a brand and products like no other.
Uppercut Deluxe was born through a frustration of using mediocre products that didn't suit the vibe of Steve's barbershop. Products that were geared towards the man's wife rather than the man himself fueled the Purcell's to create something they would use and be proud to promote. After almost 100 painstaking rounds of testing, Deluxe Pomade was born.
Fast forward 10 years, the brand now has a worldwide team of over 20 employees and three offices covering the U.S, U.K and Australia, distribution into over 40 countries servicing nearly 4,000 barbershops.
However, to this day product testing, development and manufacturing continues within the Brisbane headquarters overseen by the Purcell's so the brand integrity remains true. "We have a great crew of people that really understand the culture of the brand and who also enjoy a skate in the office carpark at lunch" says Steve.
Deluxe Pomade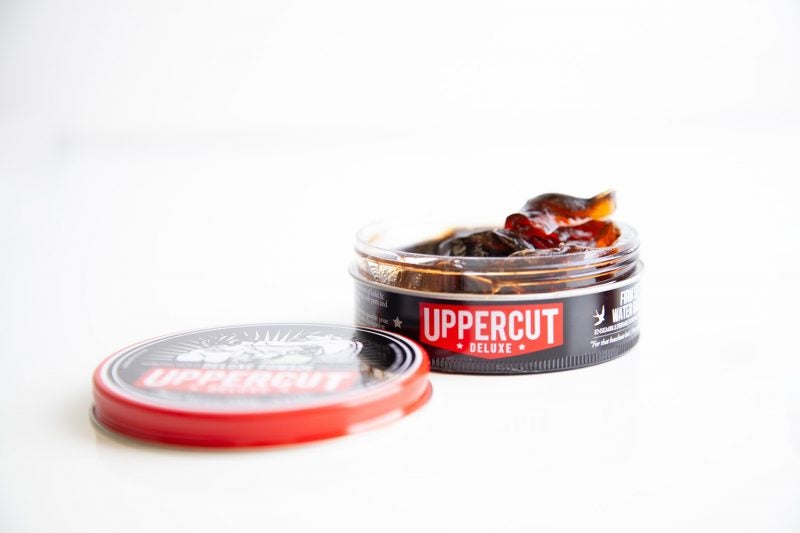 Deluxe Pomade has been designed for the discerning guy who has a particular style in mind. Perfect for timeless, classic looks – such as high pompadours, side parts and slick backs. The first hair product in the Uppercut Deluxe range, Deluxe Pomade set the bar for quality and has earnt itself a cult following over the years.
Deluxe Pomade works exceptionally well in a variety of hair lengths and types. The pomade works well in thin, thick curly or straight hair types. It's perfect for controlling unruly or stubborn hair.
Deluxe Pomade is water soluble, so it can be washed out with ease. Our versatile pomade is a must have in your styling range. Shop Uppercut Deluxe Pomade here.
It's been a labor of love for the team at Uppercut. What makes Uppercut Deluxe unique is that the boys are barbers that use the product everyday and constantly challenge themselves to create timeless products that guys can use for their lifetime; it's about the essential grooming items.
Following the success of Deluxe Pomade, stockists were pestering the team for new products and after dedicating themselves full time to the business, they began to introduce a broader range, always with the barbershop and their customer base at the root of their decisions.
Matte Pomade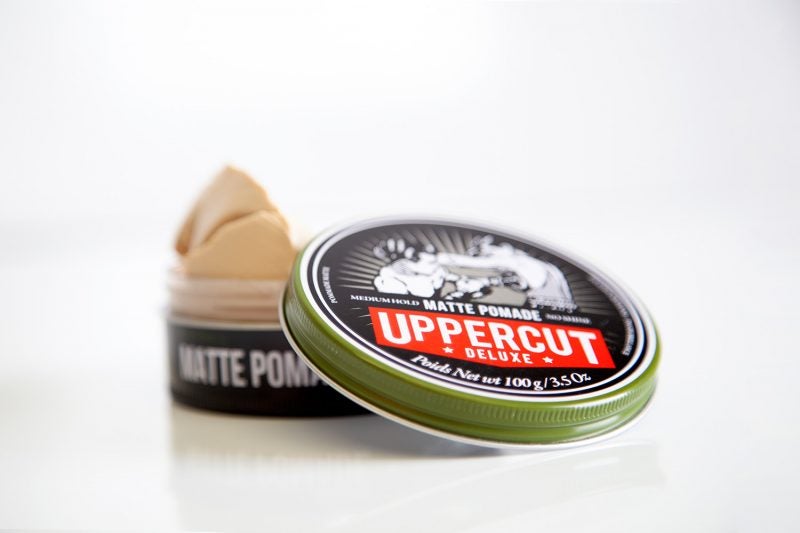 Launching in 2016, Uppercut Deluxe Matte Pomade took the barbering world by storm. Matte Pomade was the answer barbers needed for a high performing matte finish product, a product that could tackle a modern approach to classic cuts.
Matte Pomade is an all-rounder, formulated to give a medium hold with a natural matte finish.
Matte Pomade performs exceptionally well in a range of hair lengths and types. Matte Pomade has been designed to create a broad range of styles both classic and modern.
Don't let the creamy appearance fool you, Matte Pomade really packs a punch once applied to your hair giving grip and hold to assist in achieving a great look that lasts.
Matte Pomade is also water soluble so it can be washed out with ease. With a smell so good you'll almost want to eat it, this versatile product is a must have in your styling range.  Shop Uppercut Matte Pomade here.