During the Toronto Raptors' home opener at Scotiabank Arena on Tuesday night the brand new championship ring collection was unveiled.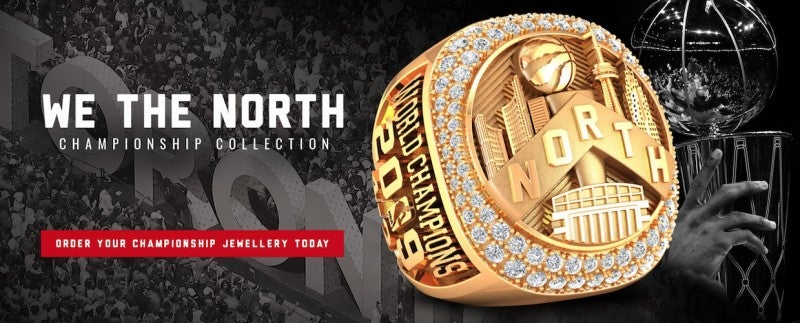 The Toronto Raptors' championship ring features the Larry O'Brien trophy,  the city skyline, the Scotiabank Arena and the team's NORTH chevron jersey logo.
The face of the ring is made of 74 diamonds, representing the number of wins in the 2018-19 season. The largest diamond, which is located in the trophy, is to celebrate the team's first NBA Championship. The outer edge of the ring also features 16 natural rubies, cascade of diamonds and the team roster jersey numbers. One of the ring shoulders is displaying each player's name and jersey number, and the opposite side features the NBA logo, the Raptors logo and the words "WORLD CHAMPIONS". The skyline on the ring is made with custom-cut baguette diamonds, and the inside of the ring features personalized messages to each player, as well as a ruby set inside a Maple Leaf and the Championship series scores.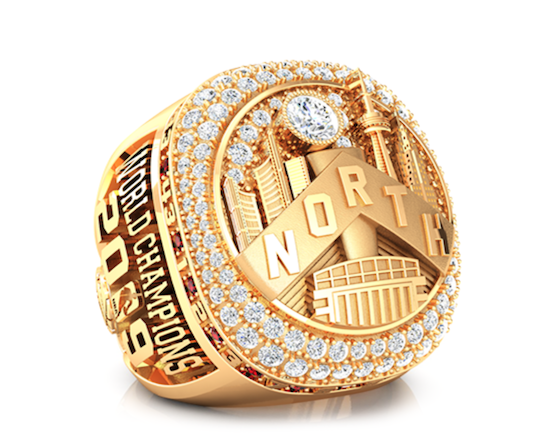 The ring is not only the largest championship ring, but it also has the most diamonds, the most diamond total carat weight and the largest single diamond in any professional championship ring. It is designed by Baron Rings, a Canadian company based in Windsor, Ontario. Their collaboration with MLSE, Raptors Management and Kyle Lowry on behalf of his teammates, resulted in this perfect piece. All the gold and diamonds used were sourced from Canada.
The rings were handed out to the Raptors players, coaches and front office staff during a pre-game ceremony at the home opener. Drake, who's the team's global ambassador, posted photos of himself wearing the ring on his Instagram, as well as Superfan Nav Bhatia did. The replicas of the rings also were handed out to fans in attendance, and now, with the other jewellery items such as pendants, bands and tags are available for purchase online.