An air conditioner is the best cooling solution
available to beat the scorching summer heat. But running an air conditioner 24 by 7 means paying hefty energy bills. So, the next best thing to air conditioners is to bring home a personalized cooling solution.
Well, we are talking about a table fan that you can use as your personal cooling device. And while table fans look small and compact they are quite powerful. And the best part is that when used with an air conditioner they can help boost its cooling and even help you reduce your electricity bills. So if you don't have a table fan already, here are a few benefits of bringing home a table fan. Also, we have listed a couple of important factors that you should keep in mind when buying a table fan.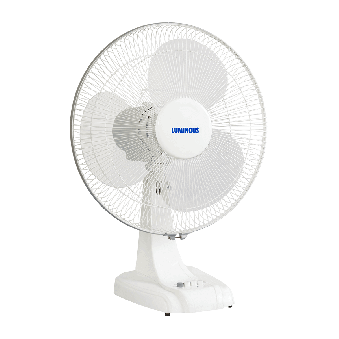 Benefits of Table Fans
1. They are portable. 
Portability is one of the most important benefits of a table fan. Since table fans are lightweight and are not fixed to any ceiling or a wall, they can easily be moved from one room to another. The best part is that be it an indoor space such as an office cabin or kitchen, or an outdoor space such as terrace lawn or garden, you can place a table fan wherever you want.
2. They do not occupy a lot of space.
Usually, table fans are used in spaces where there's a space limitation, for example cabins, kitchen tops and utility rooms. You may also find them in rooms with low ceilings where installing a ceiling fan is not an option.
3. They offer personalized cooling
This is one of the most important reasons why people buy a table fan. Usually, table fans are preferred by homemakers who use them for personalized cooling while working in the kitchen. Similarly, officer goers and students use them while working/ studying in their personal cabins or study rooms.
4. They provide better cooling
Tables come with a unique oscillation feature that allows the fan to oscillate 180 degrees. This enables an efficient and equal distribution to air and provides better cooling too.  Also, if you don't want the fan to oscillate and want the air to be delivered in a particular direction you can simply switch off the oscillation mode.
Factors to Consider When Buying a Table Fan
Now that you know the benefits of bringing home a table fan,here are some of the factors you should keep in mind when buying one.
Fan's RPM
RPM stands for revolutions per minute and it is a measurement of the fan's speed. Depending upon your usage you can choose between a normal speed and a high speed table fan. Also, we recommend that you check out the wide range of table fans from Luminous India that come with a 3 speed regulator feature.
Air Thrust or Air Delivery
It is one of the most important factors to consider when buying a table fan. The air delivery is measured in CMM (cubic meters per minute) and it gives the buyer an idea of the air a fan throws. Note – A fan with a higher RPM may throw less air as compared to a fan with a lower RPM. That's because air delivery depends on a lot of other factors such as fan blades, motor power, etc. Therefore, it's best to check out the air delivery in the specifications section of the fan.
Power Consumption
Do not buy a table fan just because it's cheap. Compare the power consumed by different table fans before you bring one home. In fact, we would suggest you to go with an energy efficient table fan even if it costs a little more than other table fans that consume more energy.
Weight
As we mentioned earlier, one of the most important benefits of having a table fan is that it can be easily moved around. Lighter the table fan, more easily you can move it around your home. So make sure you check out the specifications section for the weight of the fan.
Bring home an energy efficient table fan
Now that you know all the benefits of a table fan you may be thinking of buying one. In that case, we recommend you to go to Luminous India's official website and check out their range of table fans. Besides table fans, you will also find a whole range of designer ceiling fans, pedestal fans, exhaust fans and more. So what are you waiting for? Click here to jump directly to their website.