This year, Thanksgiving falls on Nov. 24, and for those of you who are in a last-minute sweep on what to make, what to buy, and how to do it in as little time as possible, Swagger's got the inside track.
So whether you are organizing Thanksgiving dinner on your own, or coordinating with others, there are surefire ways to do so quickly, and stress-free.
1. Frozen bread dough.
This grocery item can be a great time saver for baking several dinner rolls. This item is easy to find, and is easy and convenient to use. And it is such a versatile item that if you want to prepare something more elaborate, you can pair it with different spices and seasonings.
2. Pre-cut produce.
From restaurants to home kitchens, fresh cut produce has become a staple for many people. Just imagine how much time you normally spend slicing and peeling apples for pie. This is a more practical answer to salads, fruit bowls and appetizer trays.
3. Canned soup.
You probably keep a couple of cans of cream of mushroom or pumpkin soup in your pantry, so you might not even need to add this product to your grocery list. Just a can or two of cream, and it will make your bean casserole as creamy and delicious as if you had spent hours in the kitchen preparing it.
4. Fancy spreads made simple.
Make a killer Benedictine Dip by tossing in the food processor the following: Cream cheese, mayo, green onion and cucumber. Make your hummus sing by scooping it into a china cup, and drizzling olive oil on top, with a dash of paprika. And Master Chef your way into guacamole, by fork-pounding a few ripened avocados in a bowl, adding a spoonful of mayo, a half-teaspoon of garlic powder, and voila. Yummy dips made in less than two minutes!
5. Oven bags.
The most stressful part of the day may be getting the turkey to turn out perfectly. But not all of us are particularly good at cooking. That's why oven bags will be your salvation. Roasting your turkey in an oven bag can help you cook faster, as well as keeping all the juices from your turkey contained.
6. Buy turkey parts versus a whole turkey.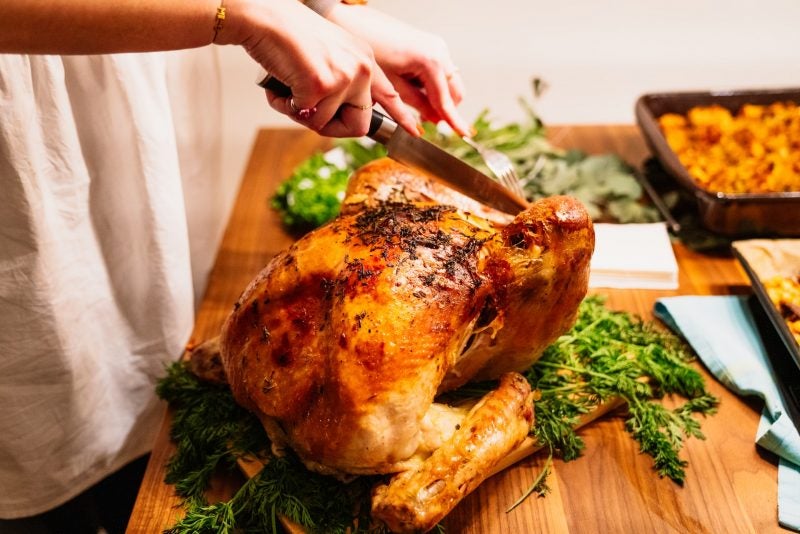 A whole frozen turkey takes days to defrost, and some six hours to cook. Who has that kind of time? And the entire oven is taken up by this beast of a bird. And certainly, if you're having few guests, you don't need all those leftovers. Instead, buy chopped turkey from the refrigerator section, and cook it in a tray. (It will also spare everyone time in the carving process)
7. Pre-cooked fish fillets, for the starter menu.
You know those vacuum-sealed packages of pre-cooked salmon fillets in the fish section of your supermarket? Place them on a cooking tray at low heat, thirty minutes before your guests come, and when they come out nice and hot, your guests will ooh and ahh at your "slaving" in the kitchen.
Put these tricks into practice, and you will see that they will be so effective, that from now on you will not be able to live without them. These shortcuts will save time in the kitchen, so you can instead spend that time enjoying your family and friends for a meaningful dinner.