The perfect picture of a stylish look can easily be ruined by unfortunate accessories. As the frame on the picture is designed to complete the creation of a master, and bracelet if skillfully chosen, becomes the final point of the whole image. Often it is from this point depends "reading" your image and you as a person.
Bracelet is too accent jewelry to remain unnoticed. As confirmed by sociological surveys, it is the eyes and hands that men pay attention to during the first contact with a girl.
What should be a bracelet? Beautiful in appearance, but not only. A bracelet should be perfectly matched in size, to combine with the type of appearance, as well as with other accessories. The task, let's say, is not an easy one. But if we choose wisely, we can create a beautiful ensemble.
What are they like, modern gold bracelets? How to choose them correctly, with what is better to wear? And most importantly, how not miscalculate with the size of your favorite products? About this and not only read below in our article.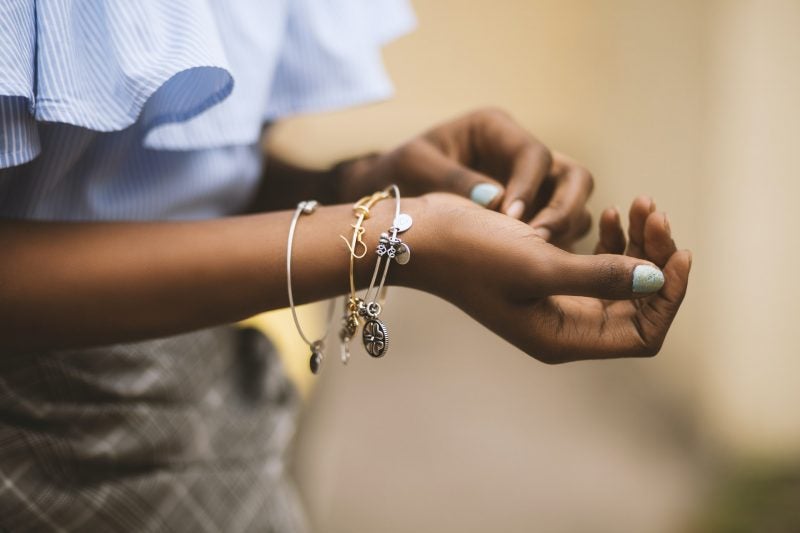 Style is decisive
Before you buy a gold bracelet, it is desirable to determine what kind of clothes you're going to wear. The bracelet should be appropriate and compatible with other accessories.
Universal classics are flat, not wide chains with the original weave. This option is suitable for the office, and the reception.
Modern fashion allows the combination of several gold bracelets in one ensemble. Provided that they will overlap in form and design. Otherwise, such a tandem will look like rude kitsch.
Evening romantic models – bracelets with pearls, LOVE theme (with an alternation of colors and textures). These models look good with an open cocktail dress.
Tip: the beauty of the bracelet is fully disclosed on the open parts of the body! 
Some models are intended to be worn over clothing. These include wide bracelets, bangles, cafes.
Bracelets with different thematic charms, bracelets, chains without decorative elements are perfect for casual style. For young fashionistas, jewelers have come up with bracelets with removable parts-charms in the form of cute figures, flowers, animals.
How do I determine the size of a bracelet?
A bracelet is a right size – when the product does not squeeze or hang down on your hand. Such a bracelet does not interfere with daily activities and is almost not felt on the hand.
A proven rule of thumb: between the bracelet and your wrist should remain about 1 cm (to freely fit the thumb).
The simplest algorithm for determining the size: measure the hand at the widest point, and then add to the obtained figure 1-2 cm.
But there is another rule for wide models. Here it is necessary to refer strictly to the diameter of the wrist. Gold bracelets with large bangles should fit snugly around the hand, without any tolerances.
Adjusting the thickness of the bracelet to the proportions of the hand
The beauty of the accessory, like a perfume fragrance, is fully disclosed to its owner. A thin hand with long fingers will look good laconic bracelet chain or a rigid closed hoop.
Multi-layered bracelet with fine inlay – in this combination does not look massive. On the contrary, he will make the hand visually more elegant.
Ladies with magnificent forms should look closely at the bulk model with openwork, asymmetric links, rings. They will visually make the hand thinner, and the image – more light and airy.
Variety of bracelets
It would seem that all bracelets are similar to each other, as they have the same "ring" shape. However, today the variety of bracelets – an incredible lot, and each of them has its characteristics of wear. Gloria Jewels – Handmade in The Holy Land since 1936. Here each piece of jewelry has its own "twist". And so it has always been, there is something beautiful and inspired by faith in every piece of handmade jewelry.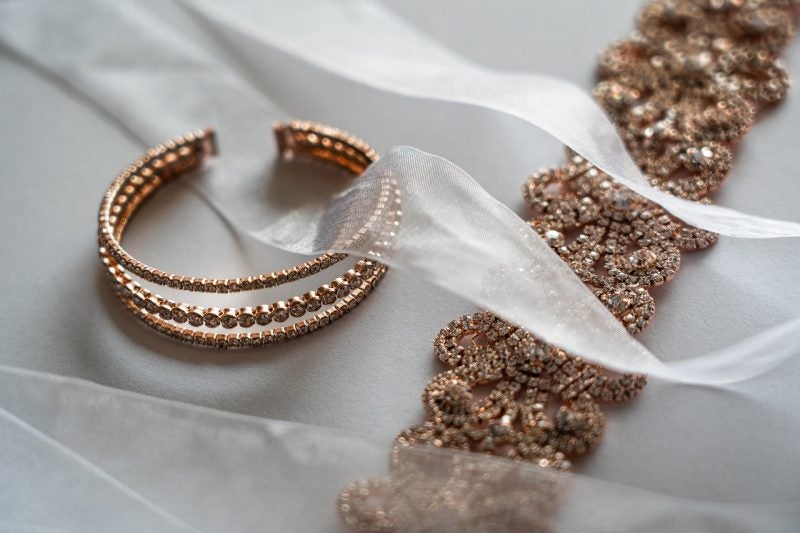 Types of hard bracelets
Rigid bracelets are products with a non-bending, closed design that covers 3 / 4 wrists. Rigid bracelets are divided into three main subcategories: springing – in the form of an open ring; hinged – in the form of two halves connected by a hinge; closed – fixed.
Bracelet-rim.
This is a closed ring without a clasp. The disadvantage of this bracelet is that if you mistake the size, it can not be put on or easily lost.
Such a bracelet should not leave a margin of up to 1 cm. The hand should enter the bracelet with a little effort.
Bracelet snake.
This type of bracelet consists of a large number of tightly closed, bendable links which fit around the wrist.
Bracelet in the form of an open ring
Externally, this bracelet is similar to the rim, the only difference is that its inner part is open. The design is made so that the bracelet can be put on the side.  Universal size. If the design of the jewelry is laconic, such a bracelet is successfully combined with any accessories.
Types of soft bracelets
Soft bracelets are considered the most popular because of the convenience of wearing, versatility, as well as a variety of assortment. They have a bendable braided design that consists of links and chains.
Glider Bracelet.
The product consists of links (gliders) that are connected by springs/hinges. Luxury-premium bracelets are decorated with diamonds and engraving. Products with large links are mostly worn by men.
Bracelet chains.
Composed of links of different shapes/lengths. These can be models with square, round rings, with classical or original weaving, with geometric figures. Additionally, they are encrusted with stones to give a more evening look.
Bracelet chains are also decorated with a variety of pendants, which can be a part of the ornaments or removable, designed for young fashionistas, and adult women.
Bracelets with inserts.
Such a bracelet consists of several inserts, which are presented in the form of precious or semi-precious stones, artificial minerals.
Watch bracelets.
This accessory is a combination of beauty and functionality. It can be worn with other bracelets and in different styles. The only disadvantage is the repair difficulty: fixing the product requires professional knowledge and skills.
The most reliable and durable bracelets are made of titanium and gold alloy. A new modern subspecies of bracelets is ceramic. Among their advantages is absolute hypoallergenicity. Watch details will not corrode or turn yellow with time.
Slave bracelets.
The classic slave bracelet is connected with rings, of which there are from 1 to 5.
Anklets.
So in common people call bracelets on the leg. In ancient times, ankle bracelets were considered a talisman and were an important female accessory. Sometimes they even replaced the wedding ring.
The fashion houses of Versace urge to wear anklets in tandem with bright heeled pumps, and Missoni – with accents of bright stones.
Five Tips for Wearing Bracelets
The bracelet is worn "solo" on the right hand without a watch or other costume jewelry;

Always wear one accent jewelry on one hand: whether it is a large ring or a massive bracelet;

All jewelry that is not from the same set should echo each other in weight, size, width, design.

A bracelet should not be hidden under the sleeve – it is a bad tone.

Stones must be of similar visual characteristics. If the product is chosen for a set, it is better to buy a bracelet with stones of approximately the same shape.