Traveling with an animal seems to be something difficult for many people, especially when it comes to air travel. However, travel with a service animal is much easier than you might imagine. These animals are not pets, so their rights are much more extensive. Besides, service animals are expressly disciplined not only to help a man with a disability but also taught to be well-behaved in society.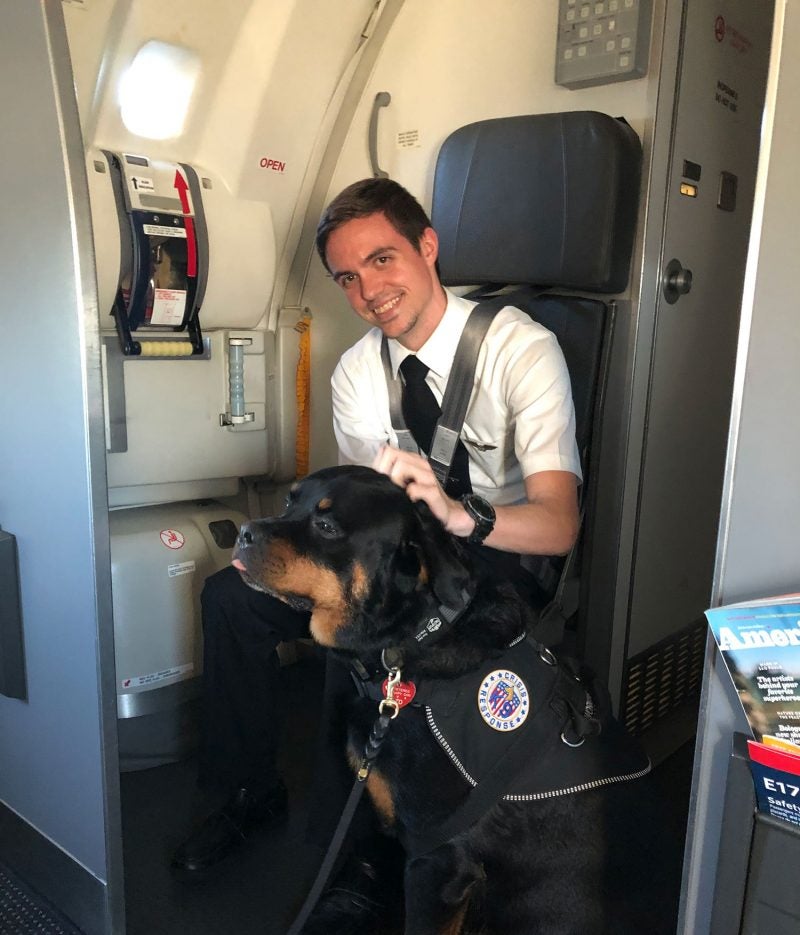 Who is assisted by service animals?
The original purpose of service dogs is to succor humans with physical impairments. First of all, this applies to individuals with mobility and space orientation issues. For example, service dogs often become guides for people with blindness. Also, they give particular signs about extraneous sound for people with hearing dysfunctions. In addition, the dog can be taught to roll a wheelchair and help its owner to reach the required location. Furthermore, service animals are tamed to preclude heart attacks and other cardiac diseases as well as seizures, like epileptic ones. In case of emergency, the dog can supply the handler with first aid, bring the necessary medicines and call for help.
One more category of service animals is psychiatric service animals. Doctors usually attach such animals to veterans with post-traumatic stress disorder. Moreover, emotional support animals are good for those who suffer from depression or anxiety. If you have all necessary documents, you can register psychiatric service animals online on MyServiceAnimal. These animals also help to get rid of phobias and fears. Emotional support animals can calm a man, normalize his heart rate and blood pressure.
Service animals are often trained to do work in a household. For instance, a dog can turn the light on and off, upload and unload laundry, open windows and doors, and bring the handler the needed items. Do not forget about the main function of the dog: the defense of its owner from ill-wishers and other possible dangers. Considering all these functions and tasks for the benefit of a human that a service animal performs, as well as the training that it undergoes before being assigned to a person, service dogs enjoy much greater freedoms than pets.
Freedoms and rules for service dogs
Laws that were previously designed to neutralize discrimination on religious, gender, racial or ethnic ground are now applied primarily to individuals with inabilities and their service animals. For example, cafes and restaurants are required to let an animal in with its owner, even if pets are prohibited there. What's more, service dogs have more freedoms in the field of housing. A landlord cannot forbid the residence of the animal or evict it without reasonable argumentation. A service animal can live with its handler free of charge. Moreover, the owners of service dogs shouldn't pay any pet fees.
Special principles for a service animal also apply in the travel industry. If the situation with public transport is more or less clear, in the case of air travel people have many questions. However, it is worth remembering the if you have all the needed documentation and you meet all the rules and requirements set by the airline, the air carrier won't prohibit you from flying with your service animal in the cabin of an airplane.
Legal traveling with a service animal
To fly with an animal in the cabin of a plane legally you have to fill out the Animal Transportation form in the U.S. Department of Transportation (DOT). This form must be sent t least 48 hours before the departure time. This is required in order for the DOT to have time to consider your request and approve it. If you bought a ticket later than 48 hours before the flight, you can fill out this form at the airport. In this case, it is better to arrive at the airport a few hours before boarding.
Also, you should think about the placement of the animal in advance. According to the rules of transportation, the animal cannot occupy a seat in front or near the handler or exit row. Animals must sit in front of the owner and fit the space in the owner's feet. The dogs must be harnessed, leashed, or placed in a kennel during the flights. The kennel should not be too large to fit at your feet or under the seat.
Distinct regulations practice for flights that last longer than 8 hours. In such cases, you have to submit a veterinary health form. This paper acknowledges that the animal won't need relief itself during the flight, won't become aggressive, and won't harm the aircraft or other passengers.
Possible restrictions when traveling with a dog
The final confirmation of your form for the animal transportation takes place at the airport. The airlines' workers have to evaluate the animal's appearance in accordance with the Air Carrier Access Act. A dog should be clean and behave properly. Animals may not be allowed to fly in the cabin if airlines consider them a threat to the passengers. The size and weight of a service animal are also estimated. If the animal is too big, the airlines offer possible solutions to this situation.
If a service animal doesn't meet the airline's requirements, you may be offered to transfer it as a pet. You can agree to these terms or choose a pet-friendly airline.