Leading a meeting requires skill and experience, no matter the platform.
However, most people are less familiar with remote meetings than those that take place in person. Collaborating with outside businesses, freelancers, and vendors often requires virtual communication, and it's vital to communicate clearly and effectively when meeting with individuals or teams outside of your organization. 
That's why we've talked to some leaders to gain information about what it takes to lead effective remote meetings. Hopefully, by the end of this article, you'll be inspiring your remote collaborators with ease.
Narrow Down Topics
While a meeting may be needed to address a variety of issues or share multiple announcements, it can help to narrow down the official topics. Evaluate which ones need to be discussed during the meeting and which could be sent out in a newsletter or email to update your collaborators.

"Nobody likes to sit through a meeting that could've been an email," says Andrew Chen, Chief Product Officer of CommentSold, a company that specializes in Shopify live selling. "Review the information you plan to cover and weed out the smaller topics that you could inform both teams about beforehand. Then allow for questions or concerns about the email's contents so that it doesn't all have to be discussed during the meeting."
Not only will this shorten the meeting time, but you'll be able to focus on the big-picture items with more clarity.
Create an Itinerary
Creating an itinerary is a necessity when leading effective remote meetings. While winging it may sound easier at first, those meetings often become disorganized or inefficient because the conversation isn't flowing. It can be difficult to find a time that works for your team and your external collaborators, so making the most of your time is vital. 
"Itineraries serve a dual purpose when it comes to leading effective remote meetings," says Miles Beckett, Co-Founder and CEO of Flossy. "It helps you organize your thoughts and visualize how the meeting will run, and it allows you to ensure everything is on the schedule for discussion."
Itineraries are also helpful to let your team know the plan and purpose of the meeting. Plus, they let you know how much time you need to spend speaking about each item, allowing you to schedule accordingly with your team and any external parties.
Have People Introduce Themselves
If your meeting is large and the teams involved don't always work closely together, having each person introduce themselves by name and position can do a lot to help clarify who is who. Teams collaborating across multiple organizations have the disadvantage of rarely putting a name to the face, so this can help make the entire group feel a sense of belonging.
"It seems monotonous, but there are often people in a meeting for a remote team that don't know each other or have forgotten someone's name or position," says Marcus Hutsen, Business Development Manager of Patriot Coolers. "While most platforms will have space for a name to be displayed on the screen, it's beneficial to refresh the group about what each person contributes to the team by naming their position."
Learning people's names and positions can also help people put faces to the names they see day after day in email or Slack.
Host Smaller Meetings Before Large Group Meetings
In the same vein as having everyone introduce themselves before speaking in a remote group meeting, it is smart to host smaller meetings where you allow people to get to know each other through casual conversation. Smaller meetings also allow people who wouldn't speak during a large meeting to voice their thoughts, concerns, and ideas.
"Smaller group meetings can help you hear from more of your collaborators, freelancers, or clients and get to know them more personally," says Stephanie Venn-Watson, CEO of Fatty15. "The more connection your team has with your external collaborators, the more likely they are to be engaged during the larger meetings."
As employees get to know each other across companies, they'll feel like valued team members in meetings instead of someone who had to show up because it was mandatory.
Send Meeting Information Ahead of Time
Sharing information before the meeting can give people an idea of the type of meeting it will be, the time requirements, and any preparation they'll need to do. This can help everyone come prepared to meet and discuss all of the topics without hiccups or setbacks because participants weren't prepared.
"Sending information to each team about the meeting prior to the event can help them prepare their portions of the meeting or come prepared with questions or concerns about the topics being covered," says Max Ade, CEO of Pickleheads. 
As we mentioned above, a detailed itinerary also helps participants understand how the meeting will flow and how long it will take to make it through all of the content. Of course, this isn't only helpful for the meeting host's personal preparation — it can benefit all of the participants.
Start and End on Time
Leading an effective remote meeting requires organization and consistency. A big aspect of this is that you'll need to start and end on time to develop a sense of consistency with both teams and to show respect for your collaborators' or clients' time. 
"Scheduling your meetings to plan out time allowances per subject can help you ensure you're starting and ending the meeting on time," says Patrick Schwarzenegger, Co-Founder of MOSH. "If one team tends to show up late, send out some reminder emails to reinforce the importance of timeliness and professionalism."
Meetings are most effective when they're done with a level of consistency that allows both teams to develop a routine and expectations regarding regular meetings.
Set Clear Ground Rules
Setting clear expectations at the beginning of a meeting can make a significant difference in its outcome. Whether it's about muting mics when not speaking, keeping video on for engagement, or setting a specific time for Q&A, these guidelines can streamline the meeting process and reduce potential disruptions.
"Setting ground rules is one of the key tools for effective meetings. These should be clear from the start and be consistent across meetings," mentions Steven G. Rogelberg, a professor at the University of North Carolina at Charlotte and author of "The Surprising Science of Meetings." 
By laying out these rules early on, participants have a clear understanding of the meeting's flow, leading to a smoother and more productive session.
Facilitate Discussions Wisely
There's a time and place for open discussion, but it's important to ensure both teams know the rules and expectations for discussions during meetings — especially if one company may have a different typical meeting style than the other, as mentioned above. If a topic has a lot of feedback coming in during a meeting, look for alternative means for giving that feedback.
"If there's a topic that will bring a lot of conversation, let your staff know what your expectations are for their opinions to be voiced. While you can't control what the other team may say or do, you can help by setting guidelines for your employees ahead of time," says Jenny Herbison, VP of Marketing at Craft Docs. "There are times that meetings can quickly lose their momentum or drag on because a topic comes up that everyone wants to voice their thoughts about."
Let people know you'll send out a survey for feedback to review before the next meeting or before a decision is made.
Take Advantage of Technology
If you find that your meetings lack a bit of interest, look into remote meeting technologies. Several options can help your meetings run more efficiently, hold interest better, and allow some extra creativity to be exhibited. From media incorporation to interactive technologies, take time to determine what works best for your needs.

"Technology is an incredible tool to take advantage of during your remote meetings," says Michael Solcz, Founder of Frizbowl. "Explore the options that are out there and find tech that will work for both teams."
From timers telling you when it's time to move on to the next subject to virtual meeting spaces that function for larger groups with less lag, there are useful options for every need.
Make It Interactive
Making your remote meetings interactive can be challenging because everyone isn't in the same place, but it's entirely possible and can shift the energy for the better. As mentioned, the technologies out there are great, and many of your interactive options will be able to stem from the platforms you use.
"Using interactive activities like polls, games, and team building activities are things that many remote collaborators forget they can use," says Nick Bodkins, Founder of Boisson, a company that specializes in non-alcoholic wine, beer, and spirits. "Have them vote on ideas or play a quick team game between topics."
Plus, having an interactive component in your meetings can help you ensure that employees are paying attention and not using your meeting time to catch up on emails and messages.
Emphasize Active Participation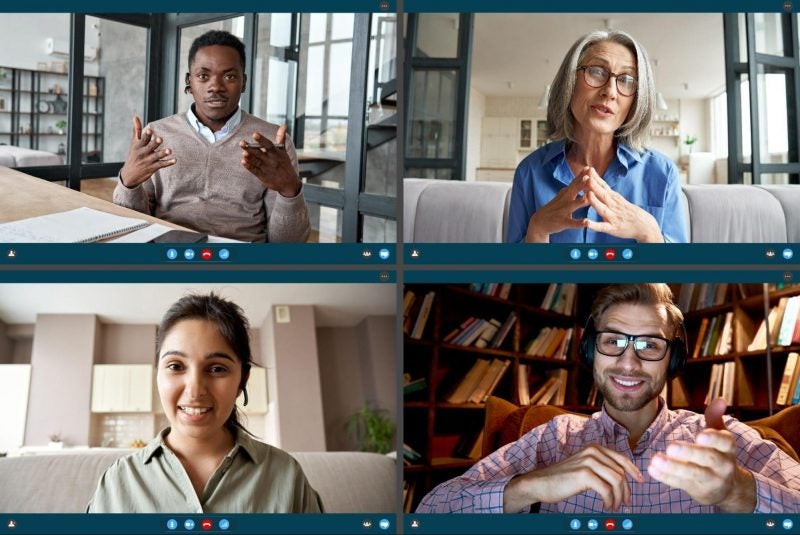 Beyond interactive technologies, when leading remote meetings, it's essential to make sure everyone's voice is heard. It's easy for participants to become passive listeners, especially when they're not physically present in a room. Encouraging everyone to actively participate can make the meeting more effective and ensure all perspectives are considered.
"In the most successful virtual meetings, everyone has a voice, and there are multiple ways to share it," says Justin Hale, a researcher with VitalSmarts. 
Participation is important to ensure everyone feels engaged and connected in a virtual setup. Ensuring active participation involves using a mix of tools, techniques, and interpersonal skills to keep everyone involved and attentive.
Follow Up After the Meeting
Following up after a meeting with both remote teams is a smart habit to develop, regardless of the meeting's duration. Following up can help remind people of their commitments, shared ideas, and action items that need to happen before the next meeting. This is an excellent way to close the loop on the topics and ensure everyone is on the same page. 
"Following up is a great way to drive home the decisions or announcements that were made during a meeting," says Natalia Kuvelas, Marketing Manager of Custom Goods. "Follow-up emails are also a fantastic place to link any resources, paperwork, or sign-up forms that may have been discussed during the meeting."
Reiterating the meeting information can help people remember it or even search their inbox for the details they may have forgotten to write down.
Lead With Confidence
Leading effective remote meetings is a skill in and of itself. There are a ton of resources, applications, and technologies to help with the process of planning interactive and effective remote meetings.
Knowing both teams and creating a culture where people feel like they're a valued part of the project or collaboration can also help encourage attentiveness and participation. Each company is different, so there's no one-size-fits-all solution, but consistency and time can help you determine the best options for your shared needs.