12 years ago, Sex.com was sold for a record-breaking 13 million dollars. Now it's back on the market with a fierce bidding war about to go live, starting at a staggering 20 million. 
A Rare Opportunity To Buy One Of The Highest Valued Domains Ever 
In a record-breaking transaction, the domain sex.com, which was first registered in 1995 and is currently renewed until 2032, earned itself the reputation of the world's most expensive website!
Current owners, Clover Holdings Ltd, put down an eye-watering 13 million dollars back in 2010 to secure exclusive rights and ownership of the domain. Now 12 years later, Sex.com is back on the market and looking for a new master!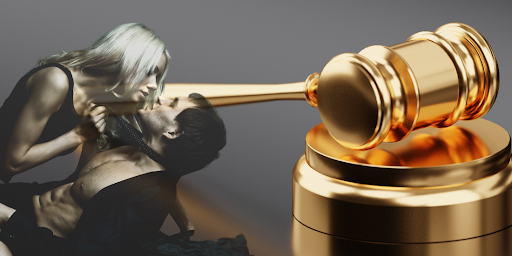 A Domain With A Vibrant History
Sex.com has enjoyed a long and vibrant history online and is ranked as one of the most commonly searched-for keywords.
The reason behind the domain's long-standing success will come as no surprise to most people, as it has hosted a wide range of adult material over the years.
But, while most people might assume that it has only ever hosted explicit content, it was once used to host a dating site, demonstrating how it can be dressed up depending on the new owner's taste!
Putting Content Creators First 
In 2021, the site was re-launched as a 'feed' site, allowing content creators to showcase and monetize their content on the platform. Think of it as a pinboard for porn.
Charging a 20% fee, content creators can earn 80%, which puts the people behind the videos first!
In fact, Sex.com was designed with content creators at its core and even enforced mandatory KYC for all creators using the platform with a 100% content review feature that allows immediate withdrawal of content and media.
To empower content creators to produce high-quality work, Sex.com provides a studio section where creators can easily manage their work in a secure and user-friendly way.
Monetize & Access Explicit Content Easily 
Users who visit Sex.com and appreciate the content produced are able to pay for exclusive content via credit card, with cryptocurrency payment becoming a payment option soon.
The site was developed as a Progressive Web App (PWA) since adult apps are not permitted on the App Store and Google Play. It is optimized for both mobile and desktop devices to maximize traffic and optimize user experience.
Considered to be one of the most visited domains on the internet, millions of unique visitors land on Sex.com every single month. And as it's about to go on sale once again, buyers worldwide are ready to fight for ownership!
Trading Domains Is Big Business
Gary Kremen, who first registered Sex.com in 1995, also bought match.com and housing.com and went on to make a fortune! This businessman single-handedly demonstrated just how lucrative it is to trade your way to a fortune by registering and securing short, snappy, and popular domains. Think of it as internet real estate!
Whoever becomes the next owner of sex.com will also gain associated trademarks, copyrights, and other intellectual property associated with the domain! So don't miss out on this rare, world-record-making bidding war!
How To Bid On Sex.com 
If you want to be part of the live-action and bid on sex.com and associated intellectual property, you need to do so immediately!
Bidding will be carried out through a private auction, and all interested parties must contact the seller as soon as possible to learn more about the process and submit their bid for consideration.