Transfer Your DVLA Registration Easily
Got your eyes on a shiny new number plate? Want to stand out in a crowd? If your answer is yes, then you are in the right place. With these simple steps, you can own a customized license plate as well. This article will guide you through the process, as it can be confusing at times.
Requirements for Transferring Your Registration

To be eligible for a DVLA number plate transfer, you need to meet some requirements. They are not particularly stringent, but it is a good idea to keep them in mind regardless. First and foremost, the vehicle needs to be registered with the DVLA (Driver and Vehicle Licensing Agency) in the United Kingdom.
See this useful resource to look at DVLA number plate check history provided by DVLA partners, CarVeto
Secondly, your vehicle may need a special HGV (Heavy Goods Vehicle) certification. A proof is required that the car in question has been taxed correctly in the last 5 years. A SORN (Statutory Off-Road Notification) may also be required under special circumstances, which is a formal declaration to the DVLA.
Make sure you have your vehicle prepared for a surprise inspection. The DVLA may ask any time to inspect, and you want your vehicle to be in the best shape possible.
There are a couple of extra things you need to keep in mind as well. While certain license plate numbers may seem appealing, you cannot choose a number that makes your vehicle look brand new. Furthermore, if the concerned vehicle's license starts with a Q or NIQ mark, it is ineligible for registration. These vehicles were registered in Ireland or Northern Ireland, which makes them as such.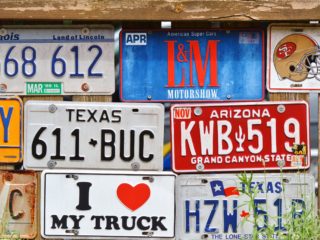 What do You Need?
The first thing you need to do is remove your existing number plate. You can apply online for this at https://www.gov.uk/personalised-vehicle-registration-numbers. A few documents are required to get the whole process started. First, you will need a registration number note. This form asks you to fill out your current registration number and the new one you are looking to put on your vehicle.
Next, a V5C form is needed. This is more commonly known as the logbook. It comes with a reference number, which is what you are looking for. There is also a registration postcode that is attached to the logbook. It is highly recommended you make copies of all these documents for future reference.
What Options Do You Have?
There are two ways you can go about the whole registration process. Both options will cost you the same amount of money. The first option is for people who already have a vehicle and want to transfer an existing number plate. They simply have to fill out the appropriate forms to get the process started.
The second option is for people looking to sell a license plate later down the road. Many people get impressive-sounding license plate numbers as it is appealing to certain kinds of people. In this case, you would need a V778 Retention Certificate. You would be surprised at how much some of these license plates go for.
Many agencies hold auctions for custom license plate numbers, and they can go for a lot of money. So if you are looking to make some money or are only a collector, option 2 is going to be your best bet.
An important thing to remember is whether you are applying for a V317 or V778 form, you must complete the process 28 days before your current registration expires. Otherwise, you will have to pay late charges on top of the regular fees.
The All-Important V317 Form
The V317 form is the official document required for transferring license plate numbers. There are several ways to acquire this form. You can download it online from the DVLA website. Otherwise, the form is available in most major post offices.
The next step is to fill out the form correctly. There are three sections to it, but the important ones are sections 2 and 3. The donor vehicle owner needs to fill out section 2. You can fill out section 3 by yourself as it requires the donor's information. It also needs the details of the vehicle the new registration is going to.
After you have the form filled out, mail it to the DVLA Swansea office along with the V5C logbook and other relevant documents. You will also need to attach £80 as a cheque for "DVLA Swansea". If you were unable to acquire a V5C form, you could even fill out a V62 application, and it basically does the same thing.
You should get new V5C forms in your mailbox within 3 to 5 working weeks. They will include the new registration numbers for your vehicle as well. You can then use the registration code provided to choose a private number for your vehicle. This can be done online through the DVLA website.
The V948 Form
After you have acquired the necessary forms, all you have to do now is arrange a shiny new plate to put your customized registration number on. In order to do that, you may consider acquiring a V948 certificate. This will help you purchase a new (remanufactured) number plate.
There is an electronic version available to download from the DVLA website called the eV948 certificate as well. Simply fill out the form, choose your preferred design, and you are good to go. There are hundreds of designs to choose from, so the sky's the limit.
For a little extra, you can also custom design your own license plate to put a personal touch in there.
Changing your vehicle's registration can seem intimidating at first because of all the documents and paperwork involved, but once you familiarize yourself with the process, it is actually quite straightforward. Best of luck!