The Best Swag For The Best Dad
Father figures provide stable foundations for men young and old. Whether it's your pops by blood, by choice, or by fate, the man you look up to in life deserves his due of gratitude. Give him more than a card and a handshake this Father's Day. We've assembled a list of high-quality products that are so exceptional, they might just bring a tear to your old man's eye.
TRĒ House Liquid Diamonds Vape Pens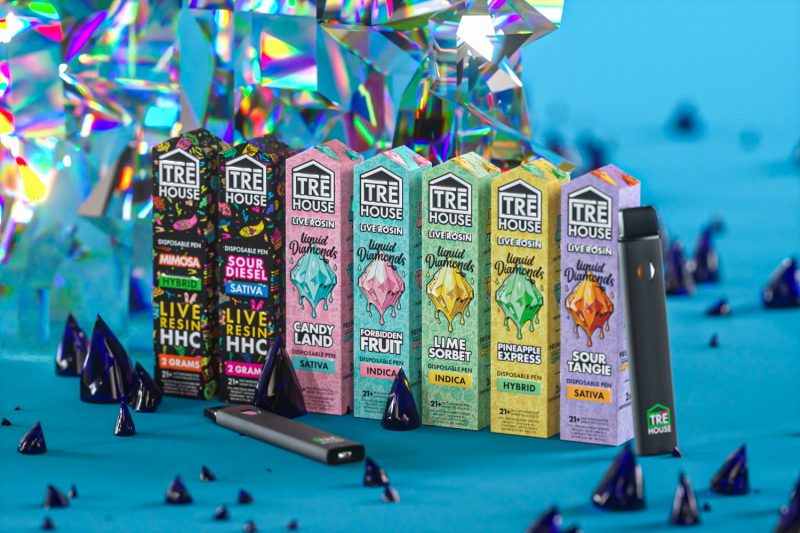 Ready to add some swagger to your THC game? TRĒ House Liquid Diamonds vape pens are gonna give you more swagger than Mick Jagger! These babies are packed with a unique blend of cannabinoids including Delta 8, Delta 9, Delta 10, HHC, and THC-P, and are available in a variety of awesome flavors. Whether you want to puff classics like Pineapple Express and Sour Tangie or want to try something new like Forbidden Fruit, Candy Land, or Lime Sorbet, we have you covered.
Our super potent cannabinoid blends and mouth-watering flavors are next level, but our extraction process is really what makes these vapes shine. We flash-freeze our hemp immediately after harvest to trap in all of the tasty terpenes and prevent the degradation of psychotropic cannabinoids. This means you get to experience the robust flavor of a complete terpene profile and the full power of all the potent cannabinoids these blends contain.
If you're interested in treating yourself to a truly premium vape experience,  there's no better choice than TRĒ House Liquid Diamonds vape pens!
Use Code SWAGDAD for 30% off your order 🙌 (Valid through 6/30/23)
Buy now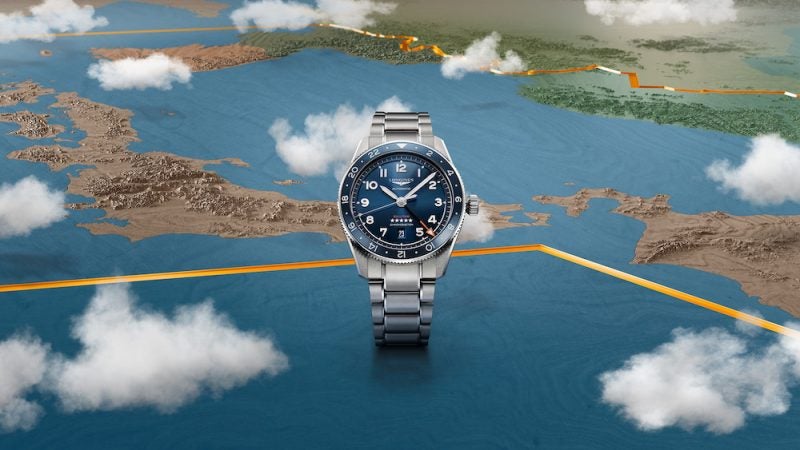 Celebrate Father's Day in style with the timeless elegance of the Longines Spirit Zulu watch. This exceptional timepiece is the perfect gift for the modern, adventurous father who appreciates precision and sophistication. Crafted with meticulous attention to detail, the Longines Spirit watch seamlessly combines functionality with a captivating design, making it an ideal companion for any occasion.
In 1925, Longines introduced their first watch indicating different time zones. The Z-flag on the dial, stands for Zulu Time, the universal time format used in aviation and military. The Longines Spirit Zulu takes inspiration from this heritage, featuring dual time zone functionality which allows for effortless tracking of two time zones simultaneously. The watch is a true GMT with a COSC certification. Designed with a sleek stainless-steel case, complemented by a sunray blue dial, bold Arabic numerals and luminous hands, the watch is powered by a reliable automatic movement and silicon balance spring, which guarantees accurate timekeeping and a remarkable 72-hour power reserve. The Longines Spirit Zulu is crafted to withstand the rigors of an active lifestyle, with a water resistance of up to 100 meters (330 feet) and has a five-year warranty.
Visit Longines.ca to discover more Father's Day gift ideas, including the Longines Spirit Zulu – L3.812.4.93.6.
Buy now
Masingo Karaoke
Are you looking for a gift perfect for Dad and the kids? The Allegro X8 is a top karaoke machine with a fully functional, web-capable Android operating system. The Android operating system is compatible with all your favorite streaming apps. Simply turn on the machine and use the touch-screen-enabled tablet for all football games, and karaoke needs. The karaoke machine comes with an Android compatible tablet with 32 G of memory tablet , 2 wireless microphones, an AUX cable, charging cable, remote, and manual. A great two-in-one gift, the X8 has a screen to stream any game night and lyrics for any family time karaoke battle. It's ultra-portable and comes with chasesi wheels and a retractable handle. Family night and Sunday night football are now secured with the Allegro X8 from Masingo.
Buy now
YETI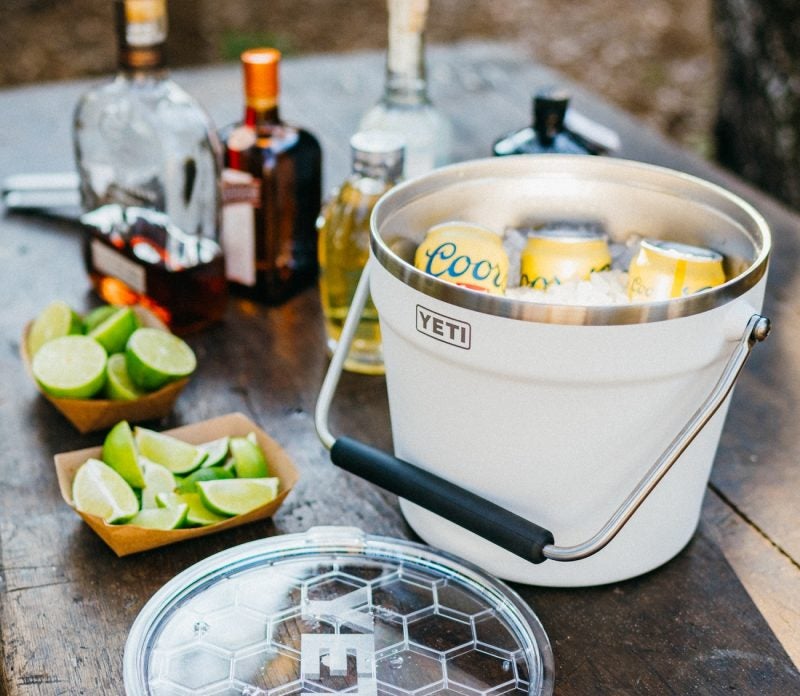 Are you really going to let your dad roll up to the barbecue or boat dock with a styrofoam ice box?
Leave the embarrassment at the corner store and give your old man a hefty happy hour bucket he can be proud of.
You, your father, and even your grandpa know that a YETI Cooler is a far different beast than that old monstrosity of an ice chest collecting spider webs in the garage. YETI doesn't play around when it comes to designing the perfect coolers and they definitely aren't cutting corners when it comes to their barware, either.
Plain and simple: the YETI Rambler Beverage Bucket is the only beverage bucket your dad will ever need.
A rotating handle makes it effortless to carry while a Bearfoot non-slip ring lets him set it down on his bartop or picnic table without a scratch. Double-wall vacuum insulation keeps drinks cooler for longer, no matter if your dad is sipping brewskis in the backyard or keeping his reliable bottle of whiskey chilled at the campsite.
With the ability to carry three bottles of wine or a six-pack of beer, this stainless steel beauty is a must-have for any dad who appreciates cracking a few cold ones. Get your dad a YETI Rambler Beverage Bucket for Father's Day and toast to the best man in your life.
Buy now
C-IN2: Core Boxer Brief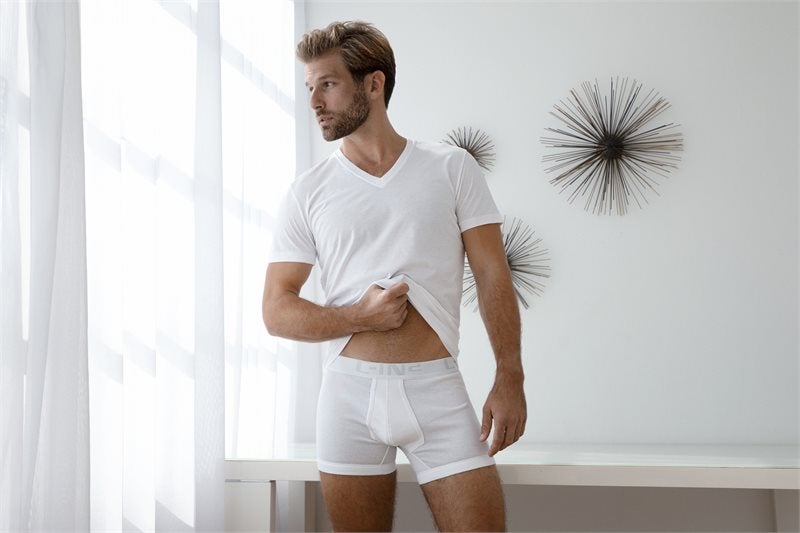 Feel good from the start to the finish with Core from C-IN2.
The Core collection is the ultimate in men's underwear. Made from the finest 100% cotton, Core is the perfect combination of softness, support, and style. With its breathable fabric and innovative design, Core will keep you feeling cool, comfortable, and confident all day long.
And with its vast range of styles and sizes, Core is C-IN2's largest and most popular collection, offering something for everyone. From classic briefs and boxers to trendy trunks and thongs, Core has it all.
So why settle for anything less than the best? Elevate your underwear game with Core and experience the ultimate in comfort, style, and satisfaction – every single day.
Buy now
RO3: Dual Layer Zip Hoodie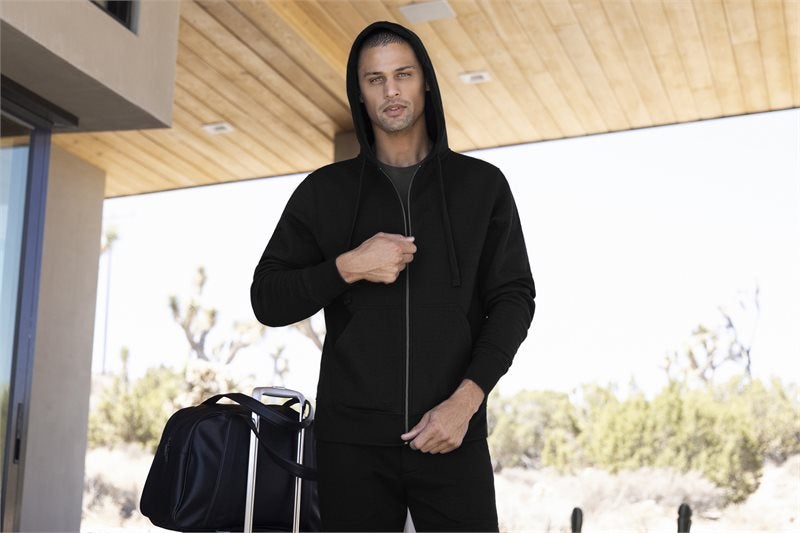 Looking for the perfect Father's Day gift for the man who has everything? Look no further than the RO3 Dual Layer Zip Hoodie. This stylish and comfortable hoodie is perfect for any occasion, from a day at the office to a weekend getaway.
The RO3 Dual Layer Zip Hoodie is made from a soft, lightweight fabric that is perfect for travel. It features two easy-access front pockets and micro-quilted fabric that provides extra warmth and comfort. The hoodie is available in a variety of colors to suit any style.
If you're looking for a gift that will show your dad how much you care, the RO3 Dual Layer Zip Hoodie is the perfect choice. He'll love the way it looks and feels, and he'll appreciate the thoughtfulness of your gift.
Buy now
Vapur
The Anti-Bottle is a reusable water bottle designed to stand when full and can be rolled, folded or flattened when empty, making it easy to use and carry on any adventure. Unlike bulky, rigid bottles, the portable Anti-Bottle can be easily tucked away, conveniently fitting into pockets, purses and packs.
About 87% lighter than typical rigid bottles, the slim, flexible Anti-Bottle only packs water weight. It also uses less energy to make and transport than rigid bottles, so not only is the Anti-Bottle light on your load, its environmental impact is also pretty "lite." Vapur now has multiple product lines of Anti-Bottles, ranging from the highly-technical SuperCap to the After Hours line for spirits and wine.
Buy now
Courser
Remember those lame white sneakers your dad wore in the '90s?
It's about time today's generation of dads reclaimed the classic white shoe.
Courser, a luxury footwear brand, is kicking bland style to the curb and giving dads everywhere the comfortable, quality shoes they need to take on work, play, and fatherhood. Whether at the gym, in the office, or chasing the kids around the playground, the Uno Men's White Mono combines exceptional Italian hand-crafted tradition with technologically enhanced materials to handle whatever the day brings.
And it looks damn fine no matter what fit they're rocking.
The dad in your life takes care of your heart and soul; make sure they're taking care of their own soles with Courser's incomparable craftsmanship. The new Uno Men's White Mono is the classic white shoe that will define a generation of dads — without dooming them to another basic "dad shoe".
Available now online at www.courserworld.com and at Saks Fifth Avenue.
Buy now
xSuit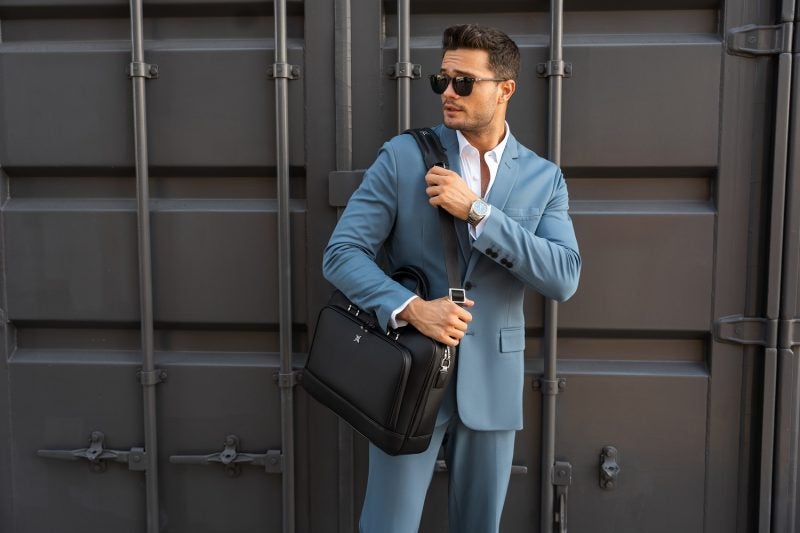 Want to find something that dad will actually enjoy wearing to his most important and memorable occasions? The newest version of the popular xSuit, the xSuit 4, will make him rethink everything he previously knew about traditional suits. The advanced technology creates a super stretchy and comfortable jacket and pants set that is wrinkle, liquid, stain, and odor resistant. Even better, it is machine washable—meaning no more trips to the dry cleaners—and is the perfect travel companion for business trips, weddings, meetings, and more.
With a wide range of sizes, sleeve lengths, and pant lengths and a built-in online size finder, you can order the perfect fit for him without taking him to get fitted in a store and ruining the surprise. And if you do need to exchange the suit, xSuit's friendly customer service team will help you out with it. Choose between a black, navy blue, light and dark grey, or eye-catching light blue color, depending on his personality and needs. You'll definitely impress the father in your life with this unique and super comfortable stretch suit that he will treasure for many years to come!
Buy now
BIKE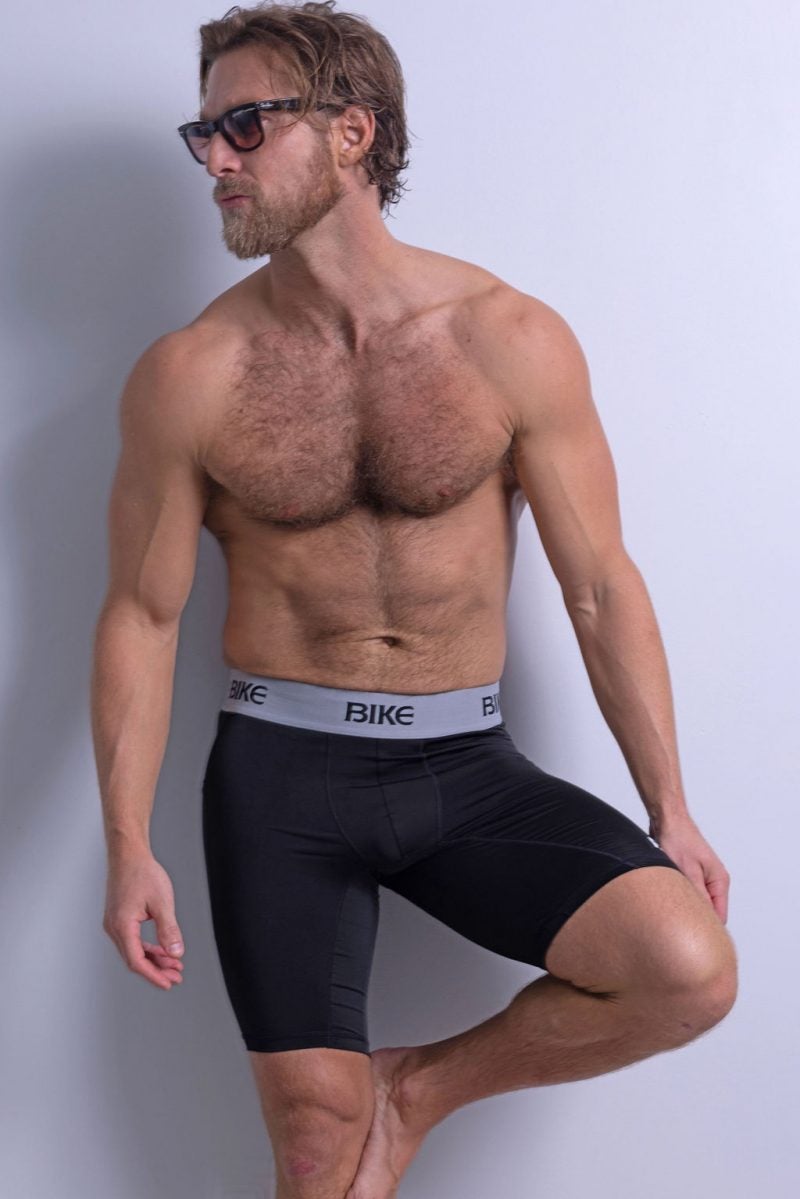 BIKE Athletic is a true American classic, rich in history, comfort, and confidence. The BIKE brand has been around for 150 years.
Leveraging BIKE's rich history and high customer expectations, BIKE created a line of men's apparel. The BIKE line takes you from the gym to brunch to comfortably lounging on your day off.
The BIKE Compression Shorts are an excellent performance base layer for any man. The mesh pouch allows for ventilation to keep you cool and comfortable during your workout, and the flatlock seam provides a smooth feel against your skin. The shorts come in gray and also in black.
The BIKE Athletic line offers shorts, tees, tank tops, hoodies, activewear, socks, underwear, jockstraps, and accessories.
Shop bikeathletic.com and get 25% off with the code: FATHERS25 
Sport The Original. 
Buy now
VOSKER V300 – TAKE SURVEILLANCE FURTHER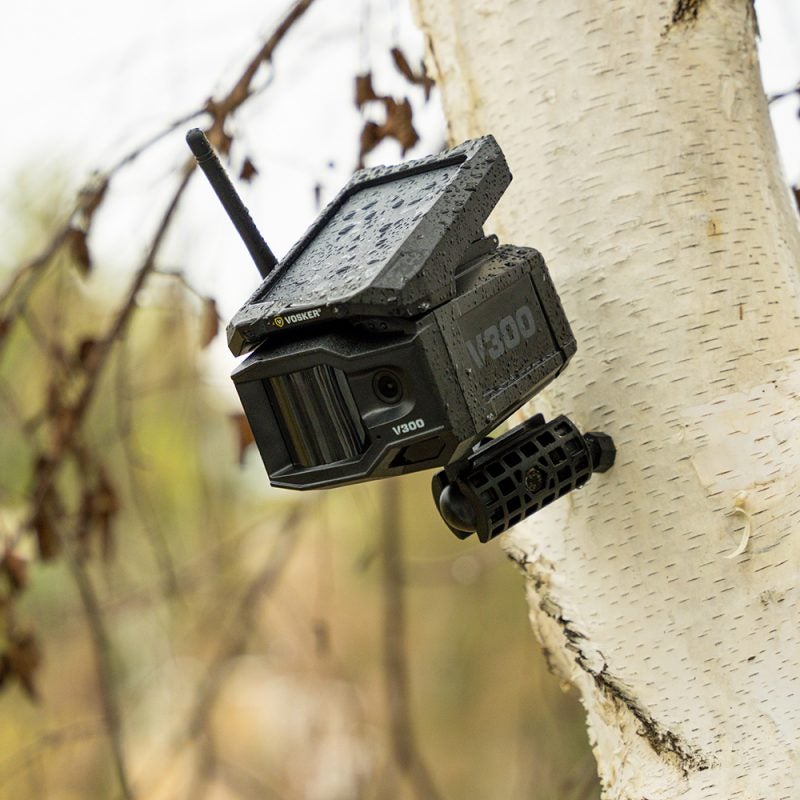 The V300 Autonomous security camera features live monitoring in remote areas without Wi-Fi or electricity. This solar powered LTE-based camera is ideal for long-term outdoor surveillance and is 100% Wire-Free and portable.
LTE-Based 100% Autonomous Security Camera
Built-in Solar Panel Technology
Works Without Wi-Fi or Power
Free 7-day trial offered at activation. 3 monthly plans available, starting at $10/mo.
Buy now
Zebra Pen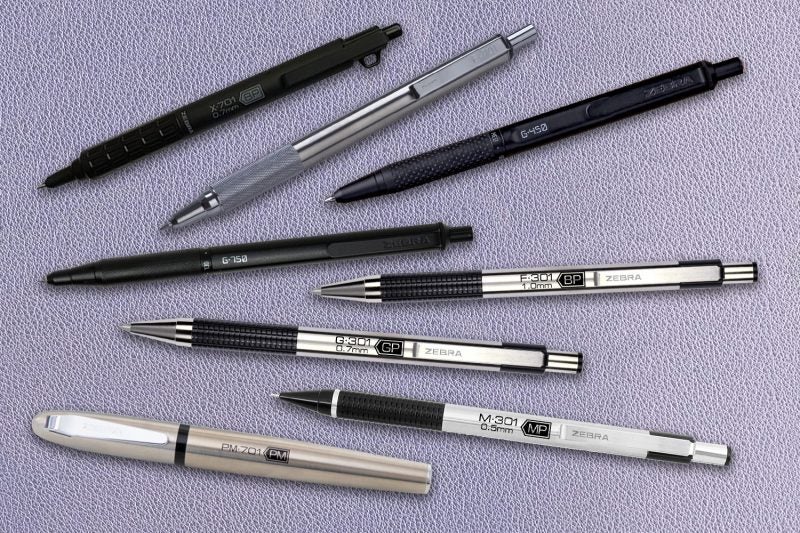 Give the gift of style and reliability this Father's Day with a classic writing tool from Zebra Pen's STEEL line. The STEEL line offers unique and versatile products from ballpoint to gel and mechanical pencils to permanent markers. With their sleek and stylish look and feel, dads can add any STEEL product to their collection of everyday carry items. The sleekness and comfort of Zebra STEEL makes any product ideal to elevate the writing experience and show off distinctive style when putting pen to paper.
The timeless features, dependability, and durability of these classic writing tools make the perfect gift for Father's Day. Any product from the STEEL line is sure to be a staple in any dad's collection and will help them make a statement even before they even write a word. With the various writing tools available in the STEEL line, there is a product that will fit into any of their project and need.
Buy now
Gift of Hydration: Essential Elements
This Father's Day, give him the gift of Essential Elements! It's time to make hydrating fun and easy with Essential Elements hydration sticks that are the perfect fuel to recharge for fitness lovers, athletes, and anyone looking for a little extra hydration! Featuring a combination of apple cider vinegar, sodium, potassium, and buffered vitamin C to ease digestion, you'll keep hydrated and ready to roll. When you exert yourself, you sweat, and that means a loss of both water and electrolytes. The apple cider vinegar in Essential Elements Hydration provides you with powerful replenishment. Just like Dad, Hydration goes the extra mile for the extra oomph you need to keep working out, finish your shift strong, stay energized throughout the day making it the perfect tool to better your workout.
WeatherTech: FloorLiner HP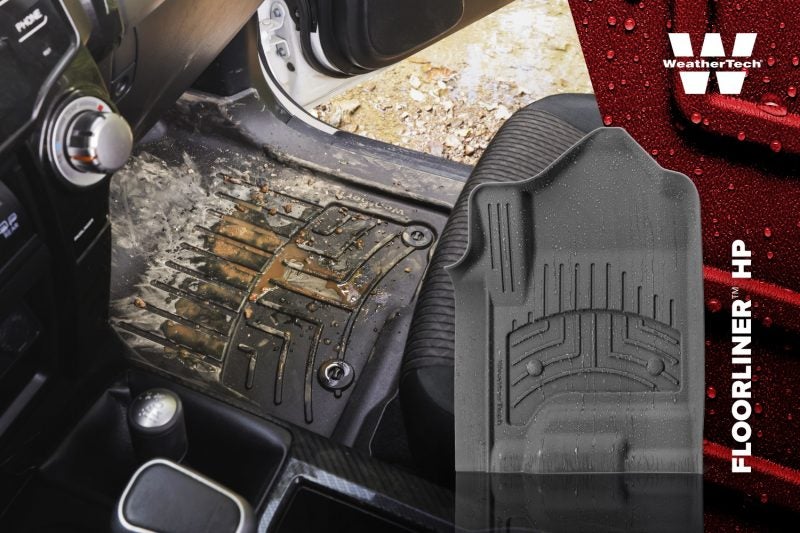 When it comes to your ride, don't settle for "good enough." Your car deserves the very best, so choose WeatherTech — may we recommend FloorLiner HP? It's the next generation in laser-measured interior vehicle protection. What does laser measured mean exactly? It means there's a custom mat for your make and model, with a fit so precise it's within a fraction of a millimeter.
FloorLiner HP features all the benefits of the original mat plus a high-walled design, waterproof retention devices and anti-skid nibs. These premium mats offer year-round protection against the elements as well as standard wear and tear. See for yourself why automotive enthusiasts choose WeatherTech.
Kind Oasis Delta 9 THC Gummies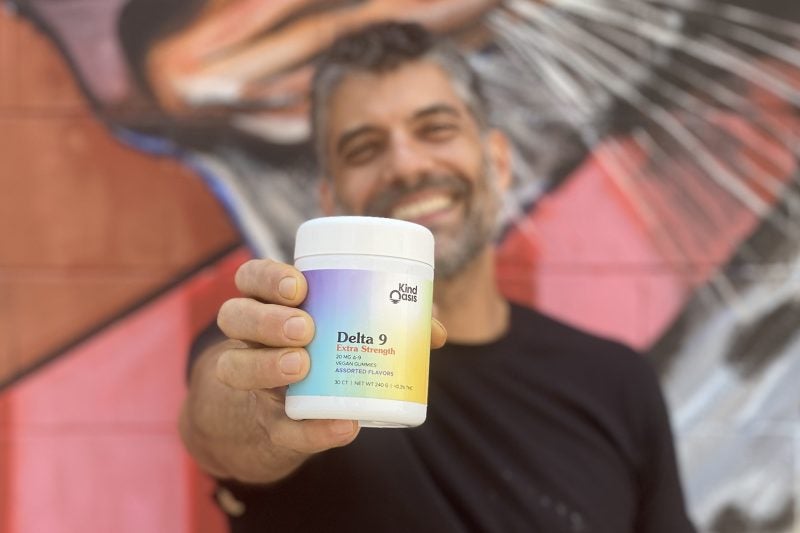 Find your balance of clarity and calm with Kind Oasis Delta 9 THC Gummies. These delicious gummies are infused with premium hemp extract to make you feel good.
Their proprietary formula is 100% vegan, gluten free, and naturally flavored with fruit oils. All gummies are handmade in small batches for strict quality control and continuously lab tested to ensure you get the experience promised on the package.
Formulated by tenured professionals in cannabis and food production, Kind Oasis gummies are intended to benefit you on a bio-individual level. Whether you are seeking to alleviate inflammation, stress, anxiety, or exploring natural ways to improve sleep and maintain chill as your baseline, Kind Oasis gummies are an effective solution that you can trust.
In addition to gummies the Kind Oasis features an array of products from topicals to tinctures to solutions for your beloved pets. The company is consumer-focused with fair pricing. They provide free shipping on every order, monthly deals, 30% off your first order, and exclusive discounts for military and first responders.
Buy now
Outdoor Pizza Oven

Who needs to go out to eat when you can create your own restaurant quality stone-baked pizza in the backyard? Spoil Dad with the Ooni Stainless Steel Multi Fuel Outdoor Pizza Oven that's portable at just 26.4 pounds. With the power of a large pizza oven – quickly fired up with wood or charcoal (or with gas in the Ooni gas burner, sold separately) – you can enjoy fresh, authentic stone-baked pizza in just 60 seconds. $399.99 at RONA stores or online.
Buy now
On-Running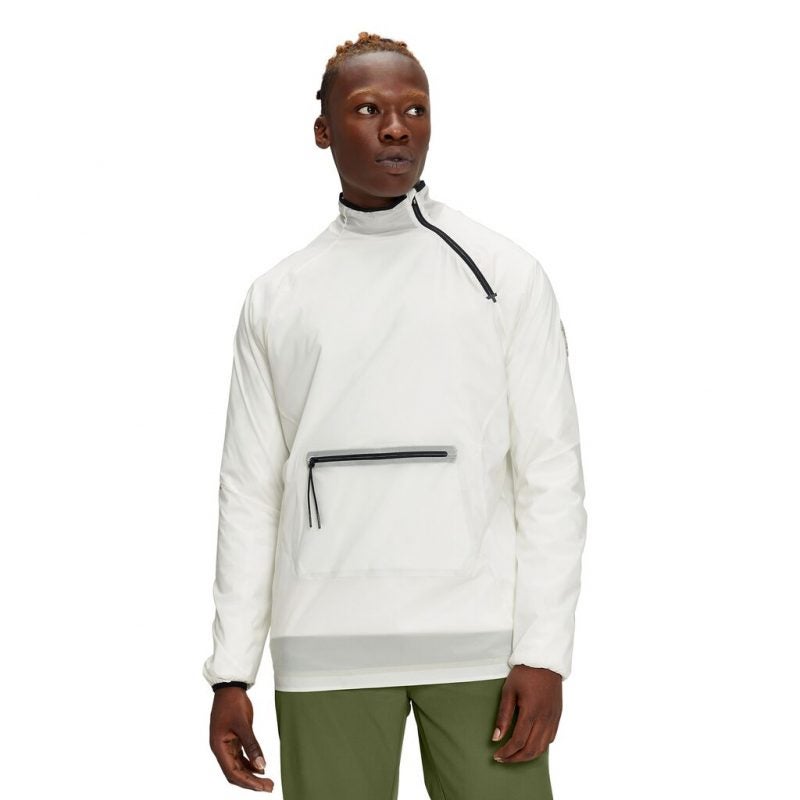 For the Dad who loves style and functionality, this versatile jacket from On-Running is designed for those who enjoy an active lifestyle, with its lightweight and breathable fabric that offers protection from the elements. Its slim fit and sleek design make it a fashionable choice, perfect for both outdoor adventures and everyday wear. The jacket features two zippered pockets, adjustable cuffs, and a drawstring hem, ensuring a comfortable and secure fit. Give your dad the gift of functional and stylish outerwear with the On-running Active Jacket, available now on their website.
Buy now
Philips Shaver S9000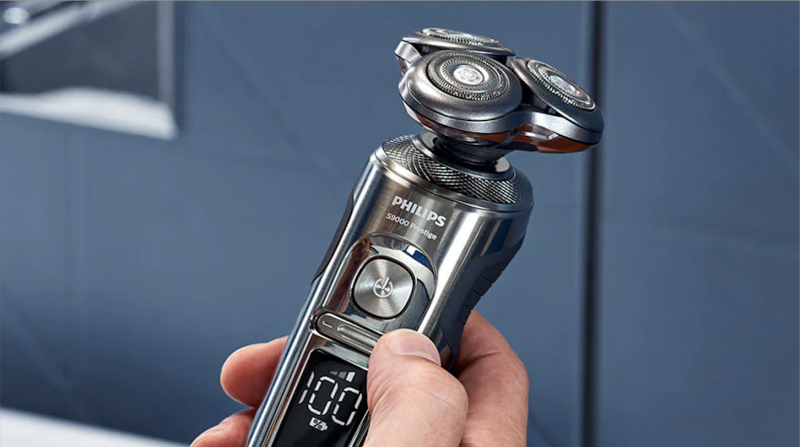 If you're searching for the perfect Father's Day gift for a tech-loving dad, look no further than the Philips Shaver S9000. This cutting-edge shaver boasts revolutionary SkinIQ technology powered by AI, which senses and adapts to individual needs for a personalized shave. With the GroomTribe app, dads can receive personalized advice co-developed alongside dermatologists, track the progress of their skin, and master their technique. The Hair-Guide precision heads and 360-degree flexible heads provide an effortless and smooth shaving experience for all facial hair and skin types. Give the gift of a truly personalized shaving experience with the Philips Shaver S9000.
Buy now
Powerhouse 
Barbecue 
Light up Dad's day with the Master Forge, a four-burner powerhouse gas barbecue, featuring a total of 48,000 BTUs, a cooking surface that can fit up to 35 burgers and a convenient side burner with 12,000-BTUs. A push and turn ignition makes this grill easy to light and simple to use. Its side shelves offer extra space for prepping and cooking, and built-in wheels make transporting easy. $379 at RONA stores or online.
Buy now
Mavi Jeans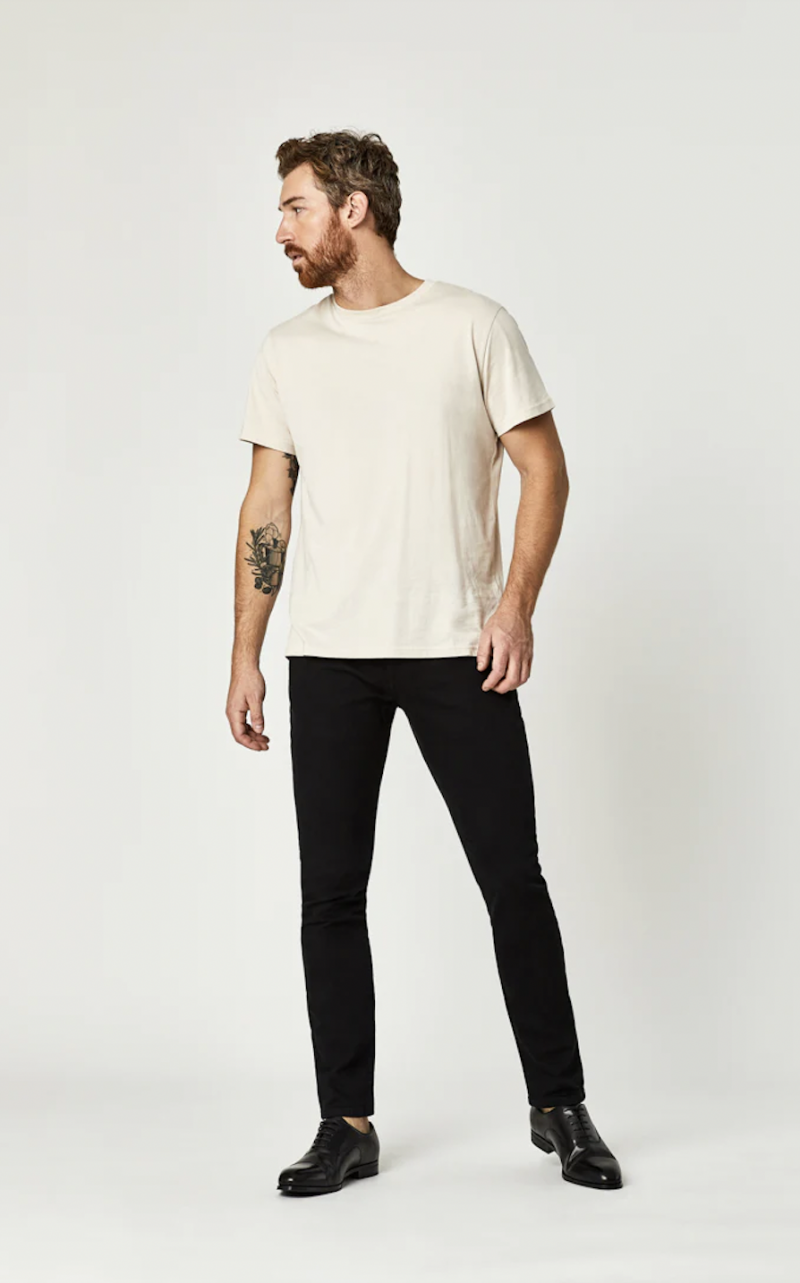 For the dad who values both style and comfort, consider the Mavi Jake Slim Leg Jeans in black Williamsburg as a Father's Day gift. These jeans offer a modern slim fit that's both stylish and comfortable, thanks to the high-quality stretch denim fabric that moves with you. The black Williamsburg wash gives these jeans a sleek and versatile look that can easily be dressed up or down. With classic five-pocket styling and a zip fly, the Mavi Jake Slim Leg Jeans are a timeless addition to any wardrobe. Give your dad the gift of style and comfort with these premium jeans from Mavi, available now on their website.
Buy now
FJÄLLRÄVEN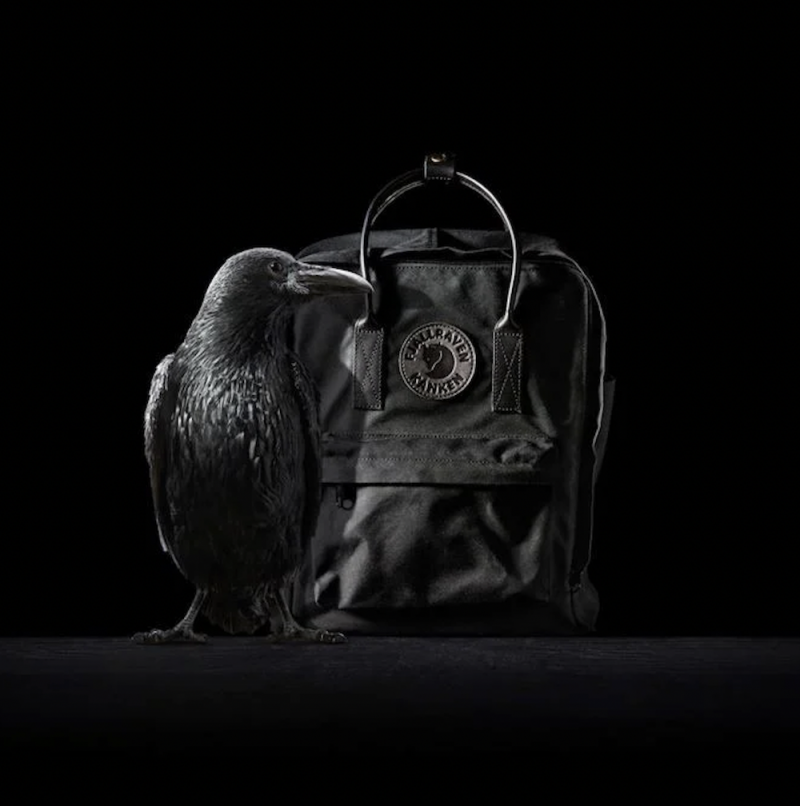 Looking for the perfect Father's Day gift that combines style, functionality, and durability? Look no further than the Fjällräven Kånken No. 2 Laptop 15 in Black. This iconic backpack is not only a fashion statement but also a reliable companion for dads on the go. With its spacious main compartment, it offers ample storage for a 15-inch laptop and other essentials. The G-1000 HeavyDuty Eco S fabric ensures exceptional durability, making it suitable for daily use and outdoor adventures. The classic black colour adds a touch of sophistication, while the leather detailing adds a refined and timeless appeal. Whether your dad is heading to the office, travelling, or exploring the outdoors, the Fjällräven Kånken No. 2 Laptop 15 in Black is the perfect gift to accompany him on his journeys with style and practicality.
Buy now
Philips OneBlade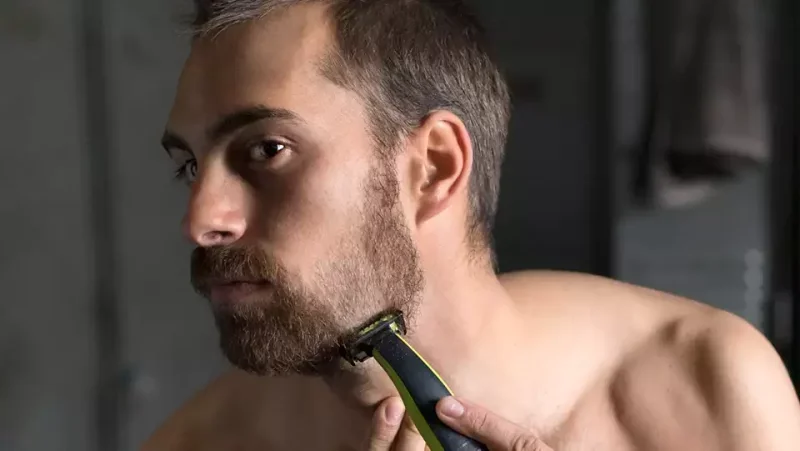 For the dad who loves to switch up his style, the Philips OneBlade Face+Body is the perfect Father's Day gift. This versatile hybrid styler can trim, shave, and create clean lines and edges on any length of hair – anywhere on the body. Its dual protection system ensures a comfortable shave, while its fast-moving cutter technology (200x per second) efficiently cuts even longer hairs. The OneBlade Face+Body offers a streamlined and quicker grooming routine, making it perfect for the dad on-the-go. With an MSRP of $64.99, the Philips OneBlade Face+Body is the perfect gift to help your dad elevate his grooming game.
Buy now
Eric LeGrand Kentucky Straight 
Bourbon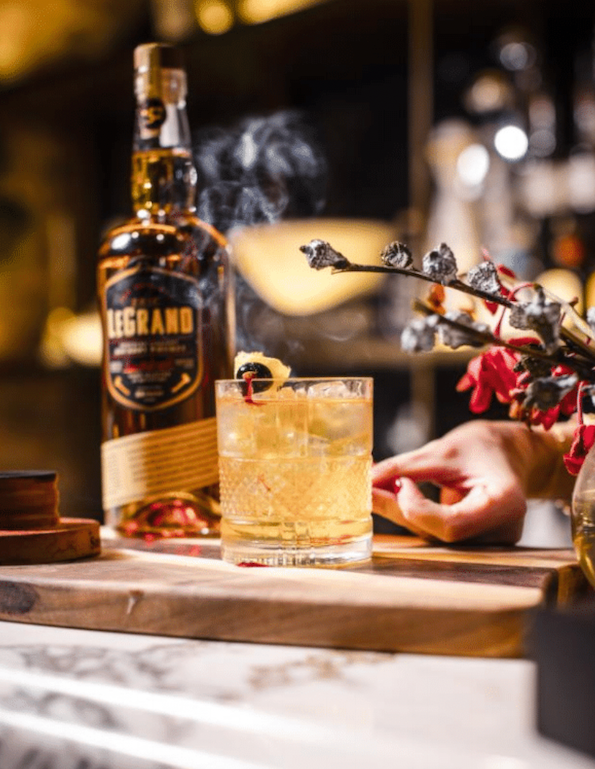 Looking for the perfect Father's Day gift for the bourbon aficionado in your life? Look no further than Eric LeGrand's Bourbon, a smooth and complex blend that will impress even the most discerning palate. This special release is not only delicious, but also for a good cause: a portion of the proceeds go to the Eric LeGrand Believe Fund, which supports spinal cord injury research and provides assistance to individuals and families affected by such injuries.  Made with a blend of 8-year-old and 12-year-old Kentucky straight bourbons, this spirit boasts a smooth and complex flavor profile that's perfect for sipping neat or on the rocks. The bottle design is also sleek and sophisticated, making it a great addition to any home bar. Give the gift of great taste and charitable giving this Father's Day with Eric LeGrand's Bourbon.
LeGrand Smoked Old Fashion
Ingredients:
– 2 oz. Eric LeGrand Kentucky Straight Bourbon
– One Sugar Cube-Club Soda-3 dashes of bitters
Method:
– Sugar cube in a Whiskey Glass
– Add a splash of club soda-Add bitters
– Muddle ingredients together
– Add 3 oz Eric LeGrand Bourbon
– Add ice-Stir all together
– Pour into glass
– Put smoke top on top of filled glass and smoke the wood
– Add garnish
Buy now
Boy Smells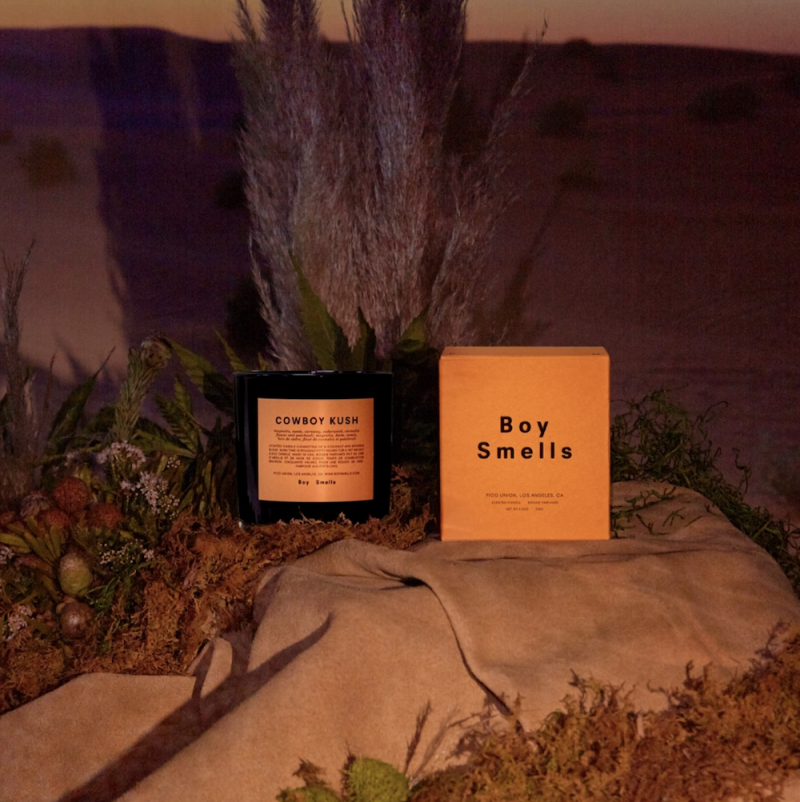 Elevate Dad's world with Boy Smells. Developed and designed in Los Angeles, Boy Smells Candles are made with natural fragrance using a coconut and beeswax blend. Cowboy Kush by Boy Smells is a dusty accumulation of suede and saffron, with puffs of cannabis and patchouli drifting through. This tumbleweed scent is a the perfect accumulation of suede and saffron. It's dusty, dry, and earthy, and it's grounded. It smells like a toasty, well-worn saddle. It has some dust, it's dry-earthy, it's grounded. It's a warm, well-worn saddle of a scent that is poured into a chic glossy black glass tumbler.
Buy now
Dyson Supersonic™ hair dryer
Engineered for fast-drying, with built-in heat protection for natural shine. 
Key Benefits:
Intelligent Heat Control: While conventional hair dryers can get too hot, the Dyson Supersonic has built-in heat protection to prevent extreme heat damage, protect natural shine and limit frizz.
Designed for fast drying: Powered by the patented Dyson Digital motor, airflow travels out of the Dyson hair dryer at 105 mph for fast drying and has a focused jet of air for precise, simultaneous drying and styling.
Engineered for balance: Designed with the motor in the handle, Dyson has shifted the centre of gravity, so it feels balanced in the hand.
Magnetic styling attachments: Rotating magnetic attachments – including the smoothing nozzle, styling concentrator and diffuser, so you can quickly click them on and off during styling.
Availability: Available at dysoncanada.ca for $549.99
Buy now
Apple Watch Series 8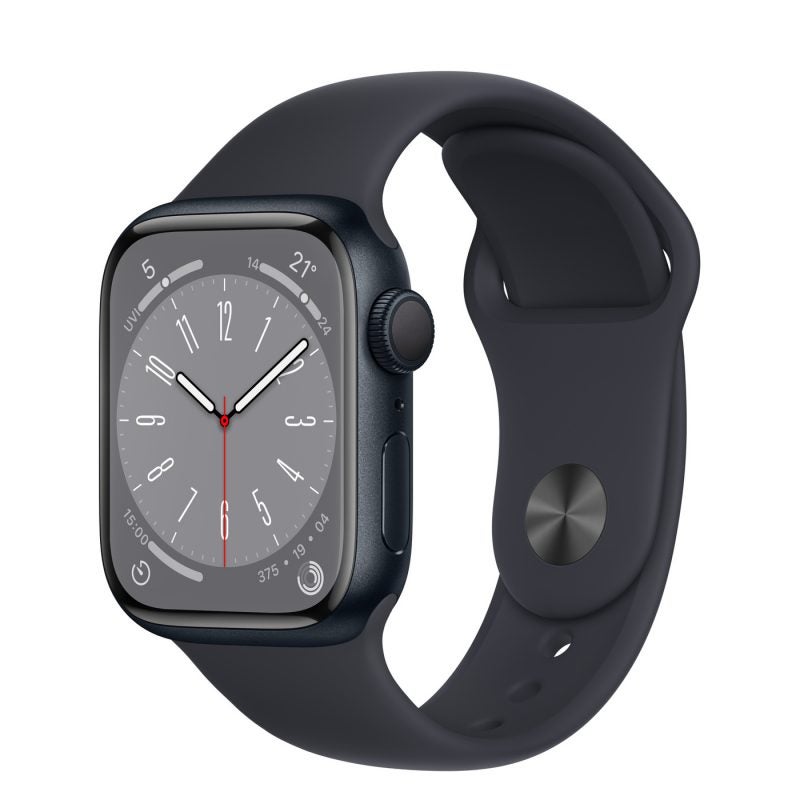 The Apple Watch Series 8 is the perfect choice for the dad who loves to stay connected and active. With features such as heart rate monitoring, GPS tracking, and a wide range of workout options, the Apple Watch helps your dad stay on top of his fitness goals. But the watch is more than just a fitness tracker – it also allows your dad to receive and respond to messages, make phone calls, and control music, all from his wrist. The watch's sleek design and customizable watch faces make it a stylish accessory that can easily be dressed up or down. Give your dad the gift of cutting-edge technology and convenience with the Apple Watch, available now on the Apple website.
Buy now
Kobo Clara 2E
This Father's Day, give dad the chance to expand his knowledge and love for reading with the Kobo Clara 2E – the perfect gift for the active reader with weeks of battery life, 16 GB of storage and Bluetooth wireless technology.
The Kobo Clara 2E is an eco-conscious way to read and listen to your favourite books, made with an 85 per cent recycled plastic exterior, including 10 per cent ocean bound plastic and customizable protective SleepCovers made from recycled materials. This device also offers library borrowing, audiobooks, and comes with a glare-free screen and the option of Dark Mode and ComfortLight PRO with blue light reduction.
Readable anywhere with up to 60 minutes of water resistance, the Kobo Clara 2E is a great gift for a dad on the go!
Buy now