Have you ever wondered if you're the best she's ever had?
If you're like most guys, there've been a few moments (probably more than a few)  where you've searched Google to find tips, tricks or something in between to help you blow your partners mind. It's normal… we want to perform our best and be the best at anything we do.
Luckily for you, there's Promescent. They help couples improve the most intimate moments by delivering high-quality solutions engineered for satisfaction. Promescent is best known for their clinically studied delay spray that is scientifically designed to help men last longer in bed. They  also provide a wide array of auxiliary products to fit other specific needs for sexual wellness. These consist of performance enhancing supplements, premium lubricants and simple contraceptives.
The center focus of Promescent and it's revitalizing products are to solve life's most common sexual dysfunctions like premature ejaculation, low sex drive and sexual discomfort.
Even guy's who are confident or think they're skilled in the bedroom can use an extra boost in pleasure not only for themselves but their partners as well. So whether your looking to boost performance to last longer or to just looking to have more pleasurable sex, Promescent has you covered. Here are the top 6 products that make this company worth mentioning.
Promescent Delay Spray
Let's be honest, if you're like the majority of men, you've experienced a time where you wished you lasted just a little bit longer without having to think about sports or something distasteful just to fight back the urge of climaxing too soon. Don't feel embarrassed, early ejaculation is much more common than you might think.
Say hello to your new best friend, Promescent delay spray, which is safe, effective and recommended by over 2,000 medical professionals in the USA. Just a few sprays of this stuff and you're on your way to lasting longer in the sack. Simply apply the desired amount to the most sensitive area and allow 7-10 minutes for the solution to fully absorb into the skin.
This isn't just some numbing spray. Promescent's delay spray is the only of its kind in North America to have undergone a certified IRB clinical study showing statistically significant results. Promescent's patented formula allows next-to-normal sensitivity while also having minimal to no transference to your partner if used as directed. That way you both can actually enjoy and feel the most important parts of sensational pleasure. Best of all, there is no prescription required.
VitaFLUX by Promescent
VitaFLUX can help boost the natural loss of libido in men and women. This performance enhancing supplement provides therapeutic doses of essential amino-acids such as L-Arginine, L-Citrulline and L-Carnitine, which help the body to naturally produce Nitric Oxide.
Nitric Oxide aids in expanding red blood cells, allowing the cells to receive more oxygen and ultimately increase blood flow circulation throughout the body. VitaFLUX can also provide a long list of other health benefits when taken daily. These benefits include, increased energy, blood flow, vitality and faster recovery times from injury or illness.
Not only is VitaFLUX good for your wellbeing overall, it can improve your sexual health as well. Results from a clinical study done on VitaFLUX showed that it helped men experience stronger, firmer erections and increased libido. Women reported seeing an increase in sex drive, natural lubrication as well as orgasm satisfaction.
This performance enhancing supplement surely has not gone unnoticed. VitaFLUX has quickly risen to be one of Promescent's top selling products.
Female Arousal Gel
Most men overlook their female partners' pleasure as they are more concerned with their own. Most men don't partake in enough foreplay and they certainly don't wait long enough for her 'engine' to warm up. Thankfully, now she can make sure she'll be satisfied if you're not the mechanic type.
Promescent's female arousal gel can be a great new addition to your nightstand. This unique gel is made with water + silicone-based ingredients and packs 2 types of vasodilators. With just a hint of peppermint, this gel provides a delightful tingling sensation to her most pleasured and sensitive areas so you can be sure she'll never forget.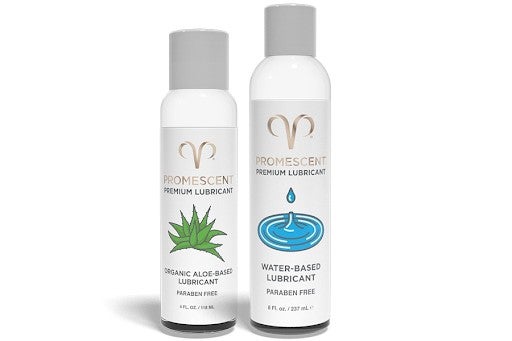 Lubricants
If you aren't using lube or think you don't need any, you are strongly mistaken. Wait until you feel the silky smooth finish of these premium lubricants. Promescent has something for all pleasure preference levels. Choose a favorite from water-based, silicone-based or organic-based lubricants and never look back.
Each of these lubes are paraben and hormone-free and provide long lasting moisturization for any intimate occasion. Promescent's water-based lube is colorless, greaseless and scent-free. If you'd prefer to take a more nourishing approach, be sure to try their organic lube as it is all natural, pH balanced and glycerin free. It also has a lite yet sweet succulent scent to keep you coming back for more.
Whether you're riding solo or with a partner rest assure that everyone involved will notice their sex life sail lavishly to their desired destination.
Before and After Wipes
Wouldn't it be nice to always have a fresh clean start before getting down and dirty in the bedroom? How about after the love making stops? Who's turn will it be to walk around the house exposed looking for a towel just to clean things up? Finally, there's a solution to clean the mess making aspect of sex.  Promescent has recently announced the release of their new Before and After Wipes. Each wipe is pH balanced, alcohol free, and contains aloe vera for a smooth moisturized feeling after cleansing. One box contains 40 individually packaged wipes that are 100% biodegradable and can be safely flushed down the toilet.
Ribbed & Ultra-thin Condoms
The message of practing safe sex is nothing new but the use of these effective contraceptives have drastically increased over the last few decades. As Promescent continues to establish themselves as a prominent sexual wellness brand, they made sure to leave no stone unturned by making two types of condoms available for everyone to enjoy. Their ribbed condom was designed to help increase vaginal stimulation with every thrust. If both you and your partner prefer a stronger more natural sensation equally, grab a few boxes of their ultra-thin condoms.
Promescent is one sexual wellness brand that continues to outperform and over deliver on their promises. Their products are made in the USA, they have certified clinical studies, and recommendations from over 2,000 medical professionals. With 1,000's of reviews and happy customers, the excitement behind this brand is steadily gaining momentum.
Large publications like, Men's Health, CNBC and Esquire are making sure not to ignore either, so why should you? Quite frankly, it's a no brainer that this company is the real deal. Do both you and your partner a favor and head over to the Promescent website. You can thank us later.