As an adult, cleaning is one of those must-do things that are not fun at all. Not many people receive a vacuum as a gift, but the Roborock H7 cordless vacuum cleaner is a gift worth giving to yourself. The odds are great that the vacuum will suit the exact cleaning needs that cause you endless frustration.
Choosing A Vacuum Cleaner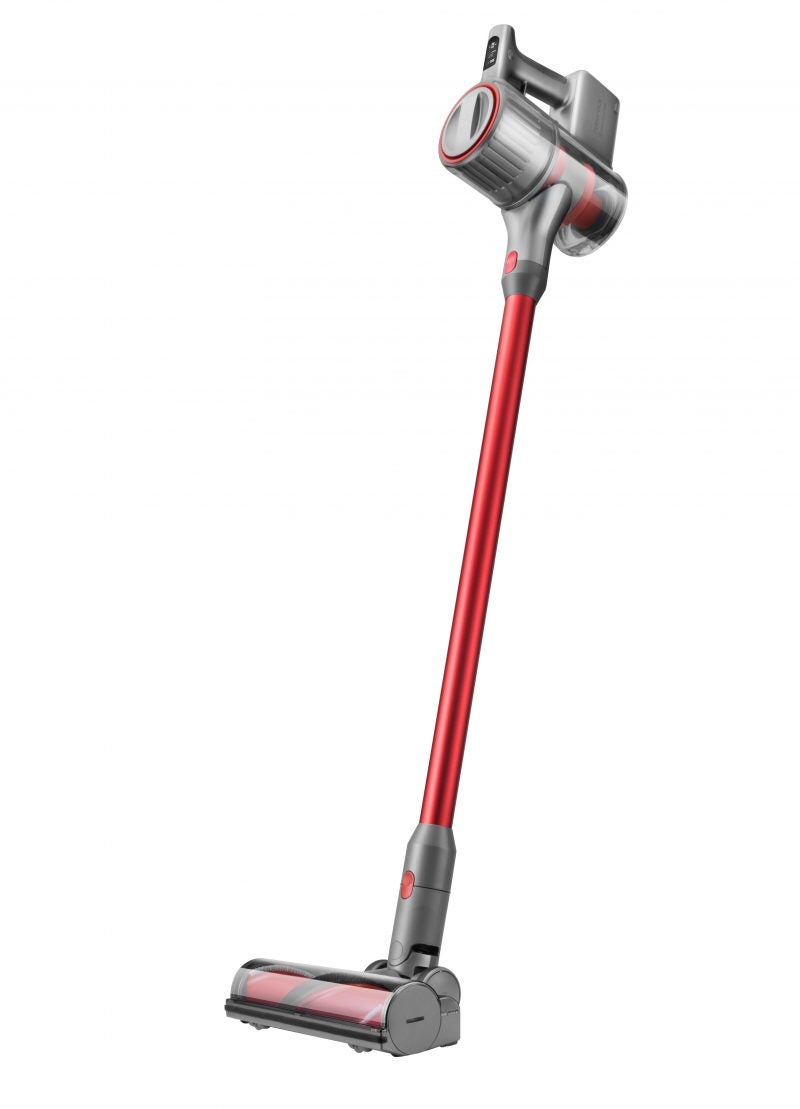 There are many factors to consider when choosing a great vacuum. Some of these are; the function of the vacuum cleaner, what kind of surfaces it works on, can it vacuum all kinds of surfaces, is it cordless or does it work with a cord, and what other functions, in addition to vacuuming, can it do. Other less important factors like how much storage space it occupies can turn out to be small pesky details that can make your life less than ideal.
With all the developments continually being made with appliances, you want a vacuum cleaner that works for you and makes your life that much easier. Cordless vacuum cleaners are great for moving from room to room without unplugging and replugging every time you have to change position. Robot vacuums are great for cleaning without too much involvement on your part. You just set them into the cleaning mode you would like, and they go ahead and do the cleaning.
Even with innovative technologies in vacuum cleaners, you want a vacuum that is easy to use and not so complicated. The Roborock H7 cordless vacuum cleaner is an unmatched vacuum that is powerful, effective, and easy to maneuver.
Roborock H7 Cordless Vacuum Cleaner Features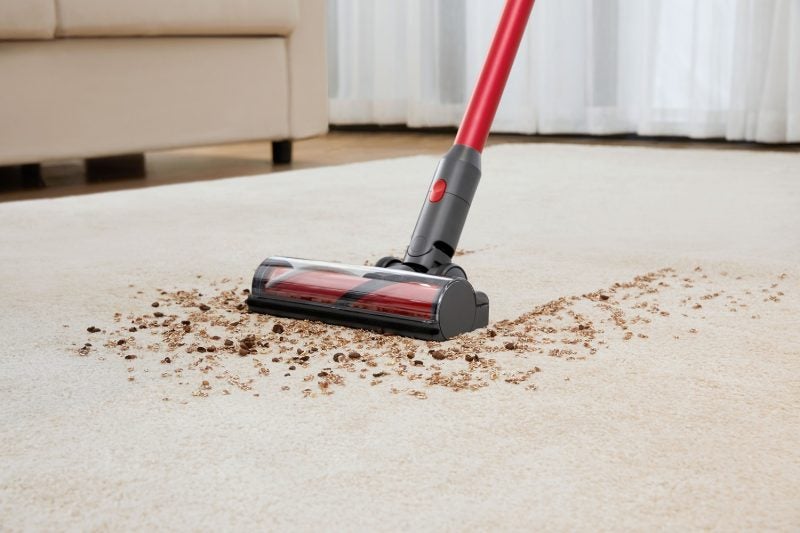 This vacuum cleaner is the second one in the cordless stick vacuum line from Roborock. They keep getting better and better with more useful innovations in the products. The H7 vacuum will transform anyone who hates cleaning into an ardent cleaner.
The vacuum cleaners in this line use a LiPo battery as opposed to electrical power. Roborock was the first company to use this kind of battery in their vacuums. The battery use ensures that the vacuum cleaner's suction power is not compromised and uses a shorter charging time, which is convenient and fast.
The H7 is an improvement of its predecessor, the H6. It is light which makes it easy to use and carry from room to room, is smaller in size but still packs a lot of power in its frame, and is easy to maintain.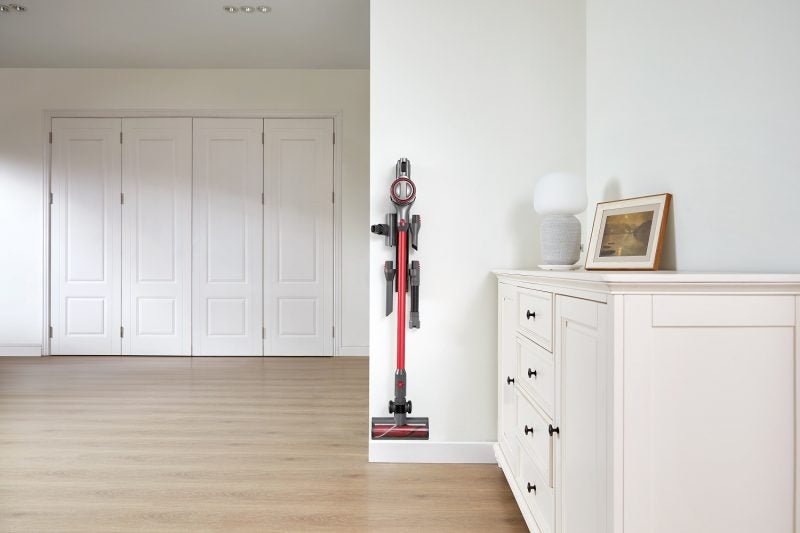 Listed below are some of the best features of this revolutionary vacuum cleaner.
#
1: Powerful cleaning
The H7 contains an optimized 480W of power, creating a maximum suction of 160AW. The power means that it can suction and collect dust from a wide area while doing it thoroughly. The suction power collects dust, fur, and other fine dirt and larger pieces of debris thoroughly.
It also works well on different floor surfaces without losing its excellence in suction. It can deep clean thick rugs, hidden corners of upholstery, and corners in beds. It is an excellent vacuum for deep cleaning and quick cleaning efforts.
#
2: Mop
The mop is singularly the most impressive innovation of the H7. Once the user buys the mop accessory, which is sold apart from the vacuum, they can attach it fast onto the vacuum and use it in mopping mode.
The mopping is equally efficient and effective as it can fit in small spaces without getting stuck. It will make cleaning much more manageable and that much faster as it mops after vacuuming. You need to change the settings to go into mop mode, and you will soon have sparkling floors with the least amount of effort.
#
3: Long-Lasting
The battery in the H7 takes a short time to charge, an average of two and half hours. The battery will last for up to 90 minutes in eco mode, which is impressive for the industry. If you are doing quick vacuuming, this can last you days which is convenient.
The best thing about this is that the suction does not wane even when the battery needs recharging; it maintains its suction power throughout.
#
4: Dust Bag
The H7 is convenient for people with allergies to not come into contact with the dust. The vacuum cleaner comes with disposable dust bags, which can be used in place of the dustbin. The disposable dust bags make it easy to dispose of the dust and dirt collected without having allergies flare-up. The dustbin has an impressive capacity of 500 ml which is another convenience with the H7 because you do not have to empty it frequently.
#
5: Lightweight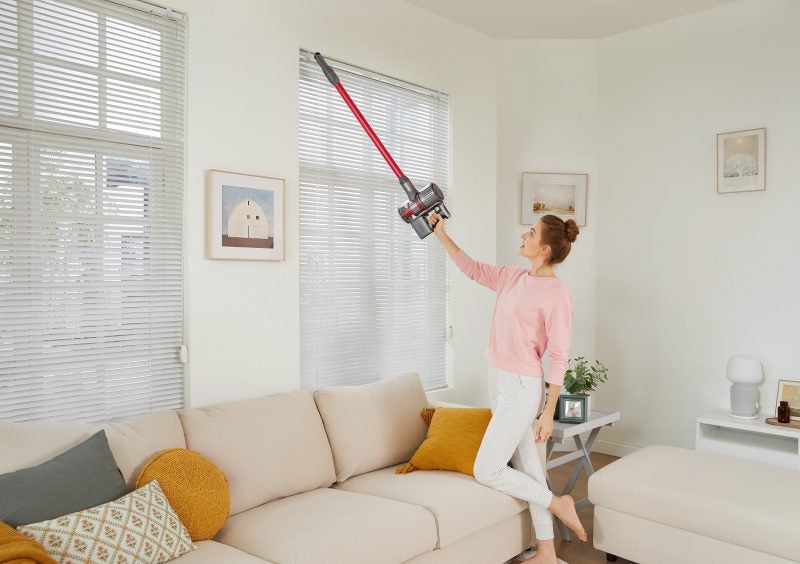 A cleaning wonder for hard-to-reach areas, this lightweight vacuum can clean the corners of walls and floors. Because it is very light in weight, it is easy to lift and use on walls, floors, and other surfaces. It weighs a paltry 1.46 kgs (3.2 lbs).
It is so light because the battery is small and lightweight though it packs a punch in terms of power. The cordless nature of the H7 also makes it easy to maneuver and move room to room quite fast. It is also easy to vacuum from floor to wall to upholstery easily without changing its settings. It adapts to different surfaces and automatically maintains its cleaning efficiency.
#
6: Magnetic Attachments
The H7 also features a Magnetic Easy Store system (MagBase™) that allows you to collect all the accessories quickly and store them compactly when you have finished cleaning. It is convenient for people who live in smaller spaces and do not have much storage room. This storage system also ensures that you do not lose any of the accessories and do not replace them.
Other H7 Features
Other advantages of the H7 are that it is quiet to run so that if you have a sleeping visitor, they do not have to be startled out of their sleep when you are vacuuming. It also moves effortlessly from surface to surface seamlessly without having to switch the suction power. It is also very gentle with fragile surfaces and does not damage them by the vacuuming action on different kinds of floors.
To quickly check how much battery life you have left there is an easy to read OLED screen. The vacuum cleaner uses HEPA filtration so that dust and very fine particles of dirt do not escape. It is especially comforting for people with allergies. In addition to HEPA filtration, the H7 has a button to increase the suction or lock the suction. The vacuum cleaner suctions continually the area that needs that kind of attention.
The H7 is also long-lasting, with little maintenance needed. However, with proper care when required, the vacuum cleaner will last long and work optimally for a long time. The other advantage of the H7 is that the lock has a child and pet-proof feature so that even if they accidentally bump into it or the children want to use it, they cannot.
We love a multitasking cleaning product, and the Roborock H7 cordless vacuum cleaner sits high on that list. It can handle just about any cleaning task you throw at it. Be it vacuuming, deep cleaning, mopping, and can reach those nooks and crannies that you wouldn't be bothered with when using any other vacuum. Not to mention, the sleek design is a definite plus!
All About Roborock Technology
Roborock Technology Company is a China-based company that has been in existence since 2014. The core functions of the business are the production of household appliances that are cutting edge and make home life more manageable. Some of the products the company has designed and produced by the company are robotic vacuums and cordless stick vacuums.
Roborock also does research and development to develop innovative products and focuses on using technology to do so. The Beijing headquartered company boasts of having diversely talented staff with people with experience in technology from Microsoft, Huawei, DJI, etc. The strengths in the company include algorithm development, electronic engineering, mechanical structure design, and manufacturing. The company started independently, and then over time, it pitched among investors.
In 2014, Xiaomi invested in Roborock and provided much-needed capital to advance the technological designs that Roborock had in mind. The company's core vision was to produce great items with advanced technology that was easy to use while making home life that much easier.
In 2016 the company launched its first product, the Mi Home Robotic Vacuum Cleaner, which soon became a bestseller in China. It also did well in other markets where Roborock launched it, becoming a favorite because of its convenience.
In 2017 the company developed and launched the Roborock Robotic Vacuum Cleaner. After crowdfunding in China, which resulted in CNY 10 million raised after only four hours, Roborock developed the H7 vacuum cleaner. The public's response to the fundraising efforts cemented its belief that they were on the right track with their innovative products, and people appreciated them.
Other products developed by the company are the Roborocok H6, Roborock S6 Serie, Roborock S4, Roborock S5 Max, Roborock S5, Roborock Xiaowa E2, and Roborock Xiaowa E3. All these cleaning appliances use cutting-edge technology.