There's no better way to say "this place is mine" than by adding a splash of chic to your bachelor pad. The space is yours so why shouldn't you put your own stamp on it? Just remember that, when it comes to decorating, you need to have a game plan going into your own space. You need a color pallet, a design scheme, and an idea of what kind of furniture and fixtures you want to spruce the place up.
While it sounds like a lot of work, we've compiled the best bachelor pad ideas to help you get started. Here are the best bachelor pad designs and decorating ideas to inspire you to create your own awesome apartment or home.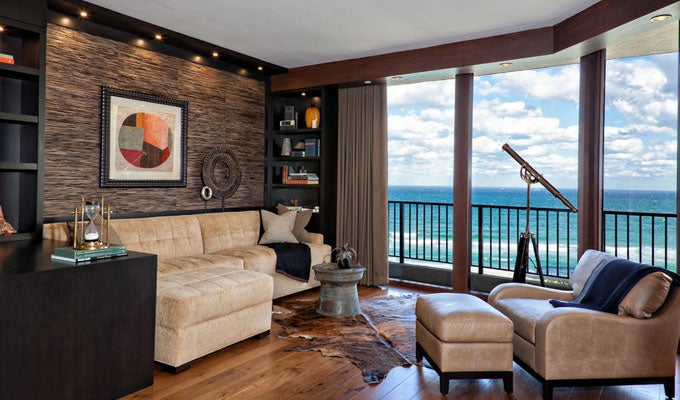 Mix Dark Colors with Light
Furniture, flooring, walls, even your towels – to get the most out of your space mix dark and lights colors to catch the eye of any visitor and make the place feel like home. Light colors tend to make a space look larger, so chose brighter stains and paints for most of your walls. Even if you're living in a small space, you'll feel like you've got much more room when it lights up.
Dark floors and dark accent walls allow for a pop of color and help tie together any aesthetic.
Industrial Flooring
Now that we've got the ideal color scheme in minds how do we turn it into reality? Be it wooden planks or polished concrete, the industrial style allows an air of modernity and personality into your space. They also allow you to make a room look bigger with minor adjustments and add class, personality, and style to any space.
Darker walls? Chose a light concrete or a grey stained floor. Lighter walls? Dark concrete or wooden floors with dark brown stain looks great and acts as a way to really open up a room.
Exposed Brick
If you're living in an old industrial building or converted warehouse space than you've probably got at least one stretch of exposed brick. Use it to your advantage. Nothing screams a little machismo and a little class all at the same time as brickwork; it adds real color to the room and provides a warm feel to your space.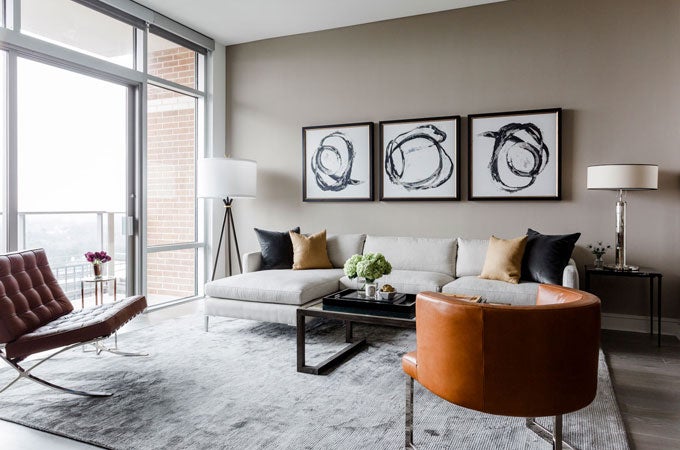 The exposed brick helps create a homey atmosphere, which is perfect for entertaining and also allows a hard, masculine edge to your design scheme.
Wood Paneling
Wood paneling can be great as long as you take care of it. It doesn't matter if it's your floors or your walls, two toned wood paneling can add a little bit of life to your living space. While it's a bit pricey it provides a certain amount of you to the area – especially if you're going for a more daring color, like a blue or red stain. Just go with a brand, and a color, that matches you as a person and it'll fall in to place with your overall design.
Leather
Let's talk leather. Couches, ottomans, even your desk chair. Leather is a great addition to your space for a number reasons; including comfort and sensibility. Your couch is where you'll spend a significant portion of your night. At your desk you're going to do a lot of work. And an ottoman is great for putting your feet up at the end of a long day.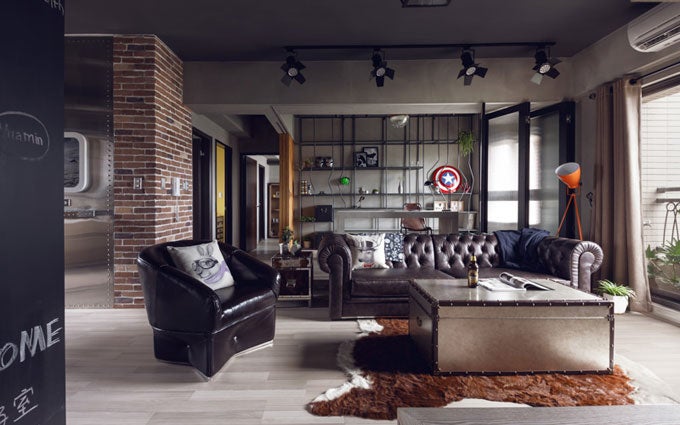 You're going to be spending a lot of time on your leather surfaces so why not pick out a color that you'll love looking at? Choose a nice black for an area with a ton of light exposure and brighter walls. A deep brown works great with greys and off-whites. And if you're truly committed to the whole bachelor thing, white leather makes a space with dark flooring or walls and a brick feature pop.
Pallet Furniture
Pallet furniture, especially if it you make it by hand, is a great way to add a dash of ruggedness to your space. Table, chairs, even a bookshelf, build it yourself with some pallets from your local home improvement or grocery store and create some furniture for your very own space.
Keep it Minimal
Part of the decorating process is creating a clutter free space where you can relax after a busy day. One of the best ways to do that is to choose chic, easily cleanable furniture that works best in your living area, kitchen, or masculine bedroom decor ideas for guys. Choosing simplistic chairs and tables, couches, even entertainment centers, can all be ways to help reduce the amount of space being used and the amount of cleaning you have to do.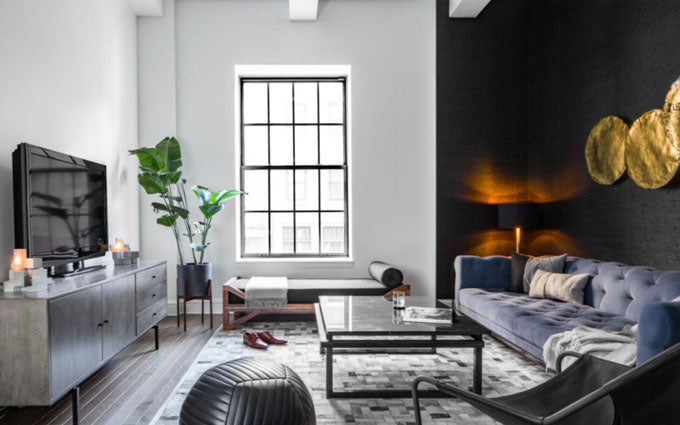 Functional Art
You have a lot of stuff – it happens. Make the most out of the things in your apartment area by choosing what to use as decoration. Maybe you have a bike, or a ton of books that you don't know what to do with. Mount your bike on the wall and use books to fill your entertainment stand or your desk. Stainless steel appliances will also help give your kitchen a sleek look while fulfilling basic needs.
Entertaining Space
One of the most used rooms in your apartment is going to be your living room. Jazz it up by adding a dart board or pool table (if you have space) for entertainment value. Mounting your flat screen on the wall will free you up some space and give your living room a movie theater vibe. And make sure there's space for a drink cabinet or cart, just in case you're expecting to entertain.
Organization is Key
Now you've got your design figured out, walls and floors are placed, and your stainless steel appliances and furniture are all situated. The most important step at this stage in the game is keeping it all clean. So make sure you've got a system in place for organizing; your books, your shoes, even your clothes. Closet organizers and a bookshelf will help free up a lot of room in your apartment and will help you keep it spotless.