Poolside is a 17 minutes short indie thriller movie full of suspense, and it was released on January 21, 2021. It was directed by Alex Kinter along with Erik Schuessler who is also the writer of the movie. The movie is produced by Kinter Media, Brainfood and Food Dance Films. It will also be featured on Amazon Prime Video on Demand soon.
Alex Kinter is an award-director and cinematographer who owns the production house named as Kinter Media which was previously known as Solarity Studios. He was born in Cali, Colombia and his family moved to Florida, USA when he was 5 years old. Once his early education was completed he attended RED Digital Cinema Education (2012).
Alex Kinter is very talented director, he recently directed a short movie Poolside, screenwriting and directorial debut depicts the story of an elite class women living in the 1950s in a high-class society. Whenever she swims in her luxury, upscale indoor swimming pool and is underwater, she hears voices. She tries to understand the gibberish voices and these voices eventually lead to self-doubt, addiction, loss, and fear.
The lead role Meg Stephens who is a high society housewife, who struggles with hearing voices and is living with aid of alcohol is played by Anne Beyer along with Jeff Murphy played by Oscar Seung who wants to sell his house to a lovely couple. The movie is critically acclaimed short movie with many selections, awards and nominations.
Poolside being a short suspense thriller earned many awards for the Latino director and producer Alex Kinter like;
Indie Short Fest – Best Thriller Short, Jury Award of Excellence.
Independent Shorts Awards – Platinum Award for Best Mystery Short, Gold Award for Best First Time Director, Gold Award for Best Cinematography, Best Film of the Month (Runner-up).
IndieX Film Fest – Award of Excellence (Special Mention), Best Women Short.
Hollywood Blvd Film Festival – Best Experimental Short Film.
Art Film Awards – Best Short Film.
FILMHAUS-Honorable Mention Award for Indie Short Film.
Milan Gold Awards – Silver Award for Indie Short Film.
European Cinematography Awards – Best Cinematographer.
Best Director Award – Gold Award for Best 1st Time Director of a Short and many more.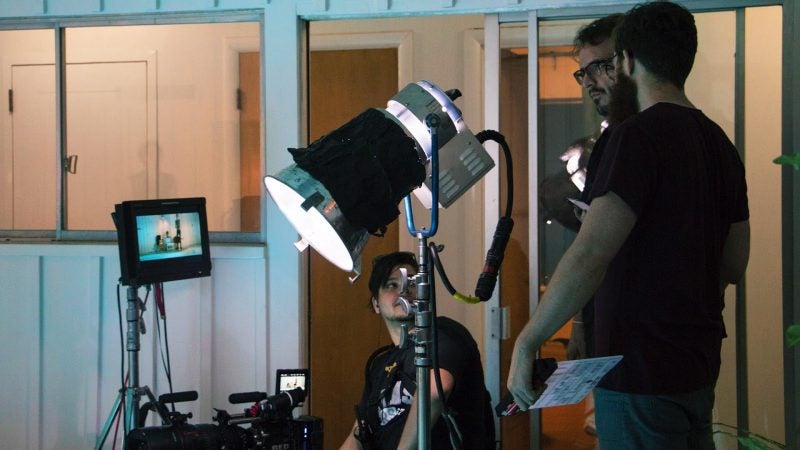 Alex's media company specializes in commercial video production, music videos, corporate videos, television cinematography, aerial cinematography, motion graphics, photography, and branded content creation. Alex also has worked with brands such as AT&T, Dallas Cowboys, Hublot, Pernot Ricard, Marriott Courtyard, Sonic, MTV, Viacom, and Mercedes-Benz.
Poolside is a critically and commercially successful short thriller movie, but the writer and co-director Erik Schuessler was unable to see the success of his movie due to his sudden demise in 2018, and the movie is dedicated to him. Alex Kinter said "The story touches on survival and what an individual deals with, both mentally and emotionally, to cope each day in the face of larger forces around us that influence our well-being".