Jeff Shuford, a decorated Iraq War Veteran and esteemed former TEDx speaker, has emerged as a dynamic force in the tech industry and a passionate advocate for veteran entrepreneurs.
His expertise in innovative digital marketing has not only established him as a thought leader but also as a transformative figure in the realm of business and technology journalism.
At just 30 years old, Shuford shattered records by becoming one of the youngest nationally syndicated columnists in the U.S. and one of the youngest African-American business and technology columnists to achieve such a milestone. His influential tenure with the American City Business Journals has seen his insightful commentary on tech and business trends spread across more than 43 regional business newspapers.
Expanding his influence, Shuford's collaboration with GateHouse Media has significantly amplified his reach. His weekly column now appears in 144 daily newspapers, 684 community publications, and over 569 local-market websites in 38 states. This extensive syndication has firmly established him as one of the most prominent black columnists nationwide, magnifying his voice and his unwavering commitment to veteran-centric issues.

Shuford's dedication to supporting veterans in business is exemplified through his pivotal role in National Invest In Veterans Week, an initiative born from Tech From Vets. This lauded initiative has received multiple accolades, including the 2021 Veterans in Business Award from The Hudson Weekly. It has also been celebrated for its profound social impact, earning the Innovative Media Excellence Award from the Belmont Star and being named the Best Social Impact Initiative of 2021 by The Ritz Herald.
Before this, Shuford's influence was already palpable with the Vets 22 mobile app, which received the BizTech Award from Comcast Business and the Jacksonville Business Journal, highlighting his innovative approach to addressing veteran issues through technology.
Shuford's advocacy extends to his scholarly contributions to the Harvard Business Review and his prestigious invitation to ForbesBLK, underscoring his position as a leading voice at the confluence of technology, business, and veteran advocacy. His efforts have garnered support from organizations and local governments, including the Lexington Chamber and Visitors Center and the Town of Lexington, SC, as well as financial institutions like Berkshire Bank and the South Dakota Department of Labor and Regulation.
The recognition of veterans' significant contributions to the economy and culture by the Douglas County Commissioners and the South Carolina General Assembly, which commemorated National Invest In Veterans Week, highlights the invaluable role veterans play in the business community. States such as Montana, South Carolina, and Oregon have issued proclamations to honor veteran entrepreneurs, advocating for community support for their businesses.
In the realm of tech, Shuford's expertise as a digital branding guru has led to strategic partnerships with the City of Jacksonville and Florida State College, culminating in the Jacksonville Vetrepreneur Summit. This summit has elevated the profiles of CEOs, executives, and entrepreneurs, further showcasing his dedication to the growth of veteran businesses.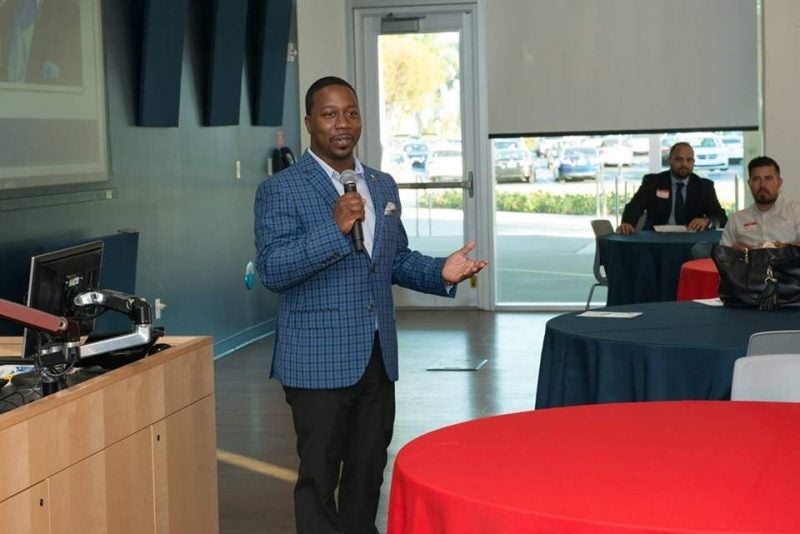 As we look to the future, Shuford's blueprint for business transformation is embodied in the launch of BlackBusiness.AI. This groundbreaking AI-powered platform, co-developed with Drayton Florence—a Tuskegee University Hall of Fame inductee, 2023 SIAC Hall of Fame Inductee, NFL Veteran, and '40 Under 40′ honoree—stands at the forefront of innovation in the business and technology sectors. BlackBusiness.AI is poised to redefine the business landscape, a testament to the monumental impact Shuford and Florence are set to make on the industry.
Regarding the 2023 FloridaVeterans.com Lifetime Achievement Award presented to Jeff Shuford, here is what was said about his impact, "In the vast landscape of media, very few navigate with a compass tuned to integrity, purpose, and community. Jeff Shuford is a shining beacon among them. His commendable engagements with renowned platforms such as Fox Business, Fox and Friends, Fox Sports, Forbes Sports Money, and the NFL Network epitomize the spirit of 'Florida Veterans'."
Recognizing Jeff Shuford's leadership and expertise, we celebrate a visionary whose narrative is not merely inspiring but is pivotal in charting the course for veterans in the digital era and beyond. His collaboration with BlackBusiness.AI serves as a lighthouse of innovation, heralding a new era of business transformation and inclusivity. Join us in applauding a luminary whose contributions are reshaping a more equitable and prosperous digital future.