Lola's emanates the very definition of FAMILY from its humble beginnings around a family dinner table to its success today at dinners tables near and far.
With that we are thrilled to be a part of a holiday recipe feature as we believe family is truly the reason for the season, and what better than mother and son coming together the way it all began and creating a recipe for many other families to come together and enjoy as well!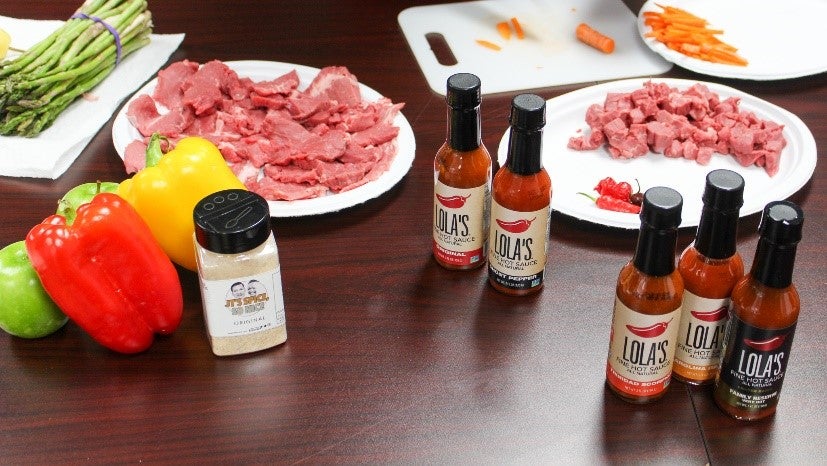 Lola is the heart of our family and so from the heart of the Lola's family to the heart of your home, Lola's Fine Hot Sauce will bring warmth through flavor and moments shared!
We are honored to have been given many opportunities to share our love for flavor with so many and hope this savory starter brings you all as much joy as we experienced creating it! Considering current pandemic precautions, we feel finding moments that bring nuclear family together, such as home cooking, may be a simple yet monumental way to reconnect or make the best of these unprecedented times…the opportunity to have a part in that is something we are immensely proud of and grateful for.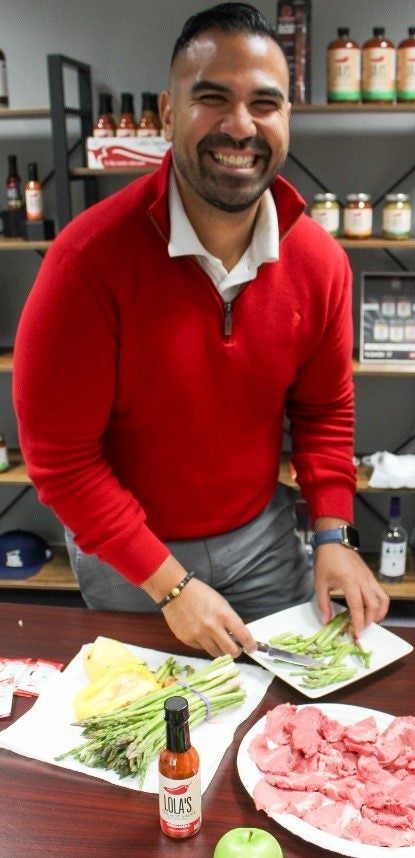 Founder and CEO, Taufeek Shah and his mother, Lola, collaborated a delicious vision together by bringing their generational family hot sauce recipe to other family's tables for those same sensory memories to be created and enjoyed. The joy in their eyes at creating together, hearing their laughs as they worked together, and both of their pride for one another as it was finished was noticeably clear to everyone in the room. However, joy…happiness…and pride for one another is nothing new for this dynamic duo. Taufeek and his mother share a special bond where they have shown one another support and respect as Taufeek took the leap starting the business with confidence in his childhood family dinner memories, channeling his mom's inspiration, & with a high regard for being entrusted with the family recipe…all a wonderful combination for what Lola's has developed upon and grown into for everyone to enjoy today!
Lola's is a special product and Lola, herself, is a special woman!
Growing up Taufeek's father was deployed on active duty serving in the US Army. Meanwhile, his mother ran her own pediatric medical practice here in Iowa, she always made efforts to support local farmers, was known as a beacon of light in their community; yet still always made sure her children had a homecooked meal to share (always accompanied by her signature, family recipe hot sauce)! It is no wonder with that kind of loving dedication that in their families Philippine culture the word 'Lola' means grandmother, however, has become endearingly the word used to refer to her by not only her grandkids but, her whole family, friends, and now countless others who experience her unique flavors with her namesake products enjoyed in their homes!
She truly embodies a nurturing approach to life with kindness, support, and love…all the same mindsets that today Taufeek approaches his business with that were long instilled in him by his mother.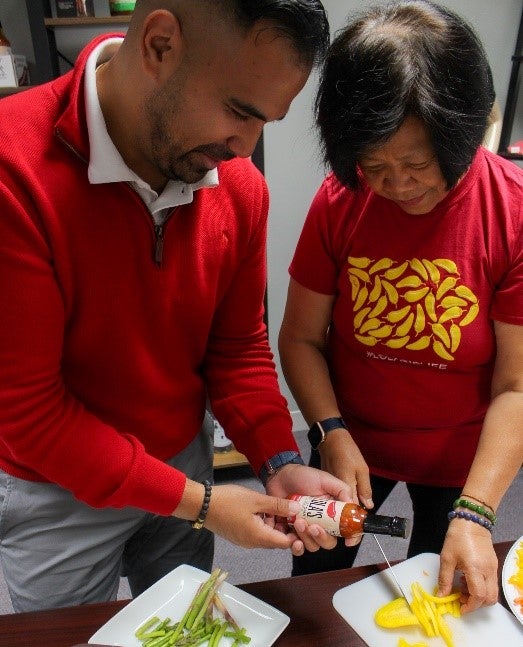 With a professional background in healthcare as a medical practitioner Lola's recipe is always produced committed to being heart healthy, gluten free, non-GMO project verified, vegan, low sodium, and calorie free in all-natural family recipes using the freshest ingredients. Additionally, with pride in supporting local farmers Lola's company headquarters are in West Des Moines, Iowa and manufactured with a strong focus on supporting the heartland.
Taufeek has a driven personality; focused on his belief in the product and striving to be as influential for his family, and impactful in the community as his mom was for him, his family, and friends.
In 2015, while working in finance, Taufeek shared his family recipe hot sauce at a work event. After cheers for a remarkable flavor Taufeek set his sights on success and sought for Lola's Fine Hot Sauce to accelerate as a staple in the food industry.
Putting in more hours of work than sleep those early days, including local Farmers Markets, eventually paid off when Lola's started selling in stores in 2016.
Hard work and dedication were something taught to him by his mother and he works every day with that motivation in her name…literally…and to show his own son the same drive, dedication, and focus. Taufeek is passionate about a fresh and unique product that sets itself apart from the rest and we anticipate in this recipe, and in countless other opportunities to elevate dishes with Lola's, you'll experience that sensational result!
By now it is clear to see Lola is certainly as much of a generational inspiration as her recipe itself, and we hope that her sauces inspire you too! Lola herself & Taufeek came together excited to create and share this with everyone! They used our Lola's Fine Hot Sauce in Ghost Pepper to create this delicious appetizer that will certainly grace our tables this holiday. We hope it is on your table as well, and we are proud to be able to share this seasonal recipe with you!
Lola's sets itself apart on the market because we use fresh real ingredients with independent and unique umami flavors that enhance any cuisine and adds a depth of flavor while complimenting any dish. All our flavors use the world's hottest peppers for delicious taste without intense burning heat…allowing dishes to be eaten AND enjoyed!
Try This Delicious 

Swagger

 Approved Recipe:
Lola's Fine Beef Tenderloin Rolls
Ingredients:                                                                                                    Glaze:
Lola's Fine Beef Tenderloin Rolls                                                                       2 TBSP Mango Chutney
2lb Beef Tenderloin                                                                                               1 TBSP Lola's Fine Hot Sauce Ghost Pepper
½ C JT's Spice SO Nice seasoning                                                                     1/10th fresh ghost pepper
2 large Carrots cut into 2" spears
1 yellow bell pepper cut into 2" spears
1 red bell pepper cut into 2" spears
1 bundle of asparagus tips cut into 2" sections
1 TBSP unsalted butter
Directions:
Cut beef tenderloin into thin slices, about ¼ inch thick. Season liberally with JT's Spice so nice seasoning blend.
Place 1-2 of each pre-sliced spear on the seasoned tenderloin.
Roll tenderloin around the spears and secure with a toothpick
Heat skillet over medium heat
Melt butter in skillet
Glaze the tenderloin roll with the mango ghost glaze
Place tenderloin rolls in skillet, turning often until well browned
Enjoy!
Find Lola's online at www.lolasfinehotsauce.com or in over 10k retailers and restaurants across the United States and Canada including Farm Boy, Costco, BJ's, Stop & Shop, Giant, Fairway Market, Whole Foods, Walmart, and Kroger!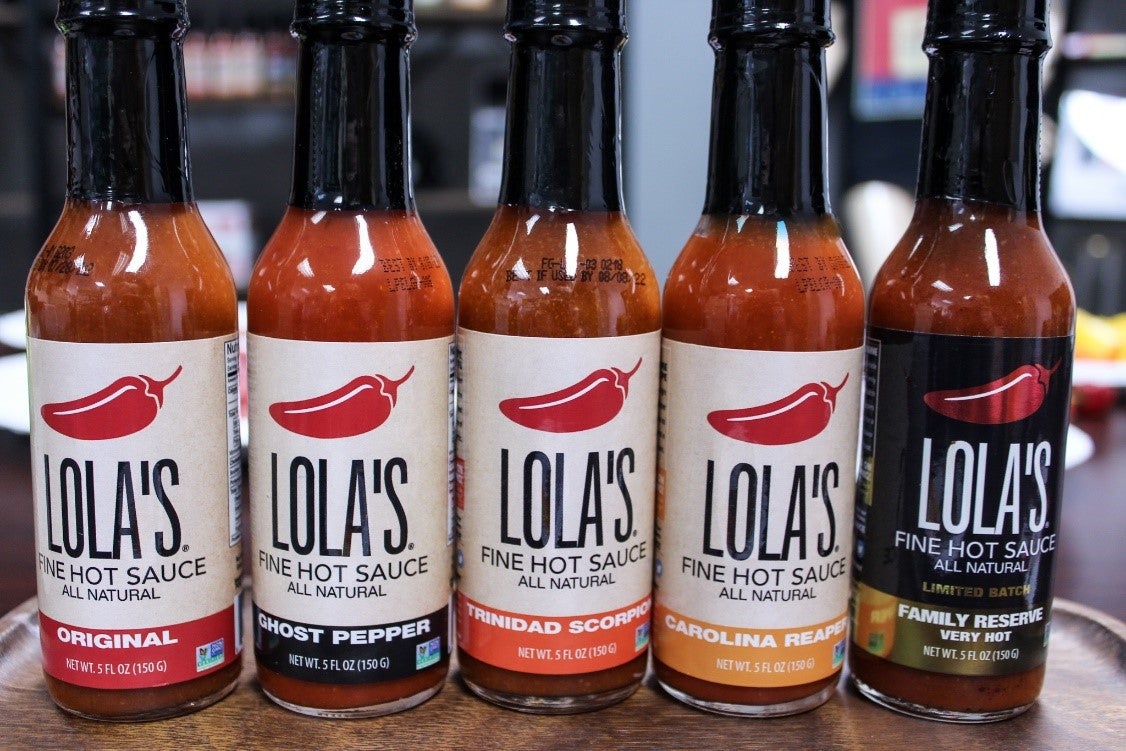 For more great culinary ideas and general foodie-isms follow us on Facebook, Instagram and Twitter.
Written by Aly Davis