Mobile phones are ideally illegal in land-based casinos due to various factors that can manipulate the games in favour of the player. The casinos take caution to ensure that they do not incur any unusual losses through whichever means. As a result, you will see security guards, managers, and surveillance cameras all over the place. Do not imagine that you are invisible at any given time; someone is always watching, especially when you are winning.  However, the rules vary, depending on the casino and jurisdiction.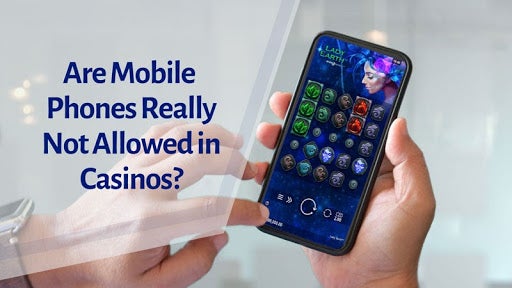 Most gambling commissions do not have a standard set of rules about the use of mobile phones; therefore, the regulations are usually at the discretion of the casino. Despite this fact, the rules tend to be similar because they protect the same interests. 
The illegality of mobile phones in brick and mortar casinos is, however, ironic because players in online casinos can gamble straight from their mobile phones. They can simply find the best mobile casinos, sign up, deposit money, and proceed to play their favourite games. You can also talk to your friends and do as you wish at the comfort of your house, car, or office. Whether the same kind of manipulation that is suspected in land casinos can occur in mobile casinos is still debatable. 
Why Are Mobile Phones Illegal in Land-based Casinos?
Casinos take precautionary measures.

The reason for this stringent measure is mainly precautionary. These devices have tremendous abilities that can be used to manipulate games, such as poker. The latest alerts were about the use of an

iPhone card-counting app

that was reported in a US casino. Card counting is not illegal in land-based casinos, but you cannot do it with any assistance. If you do it, you must be an expert gambler with the ability to do it discreetly.

Gadgets can help to cheat.

Land-based casinos have meticulous rules, and they can go to great extents to deal with any suspicious gamblers. As long as they act within the law, they are essentially unstoppable. Mobile phones can also be used to access betting guides, do card counting, and even communicate with other players. All these are undesirable, and it explains why the gadgets are outlawed.

Privacy is put at risk.

In addition to the possible manipulation of the game, mobile phones are also a threat to the privacy of the casino and other gamblers. You may have realized that it is rare to find photos of people inside casinos apart from the ones provided by the casino itself. Gamblers value their privacy, so they can easily leave a casino when they see others taking photos. Since all modern gadgets are camera phones, they can pose a great threat to the casino. Casinos also do not allow people to take photos of their games and premises without permission. 
Betting is gradually becoming an acceptable recreational activity, so the issue of privacy may no longer be grounds for illegalizing phones. Most punters who prioritize privacy tend to prefer to stay in their homes and play casino games online. However, despite the tireless efforts by developers that have led to the development of live games and even VR casinos, the online experience is still not close enough to the real casino gaming experience. Hence, privacy and confidentiality remain a key priority in land-based casinos. 
These are the main reasons why mobile phones and other electronic devices are illegal in land-based casinos. This era of sophisticated hackers further emphasizes the need to keep these gadgets away from the casino hall. 
How Do the Rules Vary?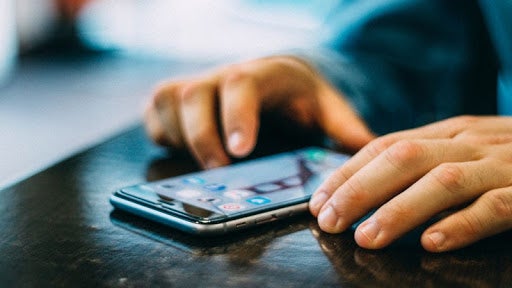 The rules on the use of mobile phones vary, depending on the casino, the state, or country. In most states in the US, the use of these gadgets is illegal, but regulations on other issues such as card counting vary. For instance, at Nevada casinos, the casino will kick you out for card counting but at New Jersey casinos, you can gladly do it because the courts found nothing wrong in skilled players, using their wits to win.
What do the majority of casinos want you to do with your phone? The measures differ from one casino to the next for various reasons. You can find casinos that jam the network on their premises, making it impossible to make or receive calls or texts. Without the mobile network and obvious lack of an in-house Wi-Fi connection, you will not be able to do anything illegal with your phone apart from taking photos. Some casinos, on the other hand, can absolutely ban the use of these devices. They may require you to switch it off, and the slight appearance of the phone may warrant your eviction from the casino. 
Nevertheless, you can also find casinos that have flexible rules that regulate the use of your smartphone without necessarily outlawing it. Taking photos of the game and other players, using a card counting application, or any other gambling guide is illegal in nearly all land-based casinos. However, some things can be compromised. 
Some casinos can allow you to use your gadget while playing games like slots since they are based on luck. The complications begin when playing table games. Most casinos don't allow phones when on these games, however, you can find others that allow it at specific instances. Recently, a few casinos have started allowing players to receive phone calls or read their texts while on the table. Though, they may need you to excuse yourself to do it or in certain instances, such as card shuffling. 
For poker players, playing against the house may allow room for flexibility, but it may be illegal to call or text when playing against other gamblers. It is important to ask your dealer for all the rules on the use of phones. Unfortunately, casinos do not have a tendency to conspicuously displaying all their regulations; hence, you may have to dig deeper to find out. 
Mobile phones are not absolutely illegal in casinos; they are subject to discussion, and the final decision solely rests on the management of the casinos, and long as they are acting within the law, they can do as they wish.
However, you should employ simple courtesy and decorum when using smartphones despite the leeway in some land-based casinos. It is imprudent to leave other gamers on the table to send a text or make a phone call unless it is an emergency. If you are a doctor on call, then there is certainly no reason why you should be in a casino while on duty. Therefore, you should be willing to keep your phone away and have the ultimate fun in the casino.
What Is the Difference When Gambling Online?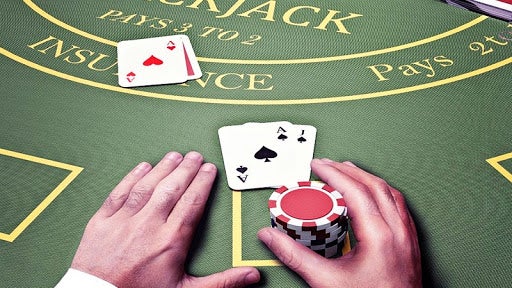 As aforementioned, it is ironic that mobile slots and casino games are played on smartphones and tablets yet these devices are illegal in the brick and mortar casinos. Why the difference? 
Privacy.

Firstly, one of the main reasons behind the illegalization of phones in land-based casinos is the issue of privacy and confidentiality, and this is the main advantage of online gambling. 
Online and mobile casinos allow you to play by simply signing up in a trusted casino, depositing money, and playing whenever and wherever you want. They have a legally binding privacy policy that prevents them from relaying any of your information to other parties. Hence, players do not have to worry about who is playing next to them since only the casino knows you are there. 
If you value your privacy a bit more, you can decide to play in cryptocurrency casinos that provide the most discreet way of depositing and withdrawing cash. Even though the online experience may not be as real, it offers the ultimate gambling excitement, especially, with the live dealer, 3D, and virtual reality games. 
Manipulation.

The issue of manipulation such as card counting is dealt through various means. 
Firstly, online table games use continuous shuffle machines that make it practically impossible to do card counting effectively. In land-based casinos, the dealer must deal enough rounds before the shuffle for it to work. 

Also, the expert card counters play quickly to get adequate rounds per hour that can facilitate it. However, online blackjack is slow making it difficult. The live games are a bit more complex, but the dealer tends to shuffle in the middle of the shoe, making life hard for card counters. 

Online casinos have measures that prevent any form of cheating that can be done in land-based casinos. Hence, the concerns associated with the use of smartphones in brick and mortar casinos do not apply. 
Mobile phones are not allowed in land-based casinos for various reasons. However, the rules are bent by casinos to partially to make it convenient for punters to communicate while reducing the risks associated with it. Hence, it is not absolute illegality, which shows that they are not really allowed in casinos.