Everyone knows someone who had a nightmare Airbnb experience, whether the accommodations didn't quite match the photos (um, not unlike online dating), or the cleanliness of the unit could match that of a frat house. 
Unbeknownst to many luxury travel-seekers, however, Airbnb has recently(ish) launched a new tier designed for customers interested in dropping more than $1000 per night on accommodations. Enter Airbnb Luxe, an option that allows those with deep pockets to stay at massive, editorial-worthy private homes with scenic views and top-of-the-line amenities that can include everything from infinity pools to home theatres. Think sprawling Tuscan estates, oceanfront villas in Bali and massive, view-filled chalets in the Swiss Alps. 
As an added bonus, Airbnb Luxe guests are connected with a designated "trip designer" who acts as a personal concierge service, planning everything from access to exclusive nightclubs and reservations at a Michelin-starred restaurant, to personal massages and fitness sessions. 
Here are some of the most ballin' Airbnb rentals on the market right now (you may want to start saving those pennies). 
The Elevated Ski Getaway
For a celebrity-worthy Swiss Alps escape, Chalet Aconcagua – which will set you back a cool (no pun intended) $9,756 CAD/ night – offers all the views and all of the frills. Set in the new luxury 7 Heavens development in the heart of Zermatt, this five-bedroom Swiss Alps residence features its own spa area, an indoor hot tub, a home theatre, a wine fridge, and a sleek double-sided fireplace, and is fully equipped with state-of-the-art audio-visual systems. Added perks include an in-house chef, a host, a chalet manager and – helping your après ski cause – a driver. 
The Celeb "Crib"
Beverly Hills, that's where you want to be (yes, that song will now be stuck in your head all day), especially when you can channel your inner movie star at Haute Beverly, an $11,104 CAD/night over-the-top mansion just steps away from the shopping at Rodeo Drive. This sprawling, Mediterranean-style mansion features a seven-car garage, seven bedrooms, dramatic interiors (including a stunning spiral staircase), a wine cellar with a tasting room, gym, cinema, a gorgeous pool, and a spa. Add-ons include things like a chef, butler, driver and spa services. 
The Bali Beach House
The Noku Beach House offers a lush, eclectic and character-rich beachfront escape in Bali. Set on Seminyak Beach, the star of the show at this impressive wood-clad villa is a 30-foot infinity pool that seems to flow into the sea. Other talking points about this six-bedroom property include designer furnishings, ample greenery, maritime sculptures, marshmallow-like outdoor day beds, a wet bar, and a private spa and plunge pool. Included in this home are a chef, butler, driver (including airport transfer) and housekeeping. 
An Escape Under the Tuscan Sun

Set among quintessential rolling hills, the charming (but sprawling) Villa Ferranesi is a romantic, reconstructed farm that sits just outside of Siena. Guests can soak up the Tuscan sun around a private swimming pool, fuel-up on pizza from an outdoor pizza oven, cozy up around a wood-burning fireplace and enjoy comforting goodness and wine at the al-fresco dining table. Traditional stone walls offer a historic feel, but the bright, open and airy interior houses all the modern-day luxuries the five-star traveler would expect. 
The Caribbean Casa
For a Caribbean escape worth posting about, get some friends together and book a stay at the Sand Dollar Estate luxury villa in St. Thomas – a celeb go-to. Set among lush green hills, postcard-perfect turquoise water, and white sand beaches, this $5,319/night villa features both sunny and shaded outdoor living areas, al fresco dining tables, a rooftop deck, spa and fitness rooms, wet bars, surround-sound, and ping-pong table. The main house at Sand Dollar Estate houses six bedrooms, while the separate Little Sand Dollar house has three. The stunning ocean view and private sandy beachfront completes this perfect-for-entertaining property.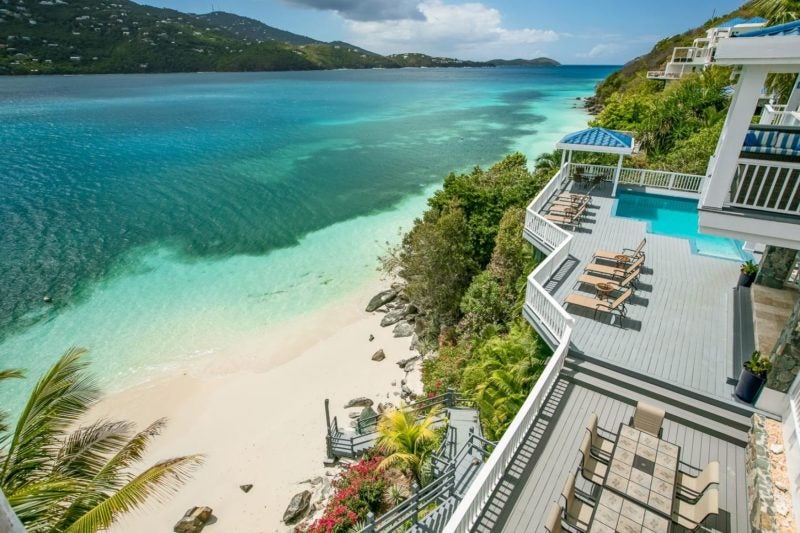 While these properties are just a little out of budget for the most of us, it should be noted that there are some rentals – particularly in Bali – that are relatively affordable (as in, a few hundred dollars per night as opposed to a few thousand), especially when the price tag is shared with a group of people.