Do you own an imported guitar from popular brands like  Burny, Epiphone, or Tokai? Have you considered ways to upgrade your guitar ?
Well, here's your cue.
Such imported guitars depict the highest standards of sound output. No wonder they are liked and loved by professionals and guitar enthusiasts alike. You must know  that there are quite a few factories that help produce instruments  that resemble Gibson Les Paul guitars, but embody significantly low production costs.
In other words,  they tend to use low quality hardware, like zinc alloys  which invariably  does no good and impacts the resonant tone.
At Faber, any Les Paul style guitar that needs replacement parts is handled with care and upgraded with the best hardware ever.
In this post, we take a closer look at how you can upgrade your imported guitar with Faber parts to bring about a significant difference.
The Bridge
Faber has a widespread reputation to offer a range of high quality bridge upgrades  which inherently does justice to boost the sustenance and tone of your instrument. They do not produce any rattling and offer full  mechanical contact along the ABR frame.
Made from aluminum alloy, our bridge upgrades can readily impart a vintage look to just about any guitar.
Our bridges do not have the typical rattle inducing retainer wire and the saddles provide 100% mechanical contact in the ABR frame.
Undeniably, it's the ABR-1 Bridge that cysts corners. It is directly slotted within the guitar body thereby using a stud and a thumbwheel separately.  This, in turn, offers a firm  seat for strings  and allows for any player to easily fine tune the  intonation and fix the  string height in a  few seconds.
For anyone looking to strike a chord between guitar sustain and vintage tone, the abr-1 tune-o-matic bridge can be the perfect choice. Our tune o matic bridge is  the finest example of drop on replacement  and requires no modification to fit in.
One can also choose  from the No lock series that employs the  No Gap technology to help boost the contact right between the  bridge and posts, which in turn can make way for a  smooth transfer of vibrations  and sustain in tandem.
Bridge Saddles
The  ridge Saddles from the house of Faber offer upgrades in a range of  finishes that include the following:
Nickel Plated  and Natural Brass
Aged Nickel Plated and Natural Brass, and
Titanium
A majority of bridges come pre-equipped saddles that are nickel plated, and some guitarists  may opt to change things to brass or titanium.
There's also the  HYBRIDge collection that allows mixing of  saddle types for a bridge tone that's perfectly balanced.
The Tailpiece
Faber manufactured  tailpieces bespeaks the essence of aluminium  that renders light weight compared to modern day die cast options that use zinc alloys as the make material. With aluminium by your side, you are rest assured to play on delivering  towards a much more vintage and woody tone.
The Mounting Posts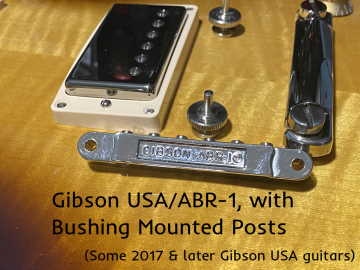 ESWKIT is one such vintage style that brings forth a combination of thumbwheel and vintage styled bridge post. They are ready to be  mounted on to a 8mm shaft  and require no modification. Such upgrades not only promise great sustain for your guitar but also imparts a great look.
Also, Faber has in its collection E-Sert kits that come with steel bushings for fixed posts. Such a configuration holds an adjustable thumbwheel in place that can be separately fitted to vintage style Les Paul guitars.
Such a configuration contains a separately adjustable thumbwheel as seen on more vintage style guitars and promises an enhanced tone.
Kits and Tuners
For all those who are looking for a complete solution in one package, our kits present before a complete solution. Faber Master Kits include all integral pieces that are required to upgrade your instrument  ranging from bridges to tailpieces for Gibson Les Paul guitars.
Several imported guitars can't help but make it work using tuners that are sub-par. As such, it is recommended that you take full advantage of such tuners to help aid great performance out of  your favourite instrument.
Wrap up
When looking to work with original guitar parts and upgrading best models like Gibson Les Paul guitars, look no further than the house of Faber.
For more info visit  https://faberusa.com/