It's always fun to see what celebrities who truly love fashion decide to wear to Met Galas. Harry Styles is a pop star/actor/model who is very into fashion.
For the Met Gala 2019, he rocked a gender-bending look from Gucci. What was great about Harry's 2019 Met Gala look is that it actually looked good. It fit the theme, "camp", without being overly gaudy. While the look had a decadent sort of elegance, it's not a look that every man would be comfortable wearing. It was really quite a risk-taking look.
You may have noticed that some Met Gala looks are costume-y to the point of being silly. Harry didn't fall into this trap. His Gucci jumpsuit wasn't exactly street wear (not by a long shot), but it was subtle compared to other looks that celebs wore to the Met Gala. His outfit had a lot of sophisticated details.
Today, we're going to dissect Harry's Met Gala look, from clothes to shoes to accessories and hair.
Before we start, let's talk Gucci. Gucci seems to be rebounding from its Balaclava Sweater scandal. A lot of people were offended by a Gucci sweater which reminded them of blackface. The company's creative director apologized and it's unlikely Gucci will ever launch another piece of clothing (or an accessory) without giving it a long once-over, to make sure that it is completely inoffensive.
Harry models for Gucci and he has stayed loyal to the label, despite the scandal. Now, let's take a deep dive into Harry's Met Gala look for 2019.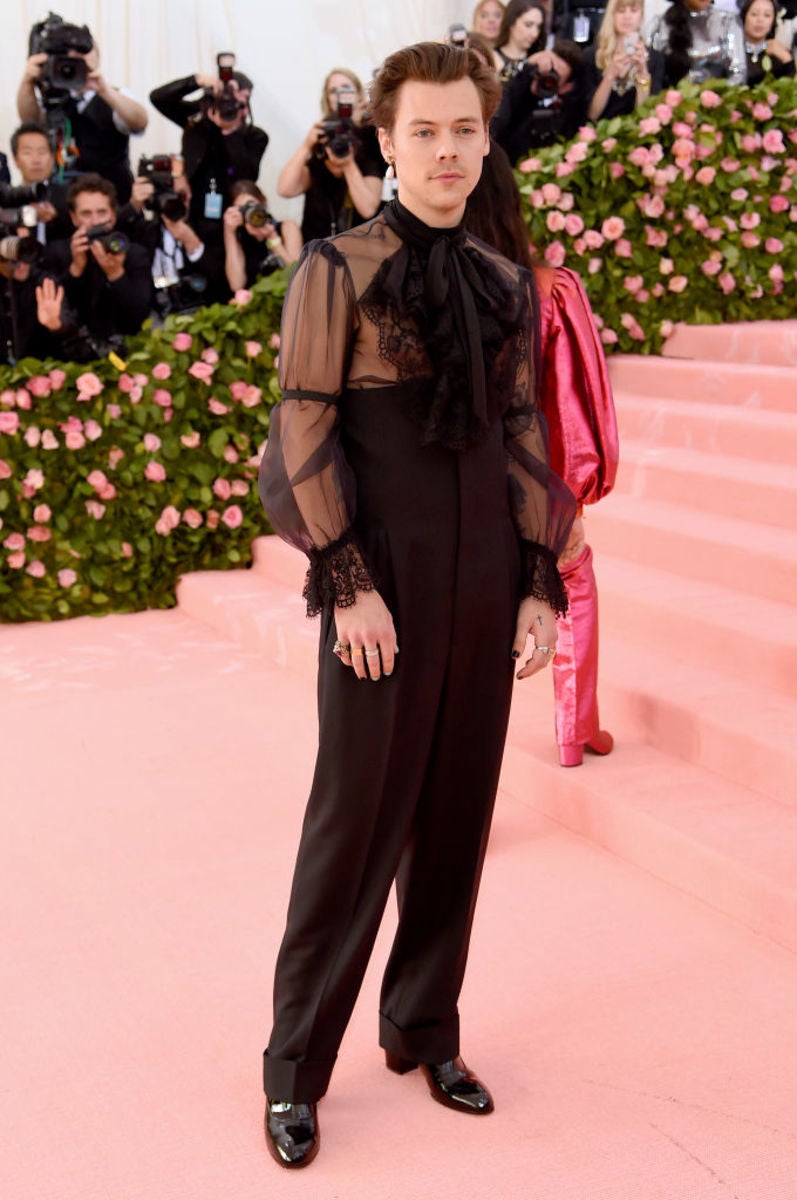 Would You Wear A Sheer Jumpsuit?
Some of our fave rock stars of all time, including the profoundly elegant David Bowie, who is missed, Freddie Mercury (who is missed) and Mick Jagger (who is recovering well from a heart operation), have been unafraid of adding androgynous elements to their outfits. Harry Styles has the same confidence. He will wear what he likes, even when it has traditionally feminine details, such as sheer panels which call to mind women's blouses, Olympic skating dresses and evening gowns.
Harry is not afraid of pink, or pattern, or sheer. The wilder a look is, the better. His Met Gala outfit was interesting because it was black. It seemed restrained compared to many other outfits worn to the Gala, thanks to its dark palette. It featured a shirt with ruffles, sheer sleeves and sheer panels on the chest. The bottom of the jumpsuit had the look of very high-waisted trousers. The trouser part of the jumpsuit had a cuffed hem.
Wearing this stuff confidently takes guts. It is also a political statement.
A man can be in touch with his feminine side. Gender is a spectrum. Harry's progressive values shine through in his fashion. You don't need to wear rainbow attire (Harry loves rainbows, by the way, and all of their symbolism) to show solidarity with those who break outmoded gender rules, in the realm of fashion and in all other parts of life. You can do it while you wear jet black.
Harry Styles Pierced His Ear For The Event
To accessorize, Harry reportedly pierced his ear, just so he could wear one substantial pearl drop earring. He also donned black boots with fairly high heels. He left a little stubble on his face, just to play up the gender-bending angle to the hilt.
His hair is famous. For this big event, he went for a slightly smoother hairstyle. It had volume at the crown. The cut was on the shorter side. By restraining his curls and waves, he let his outfit take center stage. After the red carpet and subsequent Met Gala 2019, he partied with Kendall Jenner until the sun came up. He's been linked romantically with Kendall in the past.
Harry is a guy who's dated some stunning women, including Kendall and another model, Camille Rowe. We're just scratching the surface here. He was also the alleged inspiration for the Taylor Swift song, "Out of The Woods", according to Billboard.com.
This pretty boy doesn't mind wearing pretty clothes…and why should he? He's an icon no matter what he puts on. Just ask the A-list women who love him (or loved) him.
If you want to experiment with fashion, remember Harry's Met Gala 2019 look the next time that you get ready for a night out. Don't be afraid to channel gender-bending rock and pop stars. Just be sure that you can wear your outfit with the same confidence.
Confidence is the secret of slaying in a gender-bending outfit.