This month, February 2019 will see the arrival of a new breed of golf shoe. The Golf Air Max 1 is a stunning example of style meets function. Find out everything you need to know about this iconic style ahead of its release in February 2019.
Introducing the Nike Air Max 1
The Air Max is an iconic design synonymous with the Nike brand. For the past few years, Nike Golf has been successfully capturing the hearts and minds of golf fans and sneakerheads with their unique interpretation of the golf shoe. The arrival of an iconic sneaker silhouette in the collection is no different. In the past, we've seen the reissue of styles like the Roshe, the Flyknit Racer and even Air Jordan shoes, and each has garnered a warm reception
The next chapter in the Nike Golf footwear story features the arrival of a Nike legend, bringing together style and function like never before. The Nike Air Max 1 G is set to be one of the most sought-after golf sneakers of 2019. If you're interested in grabbing a pair of these for your collection, you'd be wise to move fast after the release date as sneakerheads and golfers will all be after a piece of the action. Read on to find out why…
The iconic heel bubble
The heel bubble found in traditional Air Max shoes isn't just about style. It serves a specific function which is set to revolutionise the traditional golf shoe. The new release of spikeless Nike golf shoes brings together golf-specific footwear technology with the Air Max design features to masterful effect.
Style meets function
Sneaker fans might remember an attempt to introduce a Nike Air Max golf shoe a few years ago. What was missing from this release – and what ultimately prevented it from gaining traction – was the iconic heel bubble. The bubble is not only aesthetic, but it also serves a purpose to provide heel cushioning, which is something sorely missed from many golf shoes. Combined with the full-length Phylon foam midsole, the wearer enjoys unparalleled stability and all-day comfort.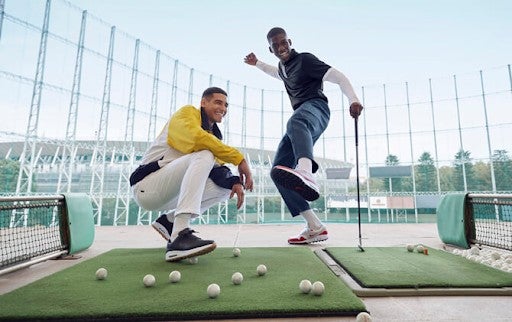 On and off the course
What makes this new release of the Nike Air Max 1 G so promising is that it can genuinely be worn on and off the course. As a spikeless variety of golf shoe, they provide all-day comfort, no matter the activity. And the iconic styling could lead some people to replace their ageing Air Max sneakers will this updated reissue, even if they have no plans to step anywhere near a golf course.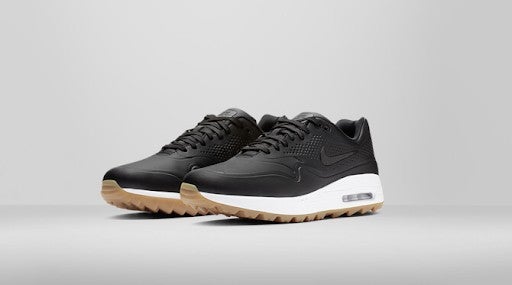 Your choice of colour
Traditionally, golfing clothing presents a limited colour palette. And more importantly, golf shoes of years gone by are unmistakable in their appearance. If you're wearing golf shoes, everyone will know it. With the Nike Air Max 1 G, this is all different. Choose from three different iconic colour palettes, or wait around for the special edition NRG releases expected in early 2019.
Buyers will have a choice of a classic black and gum sneaker with a distinctive white midsole, while there is also the white and gum option, offering a stylish and minimalist aesthetic that will look great on and off the course. Finally, there is the white and university red option which is likely to be the best seller of the bunch.
If you're hoping to get your hands on the new range of Nike Air Max 1 G golf shoes, set a reminder for February 2019. With such an iconic pairing, golfers and sneakerheads will all be battling to get their hands on a pair. Head to Golfposer.com to shop the full collection and find out more about this iconic release.