University of New Brunswick team is developing a first-of-its-kind security system that uses footsteps to verify people who they say they are
At a time when many Canadians are getting comfortable with fingerprint scans to prove their identity, a team of researchers at the University of New Brunswick (UNB) is stepping into new territory for biometric security: footprints. And they're tapping into the expertise of top students from Tunisia and India to advance their groundbreaking system, which can literally distinguish people by how they walk.
Mayssa Rekik, an Advanced Technologies undergraduate at Tunisia-based University of Carthage – ENSTAB, and Arijit Samal, a Computer Science graduate from the Indian Institutes of Science Education and Research, are two of 168 international students in Atlantic Canada this summer – and 2,220 across Canada – who are helping to solve tough innovation challenges through a unique initiative called the Mitacs Globalink Research Internship program.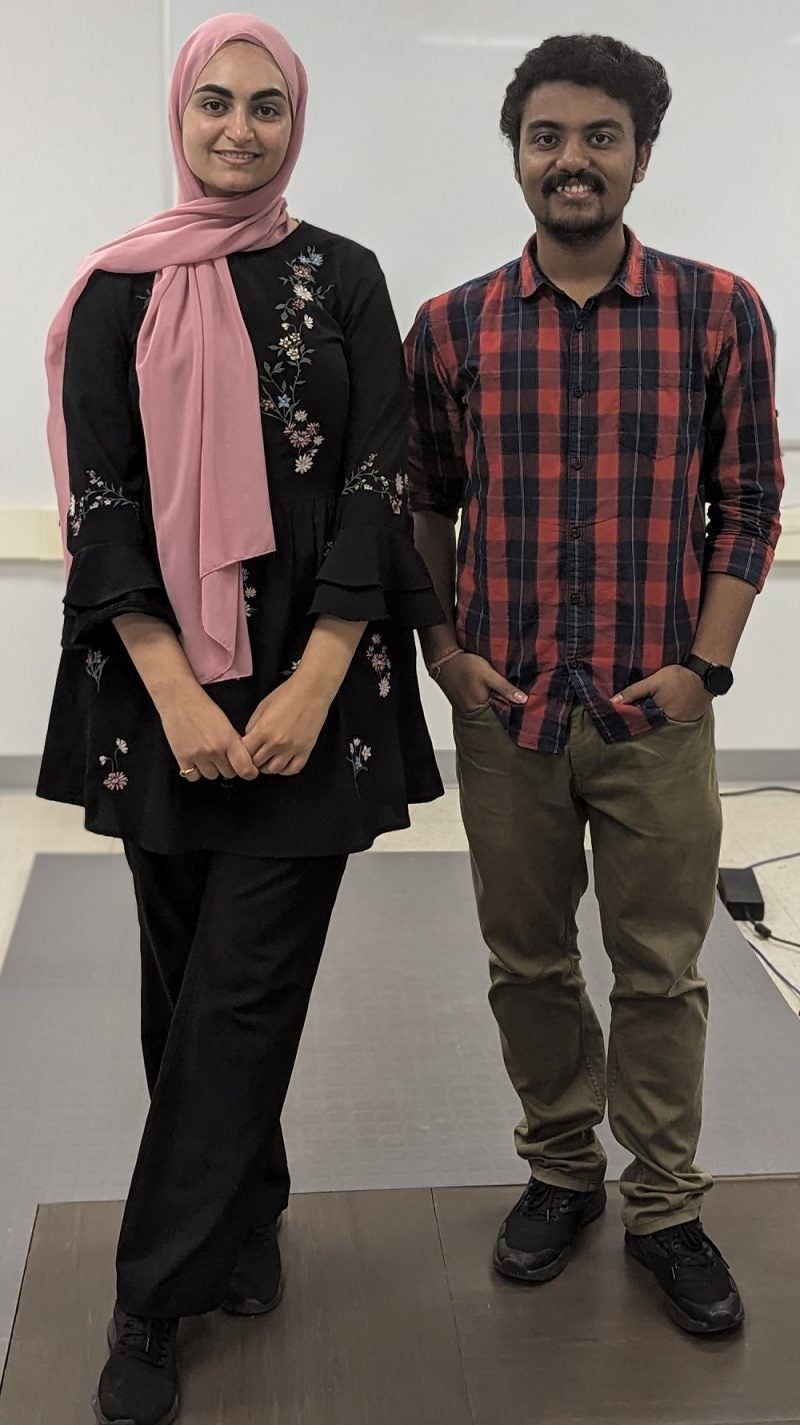 Working under the guidance of Professor Erik Scheme, Associate Director of UNB's Institute of Biomedical Engineering, the two interns are helping to evaluate the world's first real-world implementation of a biometric security system that identifies people by analyzing their footsteps (gait) as they walk across innovative pressure-sensitive floor tiles.
"This is the first installation of gait-based recognition technology to be embedded in the floor of an existing office building and it's really allowing us to test how these systems could operate in the wild for the first time," said Scheme.
The first-of-its-kind security system — which uses cutting-edge technology developed by PEI-based Stepscan Technologies – is currently installed in Fredericton's state-of-the-art Cyber Centre. With a series of two-by-two foot floor tiles embedded in the lobby where people come and go from work, as well as a second installation in a controlled lab environment at UNB, the technology works by generating a pixel-by-pixel heat map of the pressure distribution of someone's feet as they walk, from heel strike to toe off. The resulting video is then securely transmitted to a server at the university where researchers analyze both spatial and time-based information to explore how measurements change over time as people go through the motion of walking and how to us them to differentiate between people.
What's unique about the project — made possible through a partnership between Stepscan, UNB, and Knowledge Park — is that for the first time, researchers are able to access information from the security cards swiped by study participants at the Cyber Centre and then use it as a machine learning 'label' to precisely match footsteps to people, helping to improve the system's overall accuracy and build a world's first dataset. Additionally, seven video cameras are installed in the controlled lab at UNB, allowing researchers to compare the performance of the system against existing vision-based approaches and the actual live footage of people walking.
"Just like a fingerprint, everybody does this heel-to-toe motion in a slightly unique way," said Scheme, explaining that the real-world implementation allows researchers to collect large amounts of real-world data that are now being analyzed by the students to improve the system's performance. Study participants in the lab are asked to walk across the flooring installation multiple times, first wearing a sneaker (common across all users), then two pairs of their own shoes and finally barefoot, so that researchers can teach the underlying AI technology to identify people regardless of their footwear.
Samal's 12-week internship is focused on using the two-dimensional pressure map information collected by the tiles to generate full 3D skeletal models of the people walking across the tiles, and Rekik's 12-week internship is focused on developing deep learning models that leverage the temporal information captured to more accurately identify people through their footsteps. The team also aims to have a rich data set collected by the end of summer that will serve as an effective benchmark to help improve the system's ability to identify people as they walk under confounding scenarios, such as at varying speeds, in different footwear, while carrying or pulling objects, or while distracted.
As Scheme explained, gait recognition technology is gaining popularity as an alternative to facial recognition, which is often criticized for its "white male bias." Whereas most solutions capture video only, meaning they can easily be hindered by lighting, camera angle, a blocked view, or by what people wear, such as a heavy winter coat which makes it difficult to extract key points of their skeleton for analysis — the innovative floor tiles are proving to be a viable solution.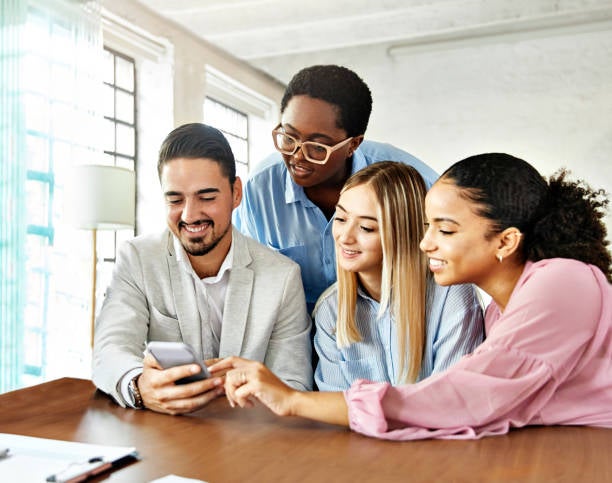 "From a technology readiness level, we're taking this application from a fairly low level currently, to a quite high level because we're the first to have that real-world deployment data," said Scheme, who has been participating in the Mitacs Globalink Research Internship program since 2016 and welcomes the expanded research perspectives international students bring to his lab.
"Not only are these internships a transformative experience for the students, but they also bring an added element of energy, excitement and diversity to our lab that helps us all to grow," he explained. "It's an amazing student training platform that is enabling our interns to learn about experimental design, human trials, research ethics, data processing, machine learning and equity in the real world."
For Rekik, the program represents an opportunity to apply her multi-disciplinary engineering background in a very collaborative, encouraging and inclusive research environment. "This is my first time performing research in a lab environment and I couldn't imagine a more dynamic, rich, and very accepting place to work," she said. "I wear a head scarf and not a lot of people would be as respectful to my religion as the Canadian environment," she added.
Samal hopes to publish a paper based on his work at UNB and commented that the collaborative nature of the lab is very different from labs where he previously worked in India, adding to his diverse experience.
In total, 2,220 students from 15 countries are taking part in the Mitacs Globalink program this summer to help solve complex problems across a range of industry sectors, from health and wellness, to robotics, technology and the environment. Designed to foster international research links and boost Canada's economy, the 12-week internships are available at more than 70 universities.
Since 2009, Mitacs has matched more than 10,000 senior undergraduates with Canadian faculty through its Globalink Research Internship program. The program promotes Canada as a top destination for research opportunities, facilitates interdisciplinary collaborations, and showcases Canadian research expertise around the world.
"Mitacs is very proud to support students through our Globalink Research Internship program so that research like Mayssa and Arijit's will ultimately help people in Atlantic Canada, throughout the country, and across the globe," said Mitacs CEO John Hepburn. "The Mitacs Globalink Research Internship promotes strategic global partnerships and helps participants gain research experience in Canada, advancing innovation and creating attractive opportunities for international students who often decide to further their education here."
About Mitacs
Mitacs empowers Canadian innovation through effective partnerships that deliver solutions to the world's most pressing problems. Mitacs assists organizations in reaching their goals, funds cutting-edge innovation, and creates job opportunities for students and postdocs. A not-for-profit organization, Mitacs is funded by the Government of Canada, the Government of Alberta, the Government of British Columbia, Research Manitoba, the Government of New Brunswick, the Government of Newfoundland and Labrador, the Government of Nova Scotia, the Government of Ontario, Innovation PEI, the Government of Quebec, the Government of Saskatchewan, and the Government of Yukon. Learn more at mitacs.ca.