Lockdown has led more people to find love through online dating. But, in some cases, dating online exclusively has made us forget certain things about real-life dating, such as what outfits to wear.
For example, creating the best first impression to a date in person entails:
Being there on time: Don't leave your date hanging around for you. Showing up on time shows that you care and you're taking your date seriously.
Be gentle with the fragrance: Remember, a few spritzes will do.
Limit your alcohol intake: A little alcohol can ease nerves. But too much can cause us to lose our inhibitions and potentially embarrass ourselves. So go easy on the whisky.
And of course, as the article illustrates, what you wear can also determine whether your date will be impressed and attracted to you. So never negate the power of a good outfit.
To assist you with what to wear, we've identified a few different things to consider below.
Tailored Clothing
Forget how much a garment costs and instead consider how it will fit your physique. For example, an oversized shirt could drown your shape, so instead, opt for a slim-fitting button-down that hugs but doesn't constrict your body.
Muted Colours 
Refrain from wearing garish and distracting colours on your first date. Instead, seek an understated look that's sophisticated by opting for muted colours, such as navy, black, grey and white. In doing so, the attention will be on what you're saying, not what you're wearing.
Clean Footwear 
Never underestimate the impact of clean footwear on a date. Take the time to look over your chosen footwear, and remove any marks, and polish out any imperfections to remove signs of wear and tear.
Meeting Place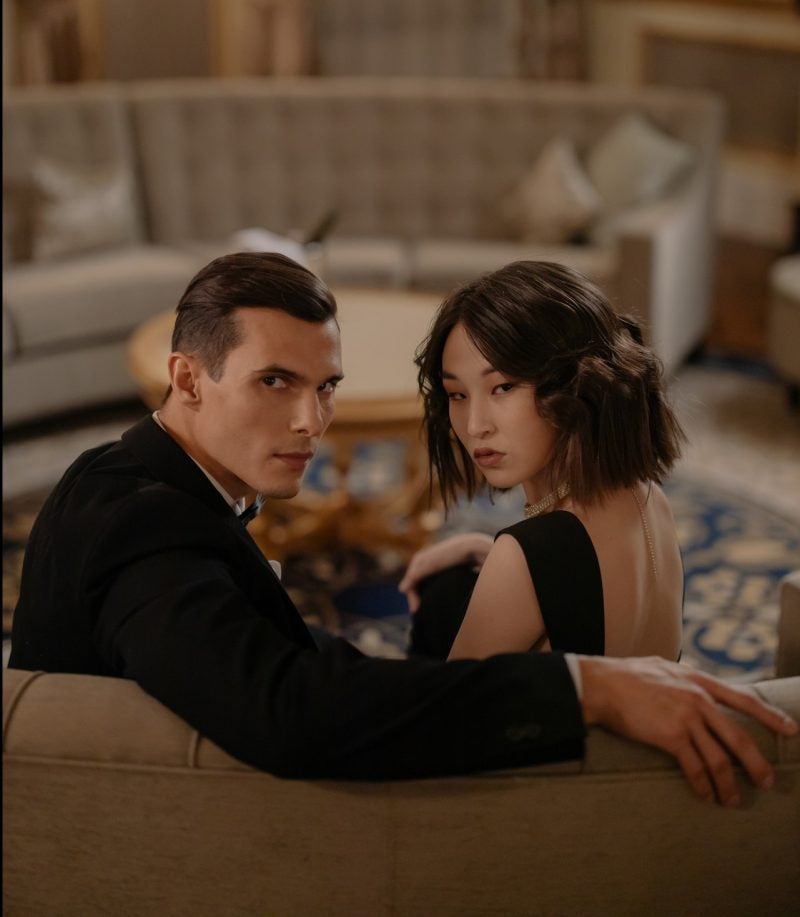 The venue you will meet your date plays a large part in what you should wear. For instance, an outfit you'd wear to make cocktails would be different to what you'd wear to go to the movies. 
Some establishments have dress codes that can help you identify appropriate clothes and ensure you gain admission on arrival.
For a few first date outfit ideas based on where you will be meeting, take a look below:
Beach, coffee, a walk and dates at the park
Keeping it casual is essential for these kinds of dates. Here are a few suggestions of things you can wear:
Polo shirt, crewneck tee or long sleeve top

Chinos or dark jeans

White trainers 
Dinner and Drinks and Theater in the evening
These occasions will require an outfit that is a bit dressier such as a;
Tailored blazer 

Shirt 

Dark jeans or straight leg trousers 

Oxford cap dress shoes
As an additional tip, for inspiration on what people wear to the place you're going to, take a look at Instagram for ideas.
Preparation is Key
Prepare the clothing you wish to wear at least a day before the date. This means removing marks and washing and ironing your garments to ensure they smell and look good on your date. Alternatively, if you're lacking time, you could send your outfit to the dry cleaners.
Don't forget Underwear 
Making an effort to wear nice underwear is important for a few reasons. First, the date could go so well that it leads into the bedroom. Second, if your boxer briefs are exposed to your date above your jeans as you reach for something at some point. It's less embarrassing if your underwear is branded and lacking holes or faded. 
Plus, wearing your best pants will ensure you feel complete when you put your outfit on. And may give you an extra bit of confidence on your date.
The place you're going, what you'll be doing, the time of day, and the weather all play a part in what you should and shouldn't wear. So, it may be wise to keep a few outfit ideas in mind, in case, for example, the weather turns.