When Porsche introduced its Cayenne in 2002, it was initially considered blasphemous for the legendary sports car brand to introduce an SUV. Now their SUV lineup is its best seller–and arguably even saved Porsche. As SUV's and Crossovers dominate the North American market it's no surprise that Maserati is in the game along with Jaguar, Lamborghini and Alfa Romeo among other exotic luxury brands. There are many flavours of the Levante with a base price of $93,000 and the Maserati Levante GTS as tested here at $155,540.00.
_______
_______
The Levante has been in Canada for a couple of years and now leads Maserati sales. Two versions introduced for this model year really add 'swagger'. The Levante Trofeo has 590 hp and the 550 hp GTS. Both share the same Italian DNA under the hood.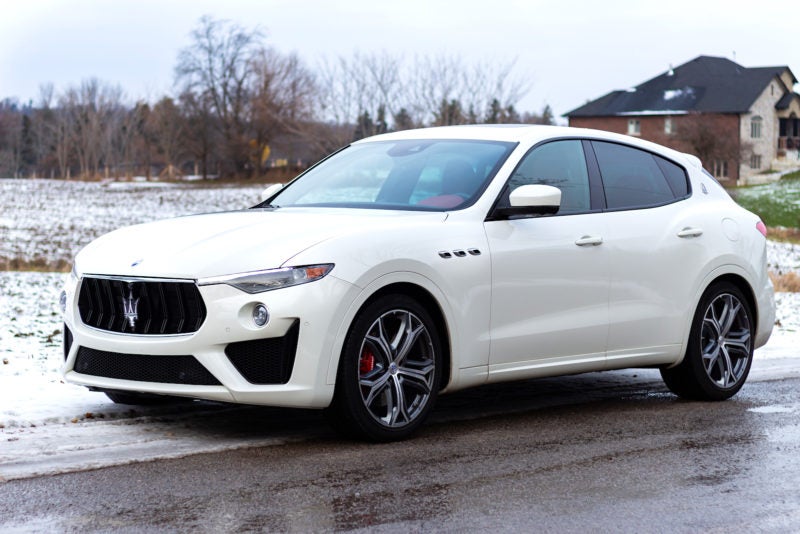 The 2019 Maserati Levante GTS is Powered by Ferrari
As if owning a Maserati doesn't provide enough cache you can tell your neighbor the 3.8 litre twin turbo V8 comes straight from Ferrari's famous factory in Maranello, Italy. There's no doubt of that fact when you press the start button. The growl of this engine is hard to describe here but if you watch the movie Ford v. Ferrari and turn the volume up its something like that. This will become a rare specimen as well since Ferrari recently announced it will stop building engines for Maserati by 2022. The beating monster in the GTS produces 538 lb-ft of torque and is mated to a flawless 8 speed automatic transmission with paddle shifters. The Levante GTS is an all wheel drive SUV with superb handling and ride that will go from 0 to 11/kph in 4.2 seconds and a top speed of 282 k/ph.
It's an outrageously fast way for a family of 5 with luggage to travel.
Lots of Vroom, what about Room?
This Maserati is equally quick at stopping thanks the Brembo brakes with 15-inch front rotors and 6 piston calipers.
The Levante has a few choices in driving modes including SPORT, OFF ROAD (first place you want to take a $150k plus luxury vehicle) and I.C.E for Increased Controls and Efficiency. Basically it's a winter driving mode.
Fuel economy you ask? That's funny! The consumption is somewhere between a pickup truck and an RV pulling a pickup truck. On paper the combined city/highway is 15.3 l/100 km. In the real world I was driving normally in a combination of city and highway and was burning over 17 l/100 km. It should be noted that Maserati has plans for an electric version in 2022.
The Levante has a little less emphasis on the 'utility' part of an SUV but does offer 580 litres of space behind the rear seat which splits 60/40 like most.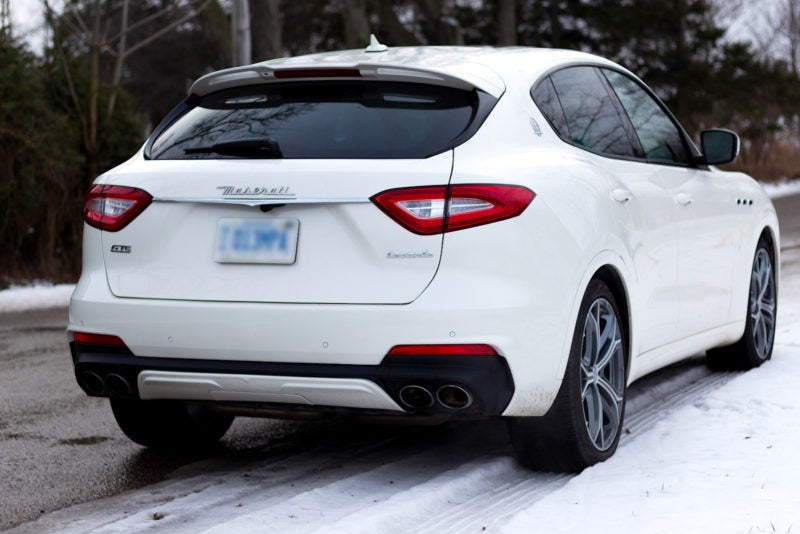 Under a Tuscan Sunroof
The Levante has a nicely sculptured body that has a striking grille and profile in a world of bland SUV's. Inside, the cabin is pure Italian luxury. The hand stitched Pieno Fiore red leather that comes with the GTS is what you would expect in something of this price and pedigree. This test vehicle was also nicely appointed with optional black carbon accents. While the overall aesthetic is quite pleasing I did find Maserati guilty of using knobs and switches found elsewhere in the Fiat Chrysler family. This is far too common. Another example is Ford which has had a bad habit of doing this with Lincoln.
The Levante is equipped with all the luxury and tech amenities you would expect in this price stratosphere. The on board tech can take some getting used to starting with the Highway Assist semi-autonomous system. It works in concert with the adaptive cruise control and lane keeping assist with cameras set in the grille and windshield. This system still requires both hands on the wheel and I mean both! The reminder beep almost sent me off the road! Also, the Levante parking sensors and blind spot monitoring are about 3 times louder than anything else I've experienced. It makes your hair stand on end even when you're a good 2 feet from the shopping cart!
The infotainment system is neither the best nor worst I've seen. It is fast and reasonably intuitive. The 8.4 inch touch screen has support for Apple Car Play and Android Auto. There is a centre console dial to navigate the screen and control volume as well.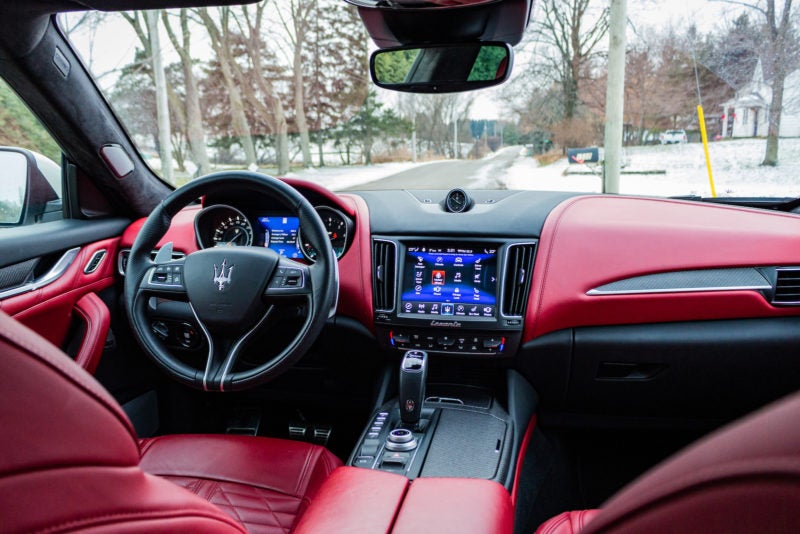 Does the Maserati Levante GTS keep pace with Jaguar's F-Pace?
The Maserati Levante GTS is up against tough choices in this elite category including the Porsche Cayenne Turbo and in particular the award winning Jaguar F-Pace SVR which does have a cargo space and price advantage. The Levante GTS, however, stands out in an asphalt sea of luxury SUV's and offers a distinct nameplate and even more distinct sound.
---
Cover photo: Courtesy of Maserati Canada.