The only things I knew about Gimli, Manitoba before I got there for the Mercedes-AMG Winter Sporting Driving Academy, was that it was the home of Crown Royal Whiskey, and the site of the Gimli Glider incident.
What's the Gimli Glider?
In 1983 an Air Canada Boeing 767, thanks to a refuelling screw up, ran out of fuel at 41 thousand feet. With nowhere to land the copilot remembered his military training at an old airstrip in Gimli. What he didn't know was that the airstrip was converted into a race track and there was a race that day!
Miracle of miracles , the cars got out of the way as the giant bird coming out of nowhere glided to a safe landing. It was the subject of a Hollywood TV movie and there's a quaint museum (only open Saturdays) at the Gimli Resort commemorating the event.
Flash forward 36 years and I'm ripping down that same real estate (with a full tank) in a Mercedes E63S after enrolling in the AMG Academy.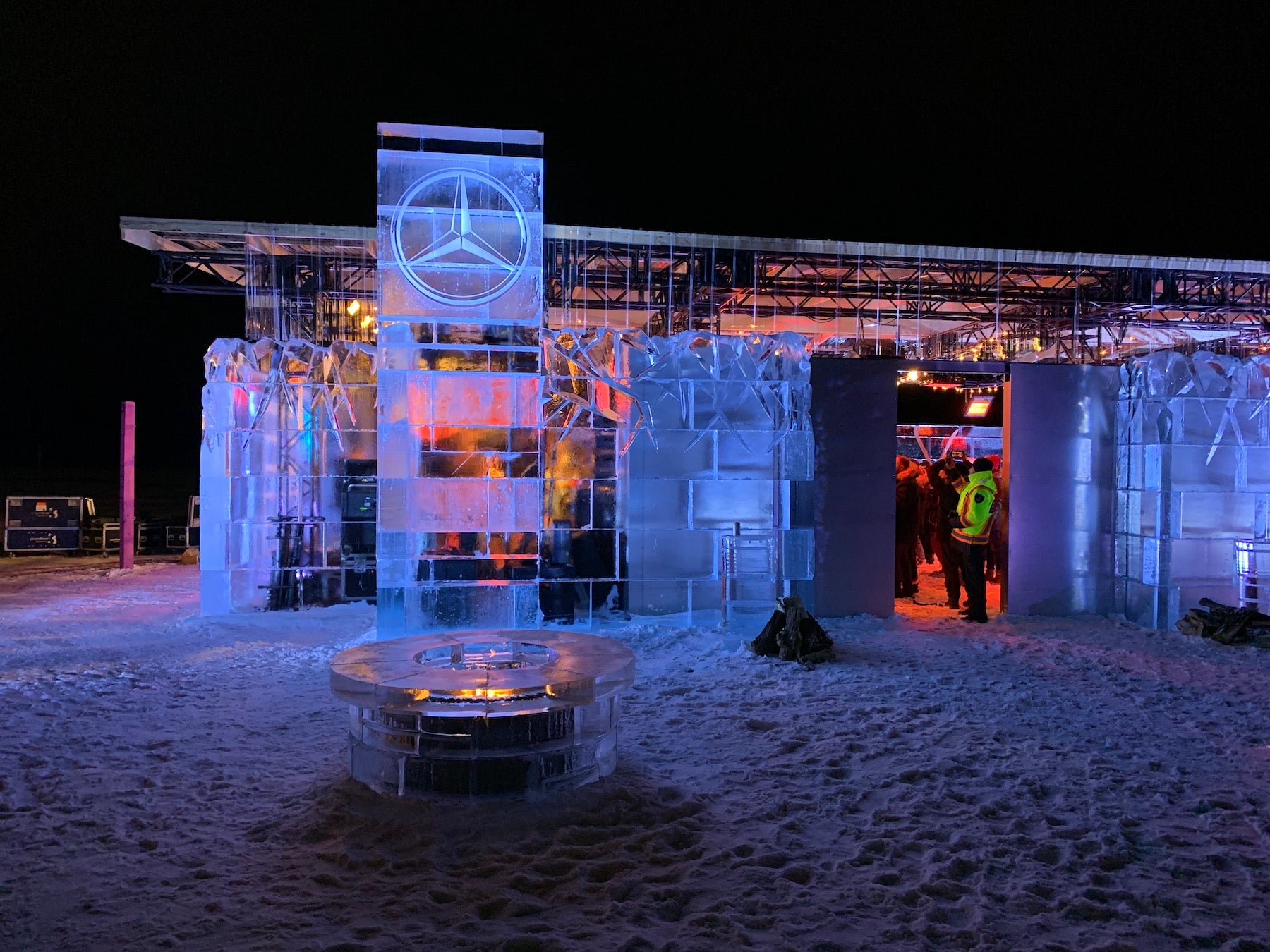 Welcome to the AMG Winter Sporting Driving Academy
Mercedes-AMG is famous for their hand built engines that come with an engraved plaque by the builder on the engine. This Mercedes tuning and racing division adds Formula One technology under the hood. AMG hosts only two extreme winter weather driving programs in the world. In Areplog, Sweden and here in Gimli, Manitoba.
The AMG Winter Sporting Academy is open to everyone. It offers 2 or 3-day programs with accommodations at the Gimli Lakeview Resort which is about an hour drive north of Winnipeg. There are four programs to choose from starting with the $2,195.00 CDN Performance course which teaches practical extreme winter driving tips. The level of personalized attention and detail goes up along with the price of the other courses, Advanced, Pro and Pro Plus which at $7895.00 CDN offers an extended stay with intensified training from a private coach, night driving and a team endurance competition. All programs also provide video and analytics of your driving.
The program has you hopping in and out of a wide variety of extremely powerful Mercedes-AMG vehicles. We started the day on a winter course carved out at the aforementioned airfield where the Gimli Glider touched down. Next came a more challenging off road trail on the same property that provided some steep climbs and drops that our GLE 450 SUV handled effortlessly. We then drove straight to Lake Winnipeg and kept going out on to the lake for the 'main course' and the most thrilling driving experience you can imagine!
When you roll out onto the ice that's all you see to the horizon. In fact this spot subbed for the high Arctic in the submarine movie K-19. (A picture of celebrity resort guest Harrison Ford is mounted proudly behind the check in desk). Lake Winnipeg is one of the larger freshwater lakes in the world but it is very shallow with an average depth of 12 metres. With an average winter daytime high around -11 C it is the ideal conditions to create ice thick enough for the cars. The ice thickness is checked constantly and 40 cm is considered the safe number. This lake offers 150 cm and is even used by the RCAF for touch and go training landings.
On the ice we swapped between a Mercedes-AMG CLA 45 front wheel bias 4MATIC+, a rear wheel drive C63 S and an AMG E63 S rear wheel biased 4MATIC+ wagon that was my favourite of the bunch. It's brute force torque and 603 hp powered through every sticky situation. To be fair the tires came in handy and weren't exactly street legal.
Not Your Average Snow Tire
The very expensive Lappi tires had over 400 2mm studs hand glued by a Swedish husband and wife team. They start this process as the end of each AMG Driving Academy and have the new batch ready just in time for the next one. The slippery ice is also shaved in a matter to get the friction coefficient somewhere above zero.
Driving in such a wide expanse means the only obstacle is snow banks. Mind you, it doesn't take long for those snow banks to ice over and get hard as concrete. Pro driver and Chief instructor Danny Kok made it clear in the safety briefing that one too many swipes against these snow walls would send you back to the hotel restaurant or pool. This is more out of concern for Mercedes body parts and paint jobs. It is a very safe environment and the program now in its 5th year has been 'boo boo' free. We had open radios in the cars to announce to everyone our spin outs so drivers could safely stop and wait for you to get straightened or pulled out.
Get the Drift?
The instructors are excellent and very patient. We learned the finer points of car control but of course everybody wants to drift! With all this ice and horsepower it's the perfect place. My instructor taught me how to turn and brake early into the corner and exactly when to open up the Mercedes monster under the hood to execute a perfect drift through the curves. By the end of the day I felt I was getting the hang of it and wished I had another two days out there. It was just so much fun!
The program runs from mid January to mid February and spaces do fill up fast. Registration details can be made through AMG Driving Academy's Canadian website. I highly recommend this adventure. It's an exhilarating bucket list experience that you come out of a better driver.
---
Disclosure: This article is not sponsored, but Bob Cowan, on behalf of SWAGGER Magazine, was hosted by Mercedes-Benz Canada to attend and experience this year's January 2020 AMG Winter Sporting Driving Academy in Gimli, Manitoba.