Swimming is a highly beneficial activity when it comes to taking care of your body, but it can be quite monotonous. Fortunately, your training in the water doesn't have to be dull anymore. You should know that there are excellent waterproof headphones suitable for swimming that will take your pool sessions from boring to highly enjoyable. These headphones used to be targeted only at professional athletes. Today, waterproof technology has gotten more advanced and cheaper, making swimming headphones available to anyone who loves to swim. To help you find the right pair for you, here are some of the best waterproof headphones for swimming!
Best Over-Ear Waterproof Headphones
Over-ear headphones tend to offer greater comfort and better sound quality than in-ear headphones. Here are some of the best over-ear waterproof headphones for true audiophiles and swimming enthusiasts: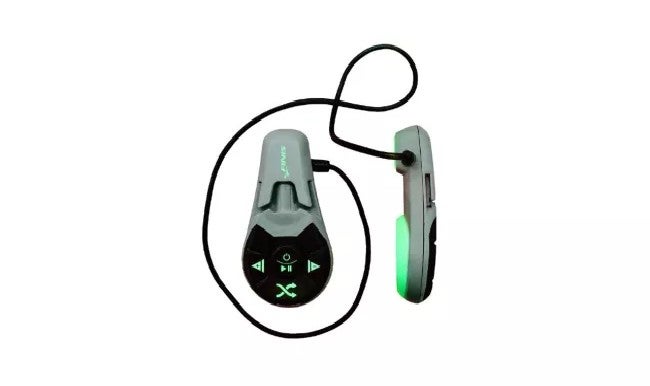 Finis Duo – Waterproof Bone Conduction Headphones
We are starting the list with a pair of headphones that use the bone conduction technology to transmit soundwaves through your bone instead of ears. This might seem a little bit unusual at first, but once you test them in the pool, you will find that they offer a clear sound, even underwater. The Finis Duo headphones have a built-in MP3 function, so you don't have to worry about other devices being around the pool so you can connect via Bluetooth. The MP3 player has simple controls for comfort and ease of changing the music as well as 4GB of storage. This model is certified IPX8, so it can be 3 meters deep in the water and will still work. If you are not sure about the new technology introduced here, make sure to check out this bone conduction headphone guide before purchasing.
AfterShokz Open-Ear MP3 Swimming Headphones
Designed specifically for swimmers, AfterShokz Open-Ear MP3 Swimming Headphones are among the best on the market today. The open-ear, bud-free design uses bone conduction technology to provide high quality audio in and out of the pool. Certified IP68 waterproof and dustproof, you can rest easy knowing that these are fully submersible. Plus, they feature an 8-hour battery life and 4GB of internal storage!
Best In-Ear Waterproof Headphones
As the name suggests, in-ear headphones feature small buds that fit within your ear. Sleek and portable, these headphones fit in your ear canal and create a comfortable seal. Here are some of the best in-ear waterproof headphones for swimming: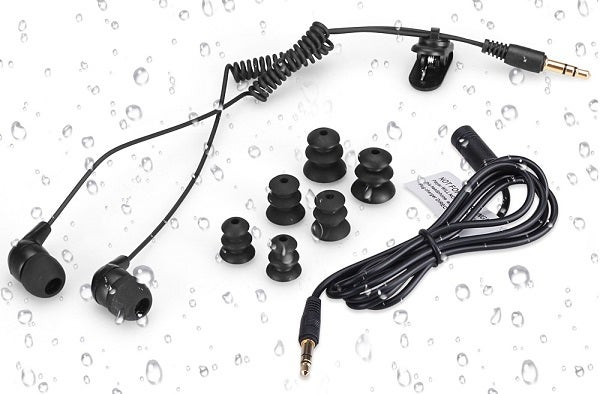 AGPTEK SE01 IPX8
It is time to introduce the best set of in-ear headphones for swimming when you are on the budget. The AGPTEK SE01 IPX8 is an option for those who are already owners of a waterproof MP3 player and just need some affordable headphones to match. One of the most significant advantages of this model is that the headphones will fit under your swim cap. They will stay in place throughout your training, and they also feature a standard-length cable, so that you can put your MP3 player in a pocket. While they are designed for water sports in general, they can be used for swimming, and they are extremely affordable—only $15!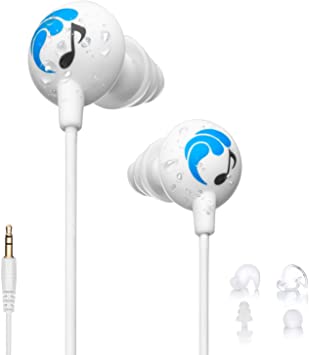 SWIMBUDS
Swimbuds are specifically designed for swimming only. Swimmers most commonly strap their MP3 player to the straps of their swimming goggles and need an efficient pair of headphones to go with it. Swimbuds have a shorter cable length that will make it more comfortable to connect your MP3 player to the headphones. This is the best option if you don't like the excess cable tucked in your swim cap.
Best Waterproof Bluetooth Headphones
Bluetooth is a great technology that allows you to listen to your music hands free. While this is a convenient feature, keep in mind that Bluetooth does not work very well underwater. That's why most swimming headphones that offer this technology will also include a built-in MP3 player as well. This allows you to enjoy Bluetooth when out of the water and your favorite MP3's when swimming laps. Here are some of the best Bluetooth swimming headphones to consider: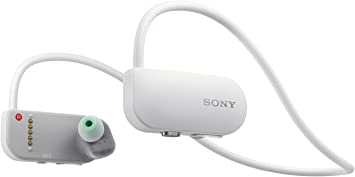 Sony B-Trainer
If you are looking for a little bit more than just a set of headphones for swimming, Sony B-trainer will be the perfect choice for you. Featuring Bluetooth 4.0, this model is packed with a full range of sports technology, allowing you to track your performance while listening to your favorite music. These headphones are equipped with six sensors: GPS, Heart Rate Monitor, accelerometer, gyroscope, barometer, and compass, which makes it possible to track calories, heart rate, distance, speed, and more.
Sony B-trainer is IPX8 certified and can be used in a pool and open water. Another advantage here is the massive digital storage of 16 GB. This model can even adapt the pace of the music to match your heart rate!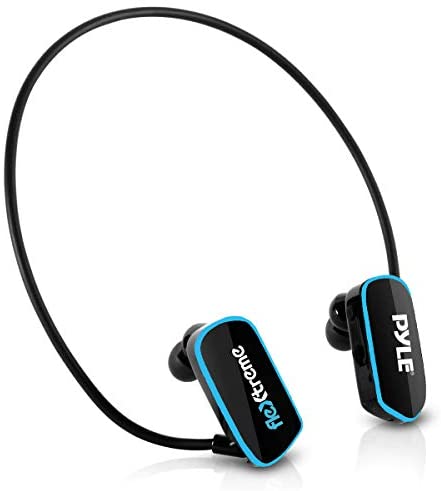 Pyle Upgraded Waterproof MP3 Headphones
The Pyle Upgraded Waterproof MP3 Headphones is a 2-in-1 MP3 player and headphones combo with a built-in rechargeable battery. Featuring Bluetooth and 8GB built-in memory, these in-ear headphones are fully submersible, boasting an IPX8 rating. One of the things we love most about this design is that it is completely wireless, so you don't have to worry about ripping a wire away while you swim. Simply plug it in via USB when you want to charge or add music, then go wireless and dive into the pool for some laps.
Best Waterproof Noise Cancelling Headphones
Noise cancelling can make all the difference when you want to truly get in the zone. Here are some of the best waterproof noise cancelling headphones to consider:
Sony WS620 Walkman WS Series
A truly incredible pair of headphones, the Sony WS620 Walkman WS Series is saltwater-proof to a depth of 6.56 feet and can be submerged for up to 30 minutes. These headphones are really at the head of the pack, with 12-hour battery life, Bluetooth streaming and controls, 4-16GB storage options, and an Ambient Sound mode, which allows you to decide whether or not you want to hear the ambient noise around you.
Find the Best Headphones for You
When shopping for the best headphones for swimming, keep the following features and tips in mind:
Waterproof Rating. Pay close attention to waterproof ratings, and stay away from manufacturers that don't specify a rating or depth. IPX8 is the best rating to look for, indicating a guaranteed protection against continuous submersion. Note that you might also see this listed as something like IP68. The "6" in place of the "X" means that the headphones are also rated for dust protection.
Comfort. Are in-ear or over-ear headphones more comfortable for you? Do the headphones feature wires that you could snag while swimming? Do the headphones feature any wrap-around bar or something similar to keep them firmly on your head while swimming?
Technology. Are certain technologies like Bluetooth, fitness tracking, or bone conduction a must-have for you? Be sure to also check battery life and storage capacity for MP3 players so you can ensure your favorite playlists will fit!
Before making a purchase, check out customer reviews. If you're struggling to choose between 2-3 models, the highest reviews can help you to make a quick decision.
Final Thoughts
That concludes our list of best waterproof headphones for swimming and water sports. There is one set you can choose when you are on the budget, one that has the best sound quality thanks to the bone conduction technology, and finally, one set of headphones that will allow you to track your performance too. All you have to do now is to figure out what your priorities are when it comes to the functionality of waterproof headphones and choose a set that will satisfy all your needs. See you in the water!