We all know that throwing on a suit and a pair of polished shoes looks good. But ever check yourself out in the mirror and feel like something's missing?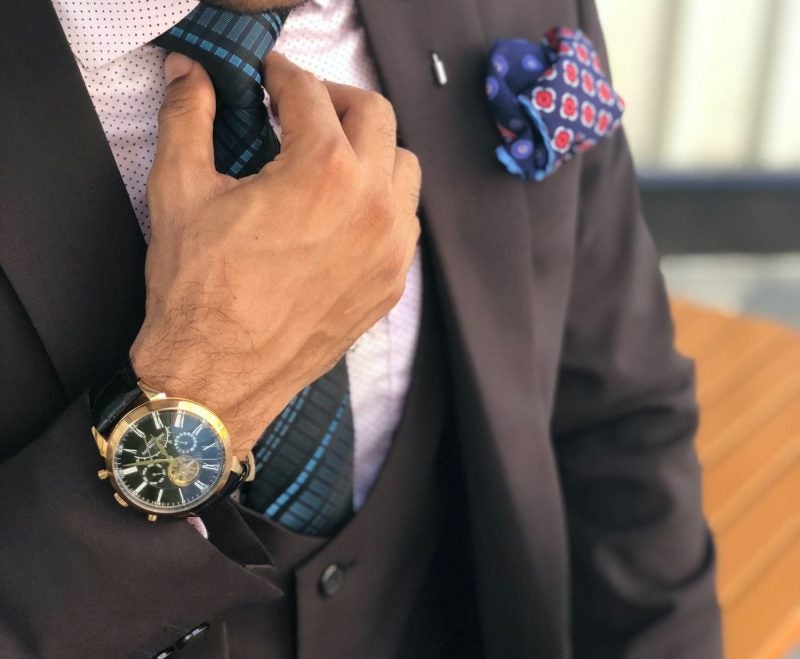 It's time to complete the outfit with an accessory or two! It's that bit extra personalized touch that makes you stand out and turns your outfit into a one-of-a-kind look.
Go bold, show off, or hide something in plain sight. The man who knows he looks good isn't afraid to show it. Check out the best men's accessories you need to add to your wardrobe.
Watches
A wristwatch never goes out of style. It completes the package and stops you from awkwardly pulling out your phone every two seconds to check the time.
Even a stylish watch doesn't have to break the bank. Precision Watches and other retailers sell certified pre-owned Rolexes, Omegas, and more.
A watch is an elegant way to add sparkle to any outfit for the man who may be uncomfortable wearing jewelry.
Hot Trend Tip: If you have the confidence (and cash!), you may want to consider join celebrities like Chris Pratt in the club of double-wristers.
Jewelry
For the man who is comfortable wearing jewelry, don't be afraid to go there! 
The simple gold chain is an easy way to elevate the classic t-shirt and jeans look.
The days of thick leather bracelets are over, thankfully. But that doesn't mean bracelets are out of the game. Thin cuffs are making a comeback. If you wear a wedding ring, toss the bracelet on the opposite wrist to share the shine.
Male earrings are in the middle of a Renaissance. You don't need to jump to a dangling cross. A simple hoop that barely catches a glint of light will make passers-by stop and do a double-take.
Sunglasses 
No one wants to sit across from someone constantly squinting. Relieve the pain and invest in a quality pair of sunglasses.
Not only are they healthy for maintaining your vision, but they also add a layer of mystery to your look. Who's really behind those shades?
An all-white look can look great with a pair of fun tortoiseshell glasses. Aviators are popular, but be careful, or you might look like the president or a fighter pilot.
Try a few different styles, go for circular frames, try boxy frames, and find what looks best on your face shape. Keep in mind, what looks good on one face may not look good on another.
Wallet
A wallet is more than a sack of cash. It's a symbol of power and wealth. So don't be like someone's dad and wrap your credit cards with an old rubber band.
A simple, two-fold, black leather sans words wallet is a perennially smart move. Looks great with every outfit, and it's never awkward pulling it out on a date.
Metal wallets are popular, but that phase seems to be falling away (finally). Trust us — it comes across as tacky, and everyone knows you purchased it with a podcast discount.
Conclusion
The most important part of looking good is making choices.
Start to choose what you put on your body consciously, and you quickly realize how much you dressed on autopilot before.
Have fun with it, and keep trying accessories until you feel as good as you look.