Sunglasses are functional accessories, shielding your delicate eyes from the harsh and damaging UV rays of the sun. Yet, for most people, sunglasses are more often employed as finishing touches to their looks of the day, and to that end, people seek out different styles of sunglasses that say different things about who they are, what they want and where they are headed in life.
So, what do your sunglasses say about you? Read on to learn what your sunglasses style of choice is telling the world around you.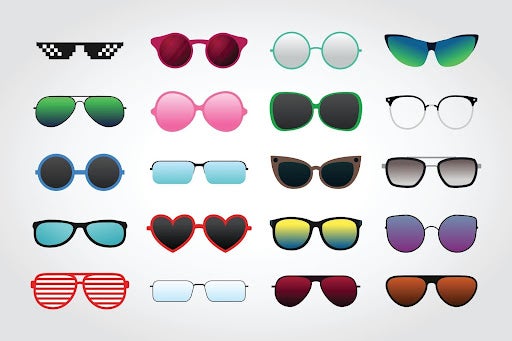 Aviator-style
Aviator-style frames were contracted by the U.S. military in the 1930s as a more durable and more comfortable glasses option for pilots flying aircraft during World War II. With a reinforced bridge and flexible earpieces, these sunglasses are supposed to fit underneath headgear and resist snapping in two under force. Today, aviator sunglasses offer a classic, commanding look. Wearing aviators, you will exude a sense of cool authority, but if you pair your sunnies with relaxed vintage style, you could also project an appreciation for adventure like the aviators of the past.

Cat-eyed
Cat-eye frames were born in the 1930s when renaissance woman Altina Schinasi was disappointed by the lack of stylish glasses options for women. Initially called harlequin glasses, as they were inspired by the carnival masks seen at parties in Venice, cat-eye glasses almost immediately became a phenomenon, as American women clamored for accessories that enhanced the size and shape of their eyes. Today, cat-eye frames provide wearers an air of mystery and a touch of rebelliousness, like Audrey Hepburn in "Breakfast at Tiffany's."
Round
The oldest pairs of eyeglasses we have are perfectly round — because in the 13th century, glassmakers only knew how to create round lenses. Now that there are so many other styles of glasses frames, round styles have become incredibly unconventional, lending wearers a quirky quality that allows them to stand out from the pack. Because round sunnies have no sharp corners, you might enjoy the softness that round frames will provide your face, especially if you have a square or oblong face shape that could use some contrast.
Square
Square sunglasses are some of the most ubiquitous, largely because they suit almost every face shape and almost every outfit style. Generally, the angles of square sunnies offer the sense that you are down-to-earth and realistic in your worldview. People tend to have an innate trust in those with such practical eyewear. Of course, there are some exceptions to this rule; if your square frames are an outlandish color, size or pattern, you might send some conflicting messages with your sunglasses style.
Oversized
Most fashion experts advocate for sizing sunglasses to the eyewear sweet spot on your face: no wider than your face and as tall as the distance between the bottom of your eyebrow and two-thirds down your nose. If you flout this rule and go for a huge pair of shades, you are asking for extra attention. Oversized sunnies draw the attention of onlookers, and they often tell those around you that you enjoy drama and intrigue. This might be why so many celebrities opt for oversized sunglasses styles.
Polarized
Polarization filters the light, which can help block glares and shine to improve vision and preserve eye health. Though some polarized lenses are impossible to differentiate from other sunnies, polarized sunglasses tend to be reflective on the outside and can be tinted in a particular color, providing a sporty effect. As a result, when you wear polarized shades, those around you will assume that you are a thrill-seeking sort about to embark on a great outdoor adventure.
Luxury
Luxury sunnies can come in all these styles and more, but the premium name or logo featured on the frames says something completely different than any affordable or unrecognizable sunglasses brand. Luxury sunglasses, like Cartier shades or authentic Ray Bans, tell those around you that you have wealth and power, that you know what looks good and that you are willing to pay for quality. Sunnies are often some of the most affordable luxury items you can buy, so if you are looking to increase the value of your wardrobe, sunglasses are a great place to start.
Sunglasses can say little about you, or they can reflect your innermost feelings and values. You have total control over your sunglasses style, so you can choose what those around you think when they see your latest and greatest accessory.