We all started out with the plain white or blue face masks that would not have looked out of place in an operating room.
Gradually, there were more colours, textures and patterns that ranged from the funny to the ultra-luxe and sophisticated.
The only problem was that even the most stylish face masks come with an unavoidable tradeoff: protecting yourself from COVID-19 means hiding your smile from the world. That is, unless Tyler Glaiel gets the funding he needs to bring the JabberMask to the masses.
A programmer and video game designer based in Santa Cruz, Calif., Glaiel has already succeeded in raising close to $84,000 on the crowdfunding platform Kickstarter for JabberMask, which allows the wearer to generate a smile that shines through its fabric by clicking their tongue.
While it may have some major social benefits, Glaiel's original motivation was based more on competitiveness than altruism, having seen the variety of other facemasks popping up in the wake of the pandemic.
"I wanted to one-up them and make the coolest mask possible," he writes on the JabberMask's Kickstarter campaign page. "(A) video of me showing it off pretty much immediately went viral and I was inundated with requests from people who wanted to buy one."
Since creating the original prototype, Glaiel has developed a range of different JabberMasks, including a "Pro" version that comes with a mobile app and allows the wearer to generate emojis, letters and other symbols in addition to a smile.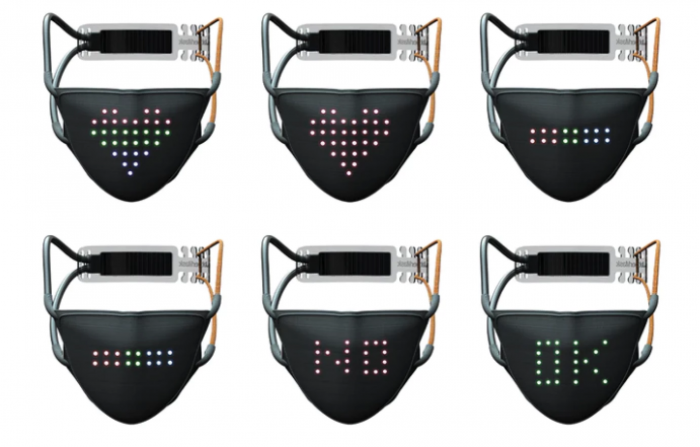 As with many Kickstarter campaigns, the money raised for JabberMask is just the start of its journey to market. The timeline so far suggests customers will be able to start receiving products by May of next year. Even if a COVID-19 vaccine has emerged by then, however, it's probably safe to assume we'll be still wearing masks based on local regulations and emerging social customs.
It's surprising, in a way, that the rise of wearable technology we've all gotten used to over the past few years — smart watches, fitness bracelets and multiple attempts at smart glasses — hasn't extended to something that would cover the lower half of our face. Few could have predicted the novel coronavirus, of course, but among other impacts it has demonstrated just how reliant we have been on the ability to communicate with the shape of our mouth.
As the JabberMask may prove, a smile isn't just a way of indicating happiness. A smile can be a "yes." A smile can mean "continue" when someone is talking. A smile can also mean "I understand."
Since mask-wearing became mandatory in many circumstances, there have been suggestions that we all need to learn to "smile with our eyes," but even if that's possible, a device like the JabberMask may serve to confirm how people read our expressions — almost a sort of digital filling of the blanks.
With JabberMask, Glaiel has shown there are creative ways to respond to some of the most pervasive COVID-19 constraints. That alone is worth smiling about.