Bathroom towels aren't something a lot of us think much about. But when you consider the fact that we wrap our bodies in them on a daily basis and sometimes more often than that, they are actually a big part of our everyday life. We are choosy with our bedsheets, our clothing and our athletic gear but sometimes it's easy to overlook our bathroom towels. That is, until we experience a truly luxurious bath towel. Then, it's pretty hard to go back to rough, store-bought towels.
Bathroom towels also do double duty, not only are they there for us after our showers, but they are often found hanging in our bathrooms and on our bathroom shelves. So not only should your towels feel amazing, but they should look amazing too, matching and enhancing your bathroom's style. You've probably put the effort into making your bathroom look good, don't let your bathroom towels spoil the look.
When shopping around for a towel set, it's best to look for a few key features. You'll want a towel set that is super soft, plush, ultra absorbent, quick drying and durable. Here's a super easy way to take the guesswork out of your towel style game, while never sacrificing the luxurious feel of your bathroom towels: Charcoal Grey Bath Towels. Yes, it's that easy. Here's why charcoal grey has become so popular: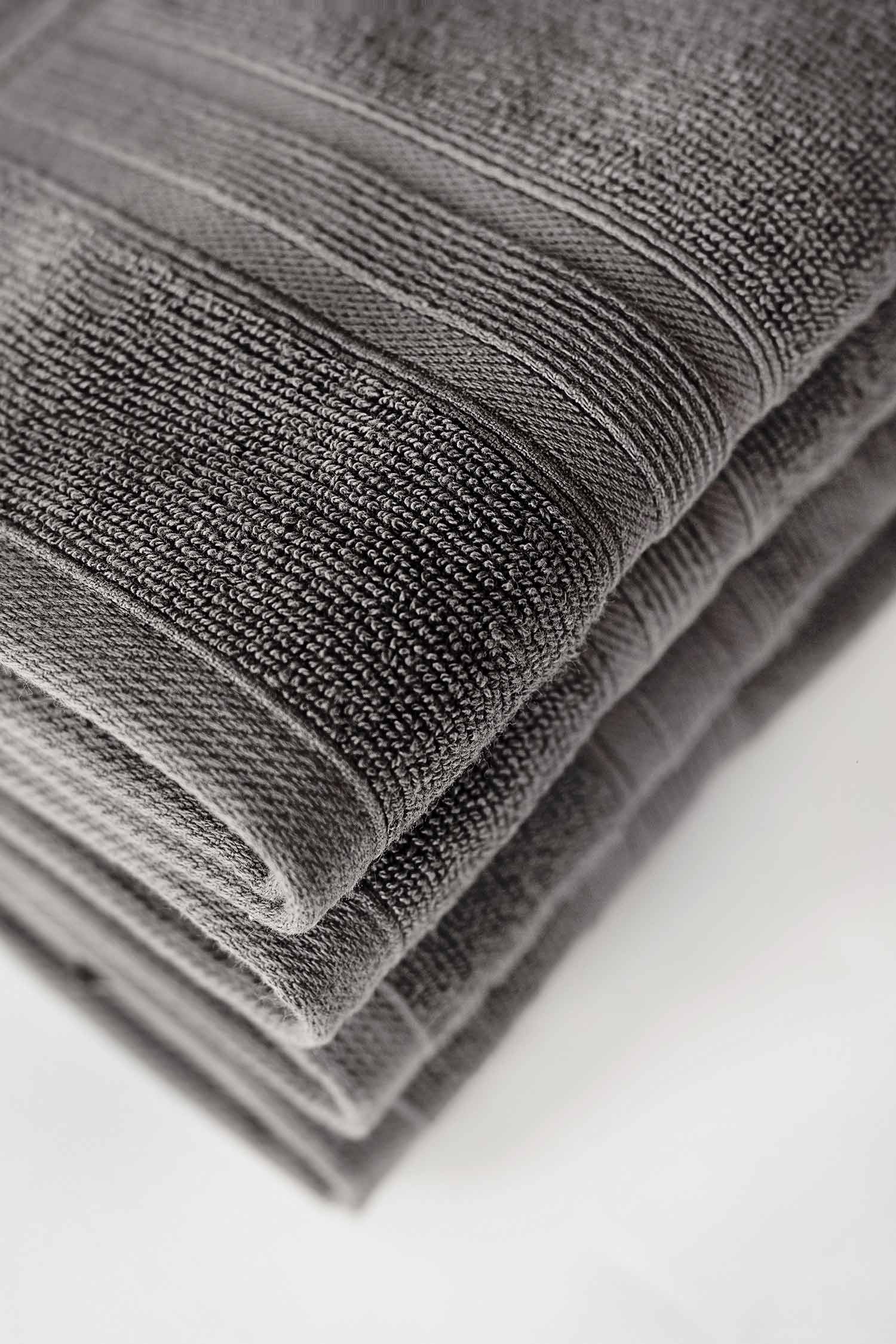 Charcoal Grey Has Universal Male Appeal
You have probably seen charcoal grey appearing all over, in modern, stylish looks. From exterior home paint and interior furniture to clothing and accessories, charcoal grey is the modern choice for making a stylish impression. More sophisticated than basic black, charcoal grey adds visual interest, while remaining neutral.
From a psychological standpoint, the color communicates mystery and strength. It's also a soothing color, making it a great choice for a bathroom where you're looking to relax, unwind and create a spa-like feel. Beyond those feelings, charcoal grey also can evoke a modern, industrial feel or a natural, organic vibe — think river rocks and mountain cliffs. It's also a classic color that's not going to be out of style in a year or two.
Finding the Right Charcoal Grey Towels Is a Tough Task
While there's plenty of good reasons to invest in an ample set of charcoal grey bath towels, it can be difficult to find charcoal grey towels that have the color quality you want with the super-soft feel of 100% Turkish cotton, are ultra absorbent and quick drying. Quality matters in your bathroom towel set. It's nice to proudly hang plush, luxurious looking Turkish cotton towels even if you just showered with them, compared to towels you'll often find in big box stores that tatter and lose their shape. Finding the right match of durability and luxury in charcoal bath towels can be a tall order to fill.
Why Luzia Charcoal Grey Towels are So Popular with Men
With bath towels needing to meet a lot of different criteria of being super soft, plush, ultra absorbent, quick drying and durable, it's no wonder it's often difficult to find towels that meet all those high standards while being available in attractive, modern colors, like charcoal grey.
That's why men are loving Luzia 100% Turkish cotton bath towels. The secret is in Luzia using a special Turkish cotton, a premium long fiber that creates much smoother and stronger threads than regular cotton. Turkish cotton is also famous for its gorgeous natural sheen which makes any bathroom look better. The breathability of Luzia's Turkish cotton makes it quick drying while also very absorbent.
Styling your bathroom with charcoal grey towels offers nearly infinite possibilities. Paired with a mostly white bathroom, the rich, dark color of charcoal grey towels can create the perfect complementary accent accessory. A set of folded charcoal grey towels against a white vanity for instance, will immediately create a dramatic look, with little effort required. For a bold and modern look, pair the classic look of charcoal grey with splashes of bright yellow, fuschia or green accents to add an unexpectedly rich look.  Charcoal grey towels will also match extremely well with chrome, polished brass or stainless hardware, making it an easy choice to elevate any bathroom's look.
After a hard workout, long day at work or a way too early morning shower before a grueling day begins, men everywhere can experience a little bit of a luxe hotel retreat, even if it's just for a few moments, before the hectic pace of life resumes. And there's just something about wrapping yourself in a charcoal grey towel that feels inviting, calming and luxurious.
Socially-conscious men have also been able to fully embrace the Luzia brand as the company has a strict sustainability policy that reflects its commitment to the environment. Focusing on ethical sourcing and manufacturing, the towels are independently monitored to be in accordance with Fair Trade standards, meaning you can feel good knowing your fluffy, super-soft towels also had an ethical start.
You might not have thought about your bath towels much before this, but with an option that combines practicality, luxury and beauty, it's easy to see why Luzia charcoal grey bath towels have become such a hit with men in the U.S.. Stocking up on multiple sets of charcoal grey towels is an easy way to add a style upgrade to your bathroom. Look in your linen closet and toss those shabby towels and invest in a set that will last and take the hassle out of matching your linens. And with their classic style and good looks, these popular charcoal grey bath towels might become a hit with partners as well.