With Affordable Yet Latest Tech Accessories, AUKEY Helps You Get Back to Business

While searching for the best products to showcase through Swagger Magazine, we come across various brands and ideas on a daily basis. Some disappear into the crowd, while others stay true to the hype. But a few take the zero-to-sixty approach to the next level and have us become their lifelong fans from the start.
With its innovative tech, quality swag, and pocket-friendly prices, AUKEY falls under those solutions that know how to leave their mark.
AUKEY Offers Premium Quality Power, Connectivity, and Audio Accessories
AUKEY started its operations with an aim to combine the latest technology with powerful hardware. With the company's main goal to elevate your digital lifestyle, it keeps bringing new smartphone and computer accessories to the forefront. The firm is known for its global outreach, especially due to its status of being one of the most popular Amazon resellers across a slew of territories.
With over 25 million tech accessories sold in more than 50 countries, AUKEY has established its presence all over the world. But as most of us try our best to overcome what 2020 has thrown our way, the company's offerings have become more relevant than ever before.
Whether you are trying to make your work from home space more functional or your office premises more comfortable, AUKEY's products are the perfect way to get back to business. From sturdy charging outlets to reliable dash cams, AUKEY has exactly what you need to cut through distractions, enhance your comfort, and simplify your tech-filled lifestyle.
AUKEY's range of products includes but is not limited to:
– Wireless Chargers – Wall Chargers
– Car Chargers
– Power Banks
– Dash Cams
– Connectivity Cables
– Multifunctional Hubs – Wireless Headphones
With this selection of high-quality tech accessories, you can easily get all your critical power and functionality solutions under one roof. AUKEY's premium built and technology ensures maximum performance with minimal issues. As a result, you can easily achieve the peace of mind you need to tend to your work, commuting, and entertainment needs without interruption.
All products also come with a 24-month warranty, which ensures that your investment in these gadgets remains secure. Select items also sport a 45-day money-back guarantee. These features are especially helpful during the pandemic, where money is tight and needs are aplenty.
AUKEY Uses the Latest Technology Features in All of Its Products
With an unwavering commitment to innovation, AUKEY keeps updating its product line to design reliable hardware with the latest technology. At the same time, it provides full support for its existing products. This ensures that even as new solutions become available, those who have already joined the AUKEY family don't feel left out with their purchases.
Since our team at SWAGGER Magazine keeps rotating through tech equipment, this balance stood out to us as one of the most beneficial points of AUKEY's service. When we dug in a little deeper into what the firm is offering with its latest products, our trust in the company's claims grew even stronger.
It was mostly because of the technology features that AUKEY uses throughout its products. These aspects include the following technologies.
Omni-Power includes the collective use of the latest charging mechanisms such as fast-charging and reduced power consumption.
Dynamic Detect ensures smart power distribution across single and multiple devices. GaN (gallium nitride) chips use the same quality of power solutions that are utilized in
Aerospace and 5G applications.
USB Power Delivery automatically adjusts power output to a range of devices for optimal functionality.
The Company Has Quite a Few Standout Products
Some of the products that immediately stand out from AUKEY's SWAG come from its family of wall chargers and multifunctional USB hubs.
Both types of solutions are lightweight, compact, and powerful, while also sporting the utmost functionality. At the same time, the company's charging cables stand a class apart from many competitors.
Apart from these items, two products that our team loved using are the AUKEY DRS2 Detachable Dual Dash Cam and the AUKEY TWS Earbuds.
AUKEY DRS2 Detachable Dual Dash Cam
With 1080p full HD video recording, the AUKEY DRS2 Detachable Dual Dash Cam gives you a crystal clear view of all important events around your car. It comes with its own display and control interface, which allow you to easily control options such as video recording and sound recording right from the device.
Since the dashcam is made for dual usage, the provided camera can be utilized as a front cam or a rear cam. When installed at the front, it also comes with a swivel mechanism that lets you select whether you want to record your in-car footage or your view of the road.
The AUKEY DRS2 Detachable Dual Dash Cam installs seamlessly behind your rearview mirror with the use of sticker mounts and USB cables. If you are using the front camera, you can use the 12ft cable that comes with the package. If you want to use the rear camera, you can utilize the 21ft cable that is also included in package contents.
Due to its IR sensors, the camera is able to capture clear video even in low-light situations. Whereas, its 170-degree front and 152-degree rear field of view ensures that you don't miss out on important visuals.
The camera is also easy to install and painless to operate. You need to buy an SD card to constantly record and remove footage, but those storage options are easily available for a few bucks. Overall, the AUKEY DRS2 Detachable Dual Dash Cam shines through as one of the star products by the brand.
AUKEY TWS Earbuds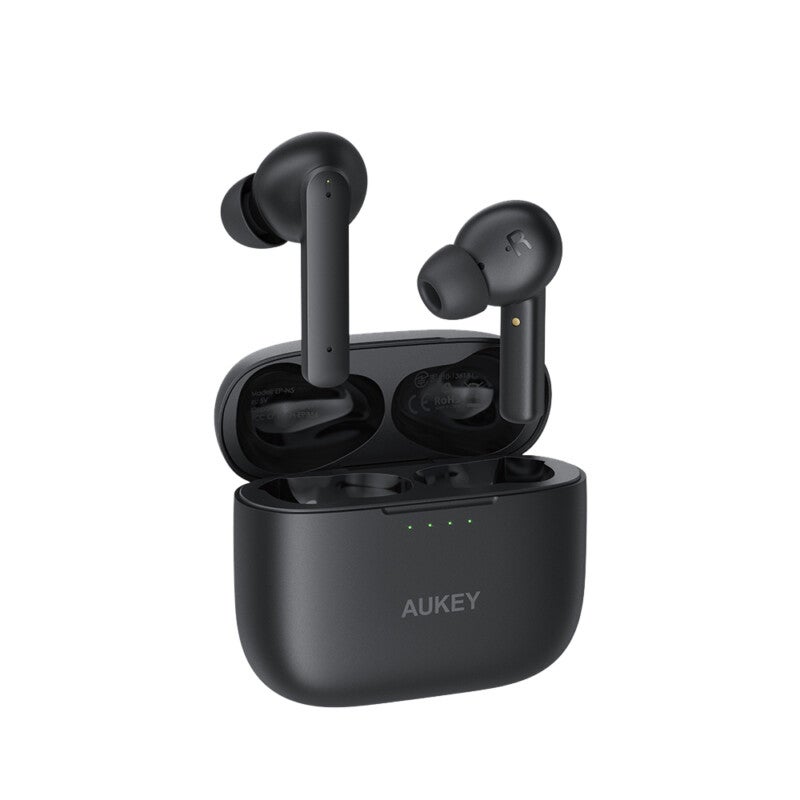 In an era where wired headphones are becoming a thing of the past but wireless alternatives cost a fortune, the AUKEY TWS Earbuds come through as with the ideal answer to this problem.
With a budget-friendly price tag and uncompromised quality, these truly wireless Bluetooth 5 earbuds can meet all your expectations. With advanced active noise cancellation and 4 built-in mics, this pair delivers crystal clear sound throughout your media and calls.
Available in a classic black color, the AUKEY TWS Earbuds come with their own charging case. Through USB-C quick charge, the case helps you deliver up to 35-hour of playback.
IPX5 water resistance ensures that these earbuds become the ideal companion on your gym sessions. Whereas, their modern design ensures that they can remain fitted on your ears even during fast running routines.
The earbuds are comfortable to wear, and come with an ear-tip design for maximum comfort. The ear-tips also come in three different sizes to help you find the perfect fit. This ensures that you can wear these earbuds for longer periods throughout your regular day.
With their sleek design, incredible sound, and long-lasting materials, each pair of the AUKEY TWS Earbuds ensure that you can get the most out of the latest technology without paying an arm and a leg for it. If you are looking for earbuds that don't burn a hole in your pocket, the AUKEY TWS Earbuds are the way to go.
AUKEY Has Something for Everyone
With AUKEY's highly affordable yet amazingly durable solutions, you can easily enhance your regular device usage while staying within your budget. This ensures that you can curb your desire for the latest tech without putting your financial security on the line during an uncertain time.
If you are currently on the lookout for top quality smartphone, computer, and security accessories on a budget, AUKEY is the perfect match for you. With its tech-oriented approach, the brand is bound to have something that fulfills your requirements.