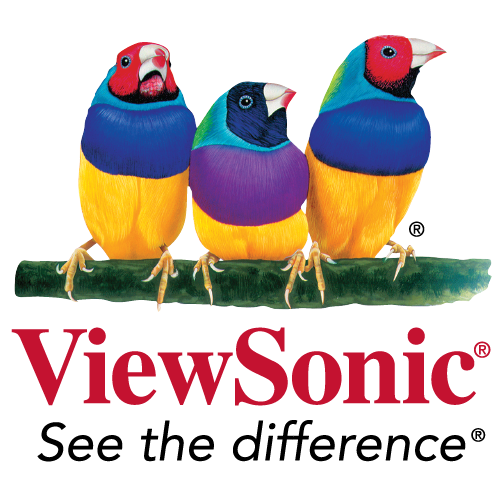 SWAGGER has put together a ViewSonic monitor review so you can discover the best ViewSonic monitors for work and play. Here are the best ViewSonic models for home, office, and gaming. Find the perfect monitor for you!
Technology Tips from ViewSonic for Work and Play
In today's new world of social distancing and remote work, daily activities have turned our homes into centralized hubs, retreats where we connect, work, and play. Bedrooms, kitchens, and recreation rooms are now primary spaces for virtual work, online conferences, connecting with friends and colleagues, learning, and entertainment. Collaboration, streaming, and content creation from home are as much a part of your daily routine as morning coffee or workout routines.
Now is the perfect time to transform your indoor lifestyle with the latest in interactive display and collaboration technologies that bring the outside world into your home. Whether it's creating an immersive home theatre experience or hosting a conference with colleagues from around the world, ViewSonic has a wide variety of fully integrated displays that can elevate your home environment to a streamlined, connected hub for work and play.
Far too many people are spending long hours working from home hunched over a small laptop screen on their kitchen table or spare bedroom desk. Or gaming and watching movies on the flat-screen TV in the same room that doubles up as a remote office, while other family members clamor to book their own screen time.
It doesn't have to be that way. A few savvy investments in the right technologies and your home can become a fully decked out entertainment/work/gaming center that will be the envy of your colleagues, friends, and neighbors.
Here are some ideas to get you started. Explore our ViewSonic monitor review to find the best monitor for your specific needs.
Let the games begin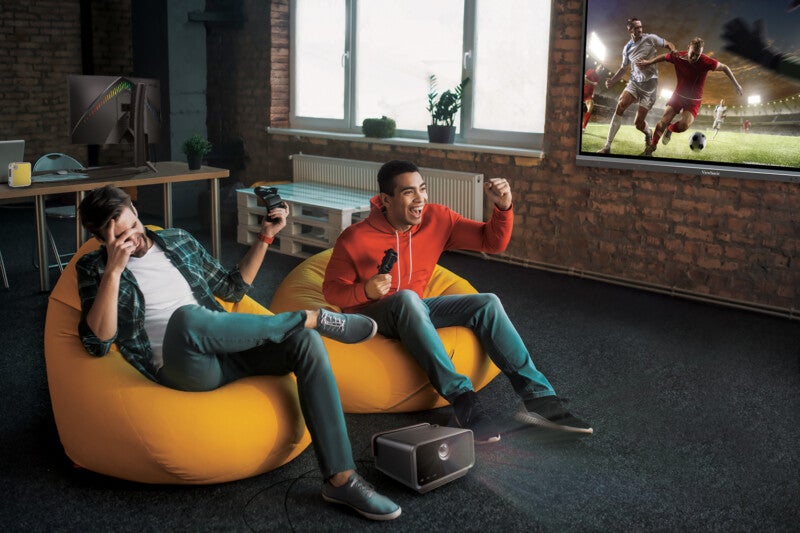 ViewSonic display technology featured in the image above includes the X10-4KE Home Theatre Projector (on the floor), the ViewBoard® IFP5550 Interactive Flat Panel Display (on the wall), the XG270QC ELITE gaming monitor and M1 mini Plus projector (on the desk)
Whether projecting movies from a Blu-ray player, wirelessly streaming content, or gaming with your favorite PC or console system, ViewSonic delivers all you need for an incredible multimedia visual experience. With the NBA, MLB and NHL all getting restarts in a new virtual way, without stadium attendance, you can easily create for yourself the best seat in the house.
If you're a true entertainment buff, the ViewSonic X10-4KE home theatre projector provides stunning 4K 3840 x 2160 resolution and all the smart streaming features you could ask for. This portable smart 4K projector system delivers a cinematic experience from anywhere in your home – complete with built-in Harman Kardon Bluetooth speakers, and projecting screen sizes up to 120", along with support for Amazon Alexa and Google Assistant. Compact and lightweight, you can easily take your immersive movie experience from room to room – or even your backyard, where you can stream your favorite movies or binge-watch streaming services to your heart's content.
Visit Amazon.com or Amazon.ca and save $155USD/$200CAD off the purchase of a ViewSonic X10-4KE home theatre projector

. Hurry, offer ends Sept. 15, 2020`
For entertainment on the go, the M1 mini Plus is a pocket-sized, ultra-portable LED projector that features a built-in battery and measures just 4" by 4", making it a perfect device to bring hours of big-screen entertainment indoors or outside for kids young and old. It's an inexpensive and easy way to play games, share and display videos and other multimedia content to save precious screen time on your other monitors and displays. The built-in JBL speaker with Bluetooth provides crisp, clear sound; and the smart Wi-Fi connectivity lets you stream and binge from all your favorite content providers.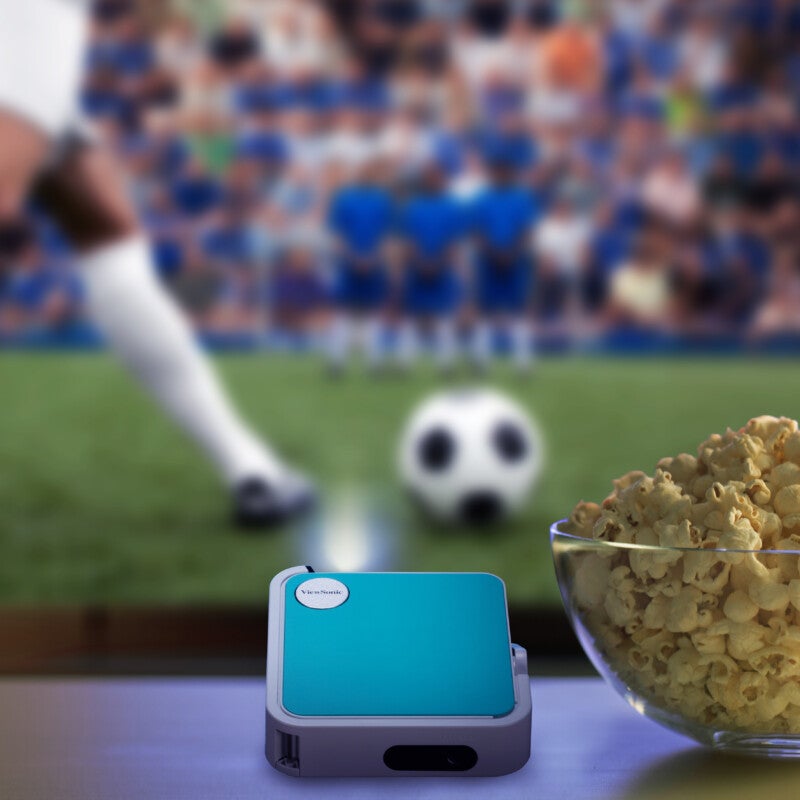 For hardcore gamers, there's never been a better time to invest in a premium, immersive gaming experience with the ViewSonic Elite line of gaming monitors, with options for every budget. At the top of the line, the XG270QC is a QHD curved gaming monitor that provides stunning 27" premium next-generation display for hours of ultra-realistic gaming. ViewSonic's award-winning line of Elite Gaming monitors are renowned for high refresh rates, elevated reaction time, and ultra-smooth gameplay for tournament-grade performance.

Working above and beyond
Working from home or a remote office doesn't have to be confined to a laptop or a small screen. The ViewSonic® VP3881 is a stunning 38-inch curved IPS panel display that features an immersive screen, stunning resolution, and
incredible color accuracy. It's a great tool for video editing and content development and other color-critical applications. And it's definitely up to the job of providing secure 4K content, playback, and video streaming. Even better, it can double up as a high-performance gaming monitor when you want to take a break from your daily deluge of Zoom conference calls or work routines.
When you need to escape from the big screen for work or are moving between locations, the TD1655 15.6" IPS touch display serves as a complementary touchscreen to a laptop or tablet for boosted productivity. Built for business travelers, remote workers, and digital nomads, the TD1655 provides an anti-glare screen and Full HD 1080p resolution for a crystal-clear viewing experience. In addition, with a 10-point projective capacitive touchscreen and included stylus pen, the TD1655 delivers a smooth and natural writing experience and streamlined navigation with every tap, pinch, and swipe. A USB Type-C port enables quick and easy transmission of video, audio, and data.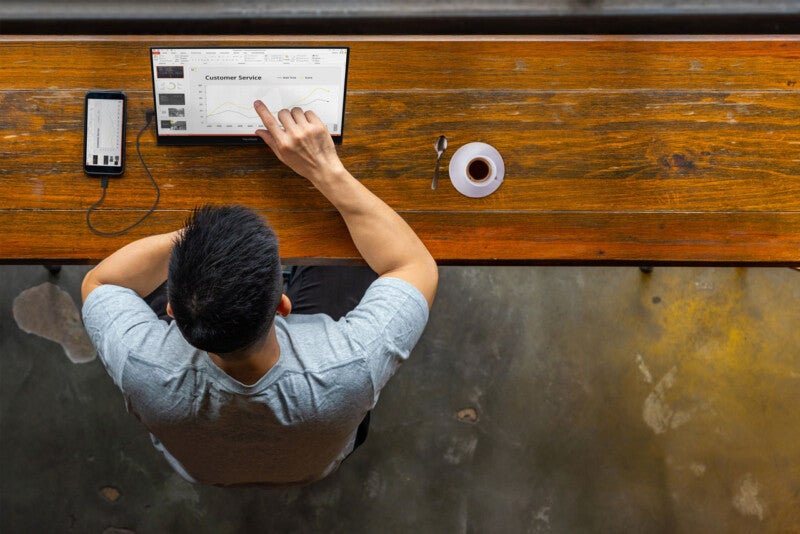 With the right collaboration tools, you too can create the perfect hub for work and play in your home. Whether it's streaming or creating content, watching a game or playing games, or collaborating with colleagues, advanced display technology is within reach and plays a critical part in bringing interactive experiences to an entirely new level.
Working from Home: A 2020 Guide to Remote Work
We hope this ViewSonic monitor review has helped you find the perfect monitor. For tips on how to make working from home a productive, comfortable experience, download our free guide.
With over 30 years of expertise in visual displays, ViewSonic is a leader in collaboration and visual display solutions delivering innovative and reliable solutions for customers in education, enterprise, consumer, and professional markets. To find out more about ViewSonic, please visit www.viewsonic.com and follow on LinkedIn, Facebook, YouTube , and Twitter.