What if you could close your shades with a voice command or schedule your blinds to open so that you wake up to natural light? What if your awning could provide shade at the touch of a button? With Somfy-powered window coverings you can enjoy your smart home, inside and out.
Homeowners are investing more than ever in smart gadgets to make their time at home more comfortable. From smart fridges and smart thermostats to smart speakers, the modern home is getting a lot smarter. But what about your window coverings? How smart are they?
Your window coverings can make an important impact on your daily life, and you may not even realize it. They let in natural light to connect you with the outside world. They prevent screen glare when you're in the middle of a workday and really need to concentrate, and they can even help you create both privacy and the perfect setting for a family movie night. Outside your home, shelter products like awnings, screens and pergolas can help you to get more enjoyment from your backyard without roasting in the sun or being bitten alive by bugs.
Smart window coverings and outdoor products powered by Somfy motors allow you to add some needed smarts to your home as you manage natural light.
Somfy knows a thing or two about smart home products, because the company has been creating smarter and more comfortable homes for over 50 years. From humble beginnings at the foot of Mount Blanc in France, Somfy now operates in over 58 countries worldwide. Somfy has produced over 170 million motors over the last half century, creating innovative products for the modern smart home.
Automate Your Shades and Enjoy Your Day
Imagine waking up to natural light streaming through the windows as your shades automatically open with the sun, instead of startling awake from a blaring alarm clock. When late afternoon sun streams through the window while you're chopping veggies for dinner, you can close the shade with a simple voice command. Plus, your energy bill will thank you when you can set up a schedule that opens and closes your blinds, shades, or curtains during the hottest or coolest parts of the day (depending on the season!).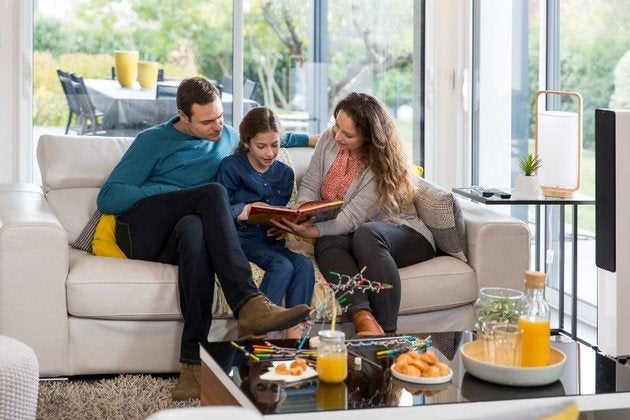 Smart shades are the perfect combination of technology and style. Somfy-powered window coverings come in a wide variety of styles, from dramatic draperies to classic roller shades. Since Somfy motors work with a wide variety of shade types and fabrics, it's easy to add smart shading to your home, no matter what your home décor style. dramatic draperies to classic roller shades. Since Somfy motors work with a wide variety of shade types and fabrics, it's easy to add smart shading to your home, no matter what your home décor style.
Best of all, smart shading can work together with other smart home products in your home. For instance, if you're ready for movie night you can create a scene that closes your Somfy-powered shades, dims your PhilipsHue lights and starts your smart TV. Once you set up a scene, it only takes a simple voice command to trigger it, leaving you free to go about your busy life while your smart home products go to work.
Somfy smart shading works with a wide variety of smart home products and like Amazon Alexa, Google Assistant, Samsung SmartThings, Brilliant, Philips Hue, IFTTT and more. This gives you the flexibility to create the fully automated smart home of your dreams. Philips Hue, IFTTT and more. This gives you the flexibility to create the fully automated smart home of your dreams.
Not so techy? That's no problem since Somfy's smart shades can also be easily controlled with a hand-held remote or wall switch. Your home can be as smart and connected as you want it to be, all without giving up on style and convenience.
Away from home and forgot to open your shades to give your plants some natural light? App control allows you to control your shades while away from home and even set up schedules to automate your shades so they work around your busy lifestyle.
How Clever™ Are Your Blinds?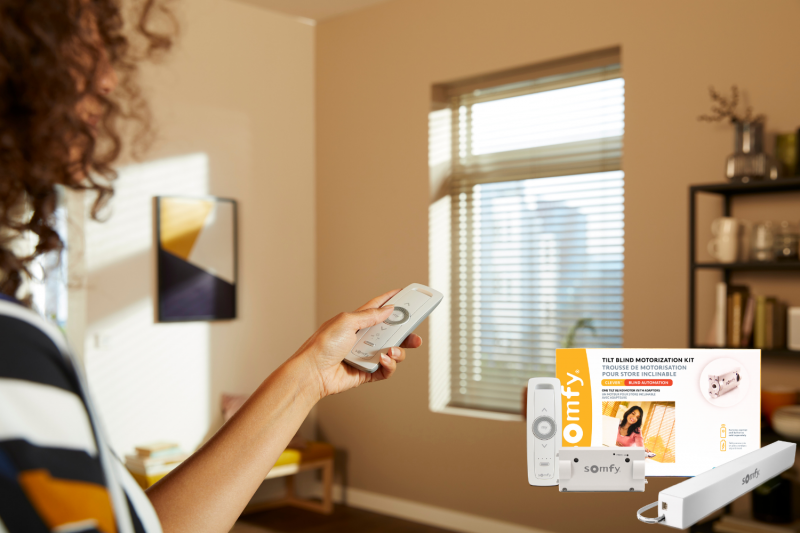 Do you love your current blinds but wish they were smarter? Somfy now has a way to give your blinds a Clever upgrade. Somfy's Clever™ Tilt Blind Motorization Kit is a simple, DIY solution for adding some smarts to your existing blinds.
With Clever, you can manage natural light, keep out the heat, and easily open and close hard-to-reach windows. Tilt your blinds to let in the full natural light or close them to maintain privacy.
This friendly Do It Yourself kit makes it easy to turn the blinds you love into smart blinds you'll love even more. In three easy steps you can give your blinds a serious upgrade. First, remove the blinds from your window, then replace the tilt mechanism in your blinds with a Somfy motor, and finally put your blinds back up and program your remote. This simple DIY process makes it easy to transform your blinds without changing your décor.
You can also make Clever even smarter by connecting to app and voice control. Set up scenes and schedules for your newly smart blinds so that they open in the morning, close at night, and listen to your voice commands.
Enjoy Your Great Outdoors
Taking advantage of your outdoor space is easier when you're not at the mercy of the elements. Awnings, exterior screens, and pergolas can all be motorized so that spending time outside is more comfortable and convenient. With the click of a button, a tap on your app or a simple voice command, you can extend an awning, lower a screen, or close pergola louvers.
As many of us are spending more time at home lately, your outdoor space has become more important. Spending a lazy Sunday outside reading a best seller is easy when you have a retractable awning that will keep you from getting a bad sunburn. Eating a meal al fresco is more enjoyable when you can lower your exterior screens and keep out the bugs. And having an outdoor party with friends is more fun when you can all sit underneath a motorized pergola and enjoy the sun or close the slats to get some shade.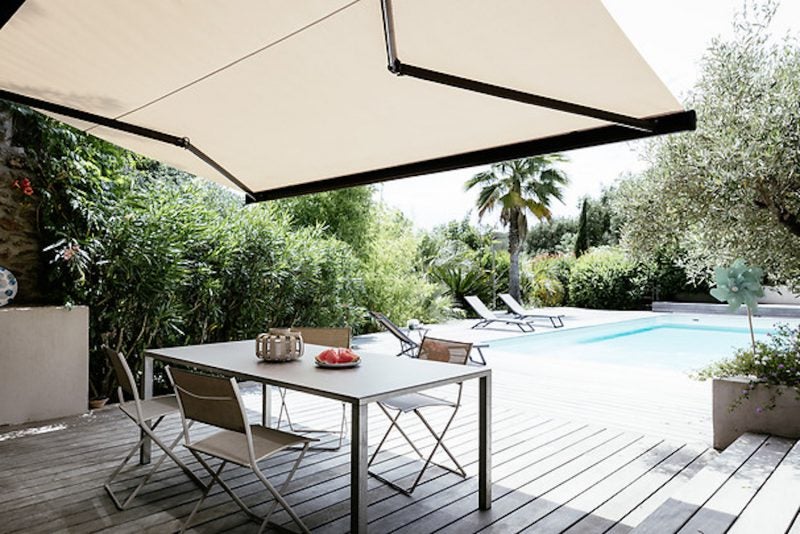 Smart sensors also make it easy to protect your investment, like wind sensors that will automatically retract your motorized awning when the weather conditions get dire. As a bonus, like motorized interior shading, exterior products can also help you save on your energy bill. In fact, awnings can reduce solar heat gain by as much as 65% on south-facing windows and up to 77% on west-facing windows according to Energy.gov.
Smart window shading, both inside and out, can make your home more comfortable, more energy efficient, and more convenient. Automating your window coverings means you can spend less time worrying about closing the blinds and more time focusing on the things that matter. It's one less thing on your endless to-do list and smart shading gives your home a touch of luxury, without sacrificing your style.
Want to create a smarter home? Connect with a Somfy Dealer to get your project started!