Our kitchens are the heart of our homes – a space where we gather to cook, eat, and socialize. They should reflect our taste and style and an extension of our personality.
For many, the kitchen becomes a catch-all for life. Bills pile up, kids' homework is strewn about, and pets lounge on the floor. It's a space where we function, but it doesn't always feel like a luxury.
However, the kitchen is a sacred space for those who love to cook and entertain. It's a place where they can truly express themselves. And when no expense is spared, the results can be jaw-dropping.
So what makes a kitchen ultra-luxurious? High-end materials, finishes, appliances, and features are all key components. However, it's the overall design that takes it to the next level.
In today's post, we'll take a look at five kitchens that exemplify luxury. From sleek and modern to warm and inviting, each one has its own unique take on luxury.
Defining the Ultra-Luxurious Kitchen
So what makes a kitchen ultra-luxurious? Below are some key elements that define an ultra-luxurious kitchen:
High-end materials: Marble countertops, custom cabinetry, top-of-the-line appliances.
Luxurious finishes: Gold hardware, detailed millwork, glass subway tile backsplashes.
Unique features: Large islands, professional-grade ranges, double ovens.
While all of these elements are important, details make the difference. Every element has been carefully considered in the most luxurious kitchens, and no expense is spared.
The following six kitchens exemplify luxury in their finest form. From sleek and modern to warm and inviting, each one has its own unique take on luxury.
1. A Distinguished Marble Centerpiece: The Corcoran Group & Paul Evans
This kitchen is fit for a king – or a very wealthy person. The huge island is made from a single piece of smoky quartz, and it's illuminated from within.
The rest of the kitchen is just as luxurious, with bespoke aluminum cabinetry, glass countertops, and two coveted decorative pieces. Many elements of this kitchen were thought up by designer Paul Evans- a premier designer of ultra-lux kitchens.
Both are beautiful and add to the already luxurious feel of the kitchen. Planning to entertain? Simply press a button to close off the kitchen quickly. Like magic, an electronic appears to create space between guests and "where the sausage is made." It's the perfect spot for entertaining in style.
2. A Touch of Swarovski: The Colosseo Oro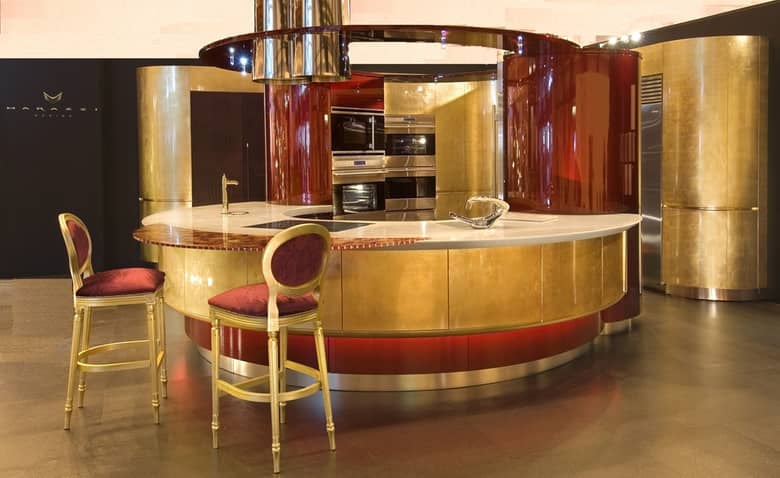 There is no such thing as too much luxury when it comes to kitchen design.
That's the philosophy behind the Colosseo Oro, a one-of-a-kind kitchen featuring extravagant materials and unique finishes. Gold glass, Venetian ink, and leather embossed with crocodile skin are just a few of the luxurious details that make this kitchen stand out from the rest.
The red and gold color scheme creates a regal look, while the Swarovski crystal lights add a touch of glamor. The occasional futuristic element gives the kitchen a sense of intrigue, making it the most coveted kitchen in the world. If you're looking for a kitchen that exudes luxury, the Colosseo Oro is the one for you.
3. Sleek and Modern: Asian Minimalism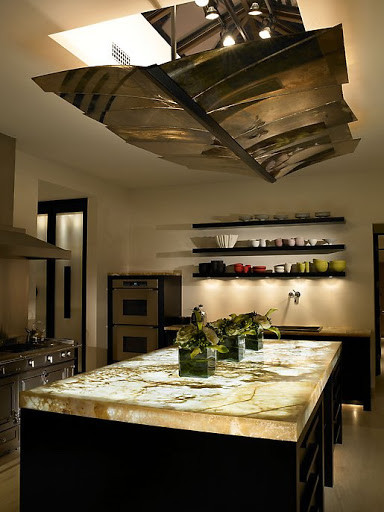 The Asian Minimalist kitchen is the height of luxury, wrapped in subtlety and sophistication.
The stainless steel meat counter is functional and chic, while the hidden warming drawers are discreet and convenient to keep food warm.
This kitchen features both beautiful and practical radiant-heated limestone floors, and the metal ceiling centerpiece adds an elegant touch.
The LED-illuminated Onyx Countertop is the perfect finishing touch, making this kitchen a true minimalist dream. Whether you're entertaining guests or simply enjoying a quiet meal at home, the Asian Minimalist kitchen is sure to make a lasting impression.
4. Grander Cuisine: The Electrolux Grand Cuisine Kitchen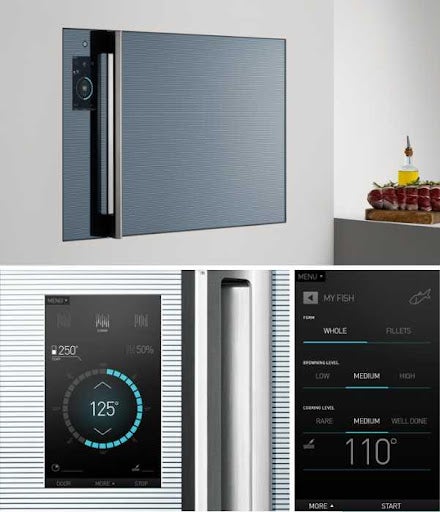 If you're one of the world's most accomplished chefs, chances are you've already heard of the Electrolux Grand Cuisine Professional Kitchen.
Designed by Henrik Otto, it boasts all the latest in modern technology and Michelin chef-level amenities. From advanced ovens to blast chillers and a $10,000 sous vide vacuum packers, this kitchen shows how far you can push the limits in the kitchen.
Needless to say, it comes with a hefty price tag – but for the super-rich, it's definitely worth the investment.
It's a luxurious kitchen designed with Michelin-starred chefs in mind, and it comes complete with all the high-end amenities and modern technology that you would expect from a kitchen of its caliber.
5. "Hey Siri, Cook For Me": The Futuristic Kitchen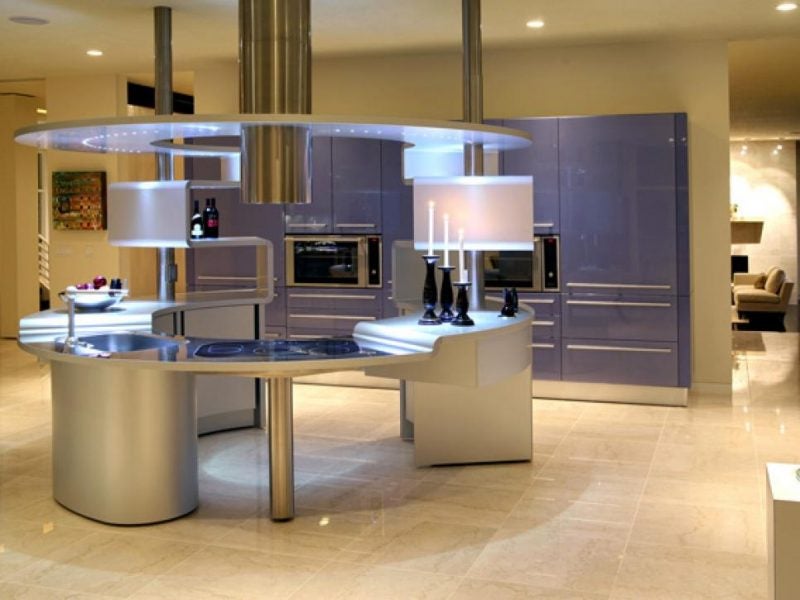 The kitchen of the future is a sleek and shiny space, made from recycled aircraft aluminum and stainless steel.
It's got an acropolis that also has controls for audio and visual throughout the house. The workspace is made from recycled aircraft aluminum and stainless steel, which gives it a sleek and shiny look.
But the most important feature of this kitchen is its ability to be controlled by voice commands. You can start the coffee maker, turn on the oven, or even set the table with a few simple voice commands.
And if you need to ask for help, there's an AI assistant built into the acropolis that can answer your questions.
So whether you're looking for a new way to cook dinner or just want to have a conversation with your home, the Futuristic Kitchen is the perfect place to start.
Create the Ultra-Luxury Kitchen of Your Dreams with Studio Haus
The ultra-luxury kitchen is in – and if you are ready to take your kitchen to the next level, Studio Haus can help.
We specialize in creating high-end kitchens that feature the latest in design and technology.
We work with the world's leading manufacturers to bring you the latest in high-end appliances, materials, and finishes. And our team of experienced designers will work with you to create a functional and stylish space.
So if you're ready to take your kitchen to the next level, contact Studio Haus today. We'll help you create a unique and luxurious space that will make all your friends green with envy.