The wok pan is versatile cookware that can replace numerous pots, pans, and other kitchen utensils. You can prepare a variety of delicious dishes in it. We offer to review the benefits of this type of frying pan.
Benefits of Woks
Several parameters attract wok-cooking enthusiasts:
1. High-speed heat treatment. It is achieved both due to the excellent thermal conductivity of the materials from which the woks are made and the specific shape. It will take you a few minutes to prepare a dinner with the wok.
2. Versatility. Having one of the woks from https://yosukata.com/ in your kitchen arsenal, you can cook the vast majority of dishes according to most recipes, such cookware is extremely versatile. You can cook absolutely any food and even oatmeal on it. It can also be used as a deep fat fryer.
3. The quality of the food. Since products are prepared extremely quickly in a wok, they retain a maximum of useful substances, vitamins, and microelements. The taste will also be just great.
4. Opportunity to cook rare Asian dishes. Almost all traditional Eastern cuisine dishes cannot be prepared without   such a pan.
5. Maximum ease of use. In a wok, you can easily cook even noodles, which tend to fall out on the stove if you make them in a regular frying pan. Since every wok is equipped with sturdy and comfortable handles, it is easy to move from place to place, and there is no risk of burns. Also, wok usually comes with a lid, so you can not only fry in the wok but also stew and even cook soups.
6. Dishes cooked in a wok are considered completely dietary due to the minimal use of oil (or its complete absence) and a short period of stay of the products in the pan.
Key Features of Woks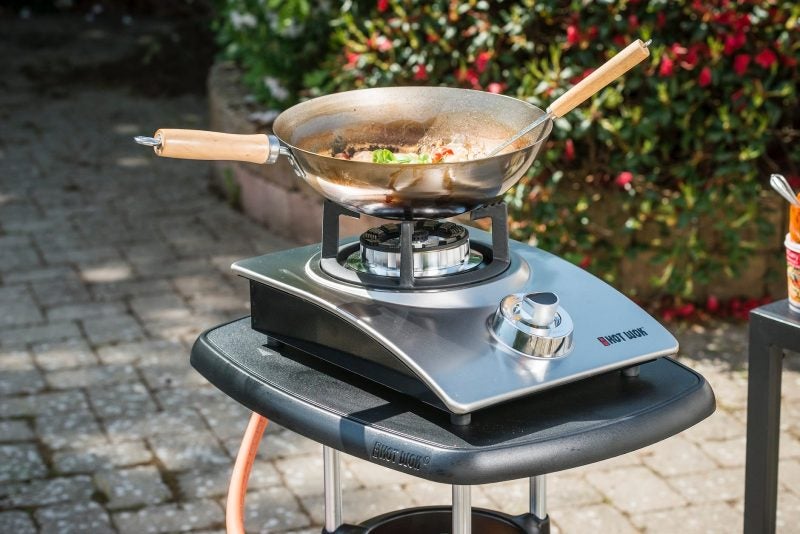 Such a pan has a round shape and is equipped with convenient handles on the sides. Towards the top, the diameter of the cookware increases. This bowl shape has the following advantages:
uniform heating around the entire circumference;

less oil is needed;

it prevents products from falling out during stirring.
Traditionally, a wok was cooked over an open fire, and this is what this pan was designed for. The main heat is concentrated in the center, and the edges are already cooler, so it is convenient to fry meat and vegetables on the sides — they will not burn out at the same cooking time.
A wok frying pan can become an excellent helper in the kitchen area and will come in handy for lovers of delicious and healthy dishes. From the rich assortment, you can easily choose the option that allows you to cook tasty and wholesome food with maximum convenience.